See It or Skip It: Cloud Gate, or the 'Bean,' in Chicago
BY: Liz Juranek |
May 12, 2015
What is Cloud Gate (the 'Bean')?
Cloud Gate is a massive stainless-steel sculpture in Chicago's Millennium Park. It resembles a shiny silver bean, hence its nickname, the 'Bean' (which the sculptor, Anish Kapoor, calls "completely stupid"). It's also been compared to a drop of mercury, as its entire surface is reflective.
Why am I here?
I'm walking to the Art Institute to see American Gothic, one of the top five museum exhibits in the United States. To get there, I'm cutting through Millennium Park and happen to be passing the 'Bean' along the way.
What do I do at Cloud Gate?
Cloud Gate draws tourists who want to take photographs in its smooth, mirror-like surface; 4.5 million visit Millennium Park each year. The underside of the Bean is concave, so you get a funhouse mirror effect when you snap photos there.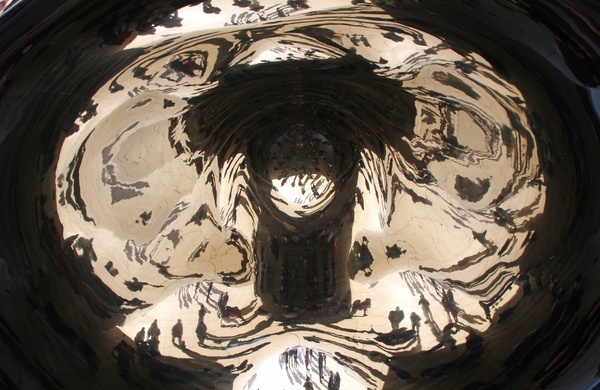 What can I do near Cloud Gate?
The sculpture is located in the center of Millennium Park, near Jay Pritzker Pavilion, where outdoor concerts—including several free ones—are held in spring and summer. Lake Michigan is to the east; from the west, Michigan Avenue's skyscrapers reflect onto Cloud Gate's surface. Just south of here is Crown Fountain, a pair of two towers that display digital images of Chicagoans who spout real streams of water into a pool. The floral oasis of the Lurie Garden is just a short walk away, and the Art Institute is across the street from the garden's south end.
The Verdict
See it. Cloud Gate is a delightful piece of public art, and a shining centerpiece for Millennium Park (which should be on every Chicago visitor's bucket list). Even natives are still enthralled by the beautiful scenery reflected in the 'Bean' in Chicago, and the underside of the sculpture is more fun than any amusement park.

Photos: Cloud Gate at Dawn by Mike Warot and Inside Anish Kapoor Cloud Gate 3 by Tony Hisgett. All photos licensed under CC BY 2.0.
BY: Liz Juranek
Liz is a beauty writer whose two greatest joys are red lipstick and her pet dwarf hamster.