Commanders of the Coop: Chicago's Chicken Keepers
BY: Aimee Algas Alker |
Aug 16, 2013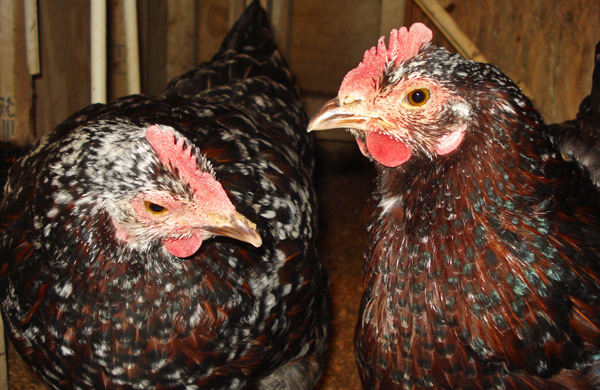 Growing up on the North Side of Chicago, the closest I've ever come to farm animals was at the petting zoo in the neighborhood park. Social media tipped me to the fact that all around the city, friends and friends of friends were raising chickens. These chicken keepers have lots of tales to tell.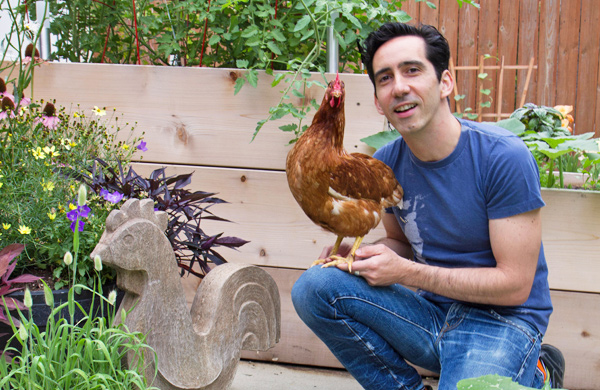 Rafael Canabal, 38 | Bronzeville | Chicken keeper since May 2013
After a few years in a one-bedroom apartment, Rafael craved more space and found a house he loved. The only problem? The yard was all concrete. Rather than break up that concrete to get at the soil beneath, he built a raised garden on top of it. The chickens arrived shortly after.
What made you decide to start raising chickens?
It's not only about the eggs; it's about the whole cycle. [The chickens] give you eggs, and the manure goes into the compost pile, and the compost feeds the plants. It's a good way to close the cycle. They're nice pets as well.
What's your routine?
I wake up sometimes at 5 a.m. I go outside with my dog, Chica [a rat terrier-chihuahua mix], feed the chickens, change their water, and water my plants. I gather eggs in the evening. They have a party when they lay an egg. They like to announce it.
What are your chickens like?
I have three, named Bertha, Bella, and Camilla. The older one [Bertha] bosses the other ones around. Bertha wants to come to me every time I'm in the garden, and she doesn't let the others come near me.
How do they benefit the garden?
Some caterpillars got to the kale, and I realized the chickens loved caterpillars—they're crazy about them. I [also let the] chickens pick up the fallen leaves that would have gone into the compost, and in a way they still do when I give them to the chickens.
Does anyone in your family keep chickens?
My aunts [in Spain] have 10 chickens and 2 roosters. I'm going, and for sure we're going to have some chicken talk.
What tips do you have for new chicken keepers?
It's more entertaining than I thought. It's like having a dog: it's a little work, and it keeps me happy. Of course you have to be responsible, but it's rewarding.
Michele Metych, 26 | Garfield Ridge | Chicken keeper since 2009
Michele and her husband, Chris Wiley, tend a garden surrounding a hundred-year-old farmhouse. Chris built their sturdy coop with the help of
Craftsman Experience
.
How many chickens do you have? 
Four hens: Hilda and Wilhelmina we've had since the beginning. We've had Hillary [named for Hillary Clinton] and Eartha [Kitt] for two years.
Where do you keep them? 
The coop is in garage because it's safer. We've seen coyotes, foxes, and raccoons around here, even before we got chickens. The chicken run is outside the garage for them to roam and eat bugs.
How many eggs do they lay? 
My chickens are pretty old. I suspect I have the oldest chickens in the city. Two are 5, the other two are 7. The two 5-year-olds lay about every other day.
How quirky are your chickens?
Eartha can fly. Most chickens can sort of glide, but she can actually fly. She sometimes goes up in the rafters of the garage. If [Chris] puts his arm out, she'll jump onto his arm. Sometimes we miss eggs, and [the other chickens] will hide them. So every now and then we'll catch Hillary rolling eggs to us. The two old girls, they just come out and sit on my foot. And if my toenails are painted they'll try to peck at them. I don't know why.
What's their favorite treat?
They like yogurt, fruit and veggie scraps. They'll eat watermelon rind down to the thickness of a piece of paper.
Any tips for new chicken keepers?
One of the mistakes we made: our first coop wasn't 100% sealed and we got mice in there. Have a plan before you get them for what you're going to do when they slow down as egg layers. We're going to keep them as pets.
Chris Novak, 53 | Old Irving Park | Chicken keeper since 2008
"You can take the boy out of the country, but you can't take the country out of the boy," chuckles Chris, who grew up in the rural suburbs of Saint Louis. While the front yards of his neighbors are well-manicured, in his, native Illinois plants tower up to 6 feet tall in the parkway. And then there's the backyard ...
What do you have going on in your yard?
The backyard is a little haven from all the concrete and noise. I planted apple trees … kiwi, grapes, peaches, cherries, plums. And vegetables, I have the usual—tomatoes, kale, and corn.
How many chickens do you have?
I have four hens: a barred rock, a dark brahma, an american, and a buff orpington. In the morning, when I go to feed my dog, Pilot, the chickens are usually waiting because they want to nab a few of the nuggets. [While] Pilot does a run around the porch to protect his food, one will run up and sneak one out of the bowl before Pilot can run back and catch her.
Where do you keep them?
For their first coop, I scavenged a kitchen cabinet from the alley and built a roof on it and made a ramp up to it. You could say it was rustic. But then, someone threw out an old tool shed, 4 by 5, and I cut it down to about 5 feet tall. The two big doors give me full access for cleaning. Much better than trying to squeeze into a kitchen cabinet. ... Also, I let them free range in the yard, so they're always scavenging for bugs and things to eat.
What's their favorite treat?
The compost is near their chicken run, close to the coop. They go through most of the compost stuff and because they're always scratching, they kind of work into the ground what they don't eat. They also poop throughout the yard, so they're always composting.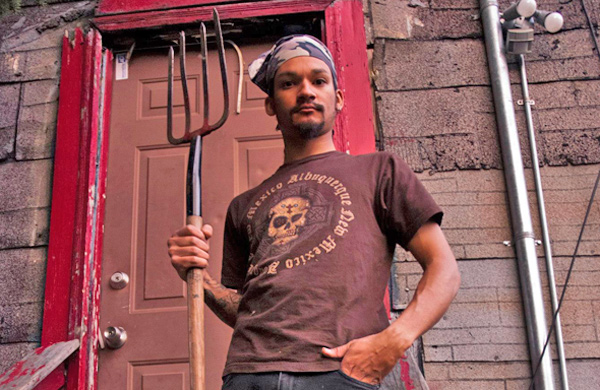 Tristan Beache, 29 | Back of the Yards | Chicken keeper since 2007
Tristan was "unscientifically vegetarian" for years when he realized the stomach issues that had plagued him on and off since he was a kid hadn't subsided. His suspicions that these issues had to do with processed food kicked off his interest in the food system, leading him to purchase and create the
Freak Farm
, an artists' homestead where he grows a variety of plants and raises a bevy of fowl, including quail, duck, wild turkey, and chickens, and which earned him
a nod from Grit magazine
as one of its Homesteaders of the Year in 2012.
What is your vision for the Freak Farm?
When I decided to buy a home, I wanted to buy a place where I could substitute my purchased food with homegrown food. Because of my career as an audio engineer, I had to be located in some sort of metropolitan area. I needed a large building as well. [When I bought it, I thought] I could rent out rooms to other artists, who were interested in helping out in the recording studio and farm activities. It's more than a hobby—it's a lifestyle. Environmental issues are always something that I've preached about. I'm not really living off the grid, but I'm trying to get as close to it as I can.
How many chickens do you have on the farm?
Nine chickens. Four turkeys. Rabbits, quail, and pheasants.
How is it beneficial?
You don't need a gym membership—you've got a daily workout. And as far as the cost, if you shop at Whole Foods and local markets, that's more expensive. So are medical bills or health insurance. [It also keeps me] involved with other people. It's more of a social thing than a career thing. The chickens and turkey roam freely in the yard. They [eat] anything growing in places I don't want it to grow. So I don't have to worry about lawn maintenance or anything like that.
Do the other birds lay eggs, too?
Theoretically, the turkeys will lay eggs when they are old enough. They're different tasting than chicken eggs. The duck eggs are very rich. I can't even eat more than one duck egg. And when quails lay eggs, their body temp is hot enough that you can eat them raw safely.
What's the difference between your eggs and those at the store?
Any farm-fresh egg tastes so much different than the best store-bought egg you can buy. I usually have a waiting list of friends who want chicken eggs from me. My friend bikes 9 miles to get my eggs.
What advice do you have for new chicken keepers?
We are trying to preserve this [practice of] homesteading in Chicago. It's good to develop a relationship with your neighbors. People should have a coop for their chickens and keep them in the coop. [My free-range yard] is not a good example of how most people in Chicago should do it. If you did this in Humboldt or Wicker Park, you might upset some neighbors. [Don't] get rid of the chickens at the Humane Society if you decide you don't like chicken keeping. There are a whole bunch of people who would take them. And don't get roosters—they wake up the whole neighborhood.
Are you thinking of keeping your own chickens? Here are some tips from the experts:
Marina Post, agriculture consultant at Christy Webber Garden Center
As shoppers browse plants in the outdoor yard at Christy Webber Garden Center, they may come face to face with the center's two hens, Starla and Buttercup, who range free during business hours.
The benefits:
Companionship: "They're just like any other pets you want to forge a relationship with." The poop: "[It] is like brown gold for compost." Home economics: "The best free-range eggs can cost up to $8 a dozen at the store."
Things to consider:
Post-laying years: Since most hens lay for only one to three years, Marina insists that people considering keeping chickens think about what they'll do with them after their laying years are up. "I'm keeping mine; my husband is more practical. He wants to eat them." Keeping more than one: "Chickens are flock animals. They don't do well on their own."
Jennifer Murtoff, urban-chicken consultant at Home to Roost
To say Jennifer has an affinity for birds would be an understatement. She spent her childhood in rural Pennsylvania surrounded by her family's chickens. Years later, a spontaneous purchase of a
chicken-shaped purse
sparked an idea that's grown into a part-time chicken consultancy. Today, Jennifer has helped establish coops around the city, including most recently at the Cook County Jail for its garden program. She remains a font of chicken-centric knowledge.
Common misconceptions:
"People often think they smell, they're noisy, they draw flies." She says that if you have three or four hens in a backyard and they're cleaned up after regularly like any pet, no one walking down the street would be able to guess which house keeps chickens.
Advice: 
"Educate yourself!" Take a class, such as those offered by
Angelic Organics
, or read
Storey's Guide to Raising Chickens.
Every chicken keeper is an ambassador for the practice as a whole. "If enough people screw it up, they'll ruin it for everybody else."
Where to get your gear:
Christy Webber Garden Center
for feed, coops, and feeding accessories, such as storage bins and waterers
Belmont Feed and Seed
for feed (duh) as well as chickens—they had at least three different breeds clucking in the back room on a recent visit