Contouring in Four Easy Steps (Or Just One If You're Lazy)
BY: ASHLEY HAMER | 4.29.2014 |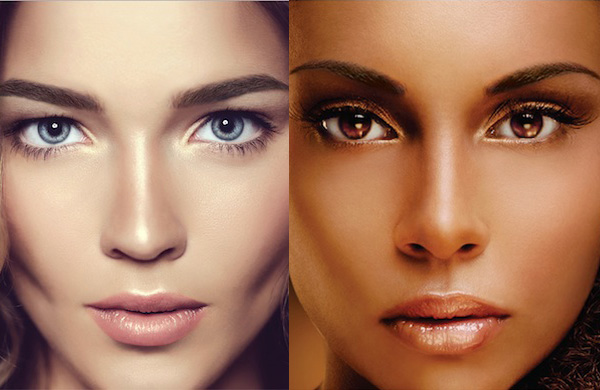 For those of us who barely make time to put on makeup, contouring—the art of shading and highlighting the cheekbones, forehead, chin, and other facial features—might sound like a chore. It may have only achieved mainstream popularity recently (thanks, Kardashians), but professional makeup artists have been contouring for decades. Just ask Eugenia Weston, an Emmy-nominated makeup artist and founder of Senna Cosmetics.
"I've been doing contouring and highlighting ever since I started my career," she said. "But it's so interesting that now there's such a resurgence. I really have to credit that to Kim Kardashian, because she's so heavily contoured and highlighted. So is Jennifer Lopez. I think because they're such beauty role models for society, now everybody is getting back to contouring."
What's the point of contouring?
It's like your own real-life Photoshop studio. "Contouring creates symmetry and balance [in] the face," Eugenia said. "Maybe we don't have high cheekbones and we can enhance them with highlight, maybe we have a weak jawline ... maybe we have a high forehead and we can shade that down. ... We can slim a nose, we can widen a nose, we can make it look longer."
Are you saying I have to buy even more makeup?
Well, yes. But not much. Professionals typically use at least three different shades when they contour—Senna Cosmetics' Face Sculpting Kit ($48), for example, includes a gray-brown shader, a highlight, and a lowlight—but Eugenia said the average woman doesn't need that much. "I would just get a neutral brown and a really light, light shade, either in a cream or powder form."
Though contour shades are distinctly different than bronzers, which are designed to warm the skin, Eugenia said a bronzer would suffice for most people—just make sure it's brown, without an orange or red hue. (She suggested Senna's Baja Bronze [$30] as a good neutral shade.) Most importantly, any colors you choose should be matte, without a hint of shimmer. If you can't find one without shimmer, get a face powder three to four shades darker than your skin tone.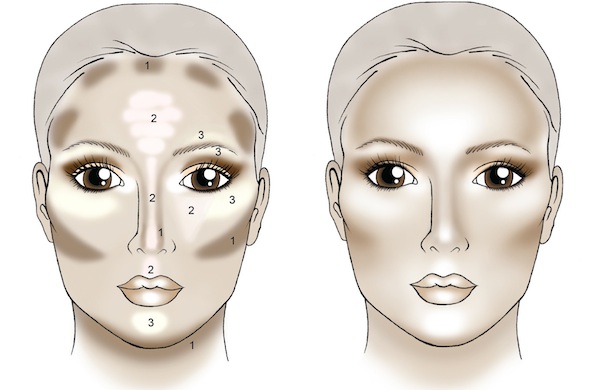 So how many steps are we talking?
As many as four steps, as few as one. It all depends on what you're willing to do. Here's the whole-9-yards approach (we'll get to the one-step techniques shortly):
1. Start with a highlighter—that "light, light shade" at least three shades lighter than your skin. This product serves two functions: 1) It can make features look longer. Apply it on anything you want to elongate, such as the tip of the chin or down the center of the nose. 2) It creates high points on the face. Try it on the cheekbones, forehead, and nose, and under the brows and eyes for a bit of lift.
2. Shade beneath the cheekbones. Just as the highlighter created high points, darker shades create more dimension by adding low points. Whether using a true contour shade or the matte bronzer, follow your jaw's natural indentation "from the top of the ear angling toward the mouth," Eugenia said. (If you're having trouble finding this spot, suck in your cheeks like you're making a fish face.) Apply the shade in a half-moon shape within this indentation, extending to the point in line with the outer corner of the eye.
3. Sculpt the rest of your face. Depending on what look you want to achieve, you can shadow other areas as well. Shading around the hairline and temples can make a forehead look smaller, and under the jawline can create more definition. "As women age, gravity makes the face fall, so you don't have that nice definition," Eugenia said.
4. Add a bit of shimmer. You can use a shimmery color, either as the next step or in place of the matte highlight. Eugenia suggested placing this high-dimension hue on the cheekbones and, optionally, down the center of the nose. Use shimmer sparingly, though, if at all—it tends to exacerbate oil, large pores, and fine lines.
Say there's an alien invasion and I have exactly 12 seconds to contour before I flee into the forest. What then?
You have two choices: just bronzer or just highlighter. With the bronzer, use a medium-size powder brush to shade under the jawline, under the cheekbones, and above the brow bone. "You could even use it in the crease of the eye," Eugenia said. "That really is quick [and] easy, and it looks really good." If you use only highlighter, apply it on the cheekbones and blend it up to the eye.
Overall, Eugenia suggests that everyone give contouring a try. "I think that people shouldn't be afraid of it," she said. "It really creates dimension in a face. Most people put makeup on every day, so just adding that extra little step ... makes a big difference."
Photos courtesy of Eugenia Weston
Shop Groupon Goods for products like cosmetics, makeup brushes, and even full contouring kits: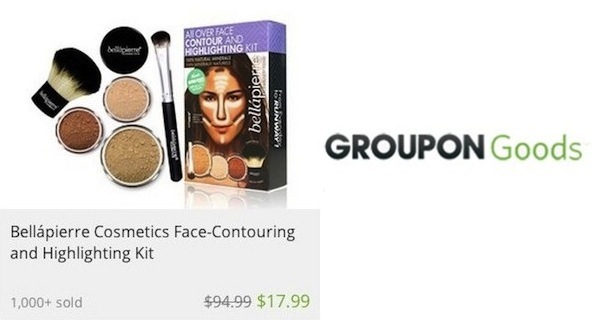 BY: Ashley Hamer
Guide Staff Writer
Ashley Hamer is a musician, marathon runner, and science lover. When she's not writing for the Groupon Guide, she writes about science for Mad Art Lab.