Cooking Up Change in Chicago and Across the Country
BY: Shannon Jewitt |
Jun 11, 2013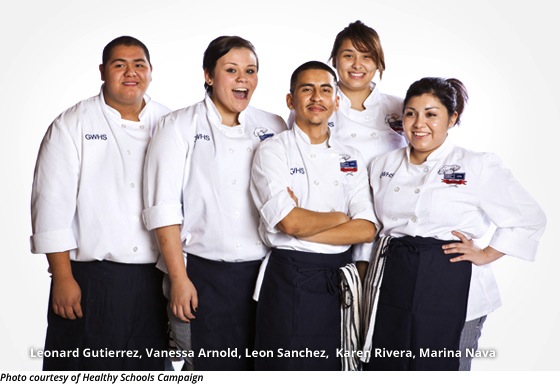 On Monday, June 10, the national finals of the
Cooking Up Change
competition were underway, and Chicago's team—five students from
George Washington High School
on the far South Side—won an honorable mention for Best Presentation of their revamped school lunch. I caught up with the Culinary Patriots, as they are known, just before they headed to Washington, DC, for the finals. The team members shared their tips on how to cook a healthy and delicious school lunch. They also weighed in on the state of school-cafeteria lunches, whose palates they'd like to please, and their future cooking endeavors, which may or may not include Lil Wayne.
GROUPON: What influenced your recipe? Did you approach the competition thinking of what you could make for a school lunch, or did you first think of what would be the healthiest or tastiest?
LEON SANCHEZ: I would definitely say our Hispanic and Latino heritage. LEONARD GUTIERREZ: My country's Mexico, my mom is Mexican. All my family is Mexican. MARINA NAVA: [Originally, we thought of using tofu.] But we didn't know how to work with it. When we did, it fell apart, and that was a mess. We basically threw it out and were just like, oh no, we cannot work with this. So what we did with that, we thought of things from our culture, from what we wanted to make and make them healthier. Like things around the house ... and that's where we came up with our chicken rancheros, our elotes, and our tropical fruit.
G: How much time were you able to devote to working on these dishes? Did you work on this during class or separately from school altogether?
MN: We worked on it in class because we have a third through sixth period that's maybe 2.5 hours or 2 hours. But even after school sometimes we will volunteer and everything.
G: Did you guys immediately agree upon something, or did it take you a while to decide what you were going to do?
MN: I think after we figured out to stay with what we know best, we agreed upon it really fast. So that was a major plus. It wasn't a struggle during our time in the competition.
G: What are some examples of those healthier techniques?
LS: We did not use any butter, salt. We couldn't grill. And we did not use sugar. And we also used ingredients like low-fat mayo, low-fat yogurt, cinnamon, fruits, vegetables, and chicken. All that went on the lines of being tasty, but at the same time being healthy, and for [Chicago Public Schools], affordable.
G: How did you form your team? Do you have a team name?
KAREN RIVERA:
We are the ones mostly into culinary, and we want careers in culinary business. So we all kind of figured, hey, let's try this out and see if it works. A team name? Our team name, we just call ourselves Culinary Patriots.
G: What has been the best part of this experience?
KR: Being able to cook for the mayor and being able to meet the people that we've met so far and being able to do big events and people knowing who we are and what we came such a long way for. Other than that, we've gotten to meet Buddy Valastro from
Cake Boss
and we've met Cat Cora, Guy Fieri. LG: For me, the mayor. Getting to go to DC. This is my first time going there.
G: Do you know that their subway trains have carpet? Isn't that weird?
LS: Oh, awesome, I will check it out!
G: If you could serve your dishes to anyone, alive or dead, who would it be? What would you hope they would say or do after taking their first bite?
MN: I would serve it to my mom because my mom passed away eight years ago, and she hasn't really tasted anything that I've cooked because culinary wasn't really in my blood back then or whatever. But I would want my mom to taste it and see what we've made as a team, and hopefully she would have been proud of me. Well, I don't major in Mexican food, but I would hope that she would say I can cook. You know, you can't burn stuff, you didn't burn down the kitchen. LG: Probably my favorite rapper, Lil Wayne. He'd thank me for the food and then [I would] get his autograph. VANESSA ARNOLD: I'd love to be able to serve it to the president, to at least show him what we can do and how far we were influenced with this competition and everything. And to show him lunches can taste good and be healthy all at the same time. I would hope that he liked it, and he would be eager to make more school lunches have more flavor.
G: How do you feel about the cafeteria food at your school?
LG: I think it's OK, but it needs more things. KR: It's not bad … . VA: Well, it's good for right now. But we were talking about it earlier, and variety came up. And a variety of food at my own school would be great. I feel like all the kids go to one type of food. And they feel safe with it, and they won't try anything really new. And I feel like, if there were more choices in the lunchroom, it'd be a lot better for the kids to try it.
G: Has your school served the dish you have in the competition?
KR: They served our lunch that we've made to the students. They've served it to 3,000 schools across the board. LG: Yep. Everybody liked it.
G: Do you cook at home?
VA: I actually do and I don't. Not too much. Well, I'm actually into pastries, so I'll usually bake, or I'll make peanut-butter bars, or I'll make this candy that I'll take to school.
G: What activities have you done through the Cooking Up Change program in Chicago? For example, I heard you were cooking for the mayor, who used to work at Arby's, where he cut off half his finger. Random question: How do you practice safety in the kitchen?
LG: We went to a board meeting. We cooked for the mayor. We were on Fox News,
Good Morning Chicago
. LS: You can practice safety in the kitchen [even] if you're holding a knife—hold it close to you. You tell people you have a knife. If you have a hot pan, you tell people "Hot pan, hot pan," and you know, just basically practice safety and sanitation.
G: Do you want to become chefs for your careers, or do you see cooking as more of a hobby?
MN: Oh yeah, definitely. After high school I'm trying. During my whole high-school years and everything—I'm a junior right now—but I have done major culinary events such as Lollapalooza, Dave Matthews Band, Blues Festival, Taste of Chicago. VA: No, I definitely want to go into it as a career. I want to be a pastry chef. And I also want to infuse Asian cuisine in it and have Asian pastry, kind of.
G: If you had your own restaurant, what would it be called?
VA: What would I call it? Something along the lines of Fusion. LG: I don't know. I'd have to think about that.
G: Do you know what kind of restaurant it would be?
LG: 'Cause I'm going to study Latin food, the cuisine would be Latin, from Mexico and South America. LS: [Mine] would be more of a mixture, not just a Hispanic restaurant or an Italian restaurant or a Greek restaurant, but more of a mixture, a combination of everything … basically a place where you could find all types of food and all types of ingredients that you wouldn't find anywhere else and put [them] together to create a delicious dish that only that place, that restaurant, would be known for.
G: Can I get a reservation?
VA: Oh, of course!
BY: Shannon Jewitt
Resident Beer Stalker Shannon has an insatiable thirst for craft beer. Despite being a vegetarian, she always makes an exception for fries cooked in duck fat.