Smuttynose's Robust Porter Should Not Be Your First Craft Beer
BY: Shannon Jewitt |
Nov 7, 2014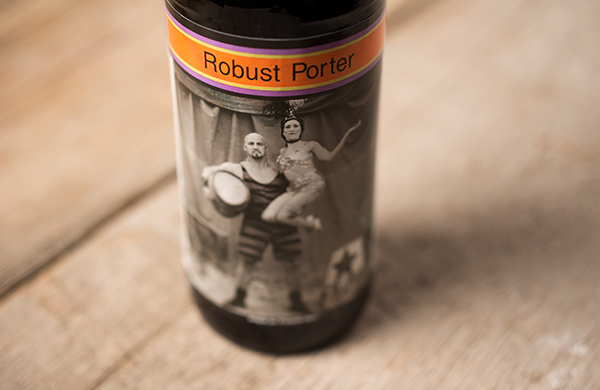 There are almost 3,000 craft breweries in the United States. In this edition of Beer Stalker, we investigate the winter origins of Smuttynose Brewing Co.'s Robust Porter and find out why it isn't a beginner's beer.
The beer:
Smuttynose Brewing Company
's
Robust Porter
Hometown:
Hampton, New Hampshire
Malts:
North American two-row, carastan, C-120, Special B, chocolate, dehusked Carafa II
Style:
Robust porter
Hops:
Magnum, cascade
Color:
A hardy, almost-black mahogany, like the ink Ron Swanson would use to write a woodworking manual.

What was the inspiration for the Robust Porter?
"We brewed years ago a Winter Porter that we really liked," said David Yarrington, the director of brewing operations at Smuttynose. "And it sold really well, and we wanted to extend it to a full-time
beer
." The brewery was worried the beer's name would inhibit year-round marketability, so they changed it to Robust Porter. They felt the new name also better reflected the beer's style, a substantial dark ale with hints of roastiness.
Who would you recommend try this beer?
"This is probably not a 'my first craft beer' kind of beer," Yarrington said. "We sell quite a bit of it, so it's obviously got a fairly wide audience, but it's a unique flavor profile." The full-bodied porter features coffee and chocolate notes. "This is really geared toward the people that like the big, rich, malty beers," he said. As a result, it pairs well with desserts and savory meat dishes. Yarrington also recommended trying the brew as a nightcap.
What are the origins of the brewery's name?
"Smuttynose is actually the name of an island off the coast of New Hampshire," Yarrington said. The island is visible from the brewery, and Smuttynose draws its inspiration from the area and takes pride in its New England identity.
Speaking of New England, what do you think of the brewery scene there right now?
"Of course, some of the more established guys are always doing some great brewing," Yarrington said. "My friend down at
Cambridge Brewing
, Will Meyers, always makes interesting beers," he said. Farther north,
Hill Farmstead Brewery
,
Lawson's Finest Liquids
, and
Alchemist
are among his favorite Green Mountain State breweries, and "the guys at
Allagash
are just killing it right now." Closer to home, Yarrington recommended the work of
Tree House Brewing Company
and
Stoneface Brewing Company
. Overall, Smuttynose is in good company. "I think New England is absolutely starting to step up its game," Yarrington said.
Photo by Andrew Nawrocki, Groupon
Work your way up to Robust Porter with these guides:
| | |
| --- | --- |
| | |
| Four Dos and Four Don'ts for Craft-Beer Bar Beginners | Allagash White Is the Original Gateway Beer |
Shop Goods for kitchen and dining products:
BY: Shannon Jewitt
Resident Beer Stalker Shannon has an insatiable thirst for craft beer. Despite being a vegetarian, she always makes an exception for fries cooked in duck fat.