Curiosity Shop: Cult Films and Vinyl at Laurie's Planet of Sound
BY: TYLER CLARK | 5.21.2013 |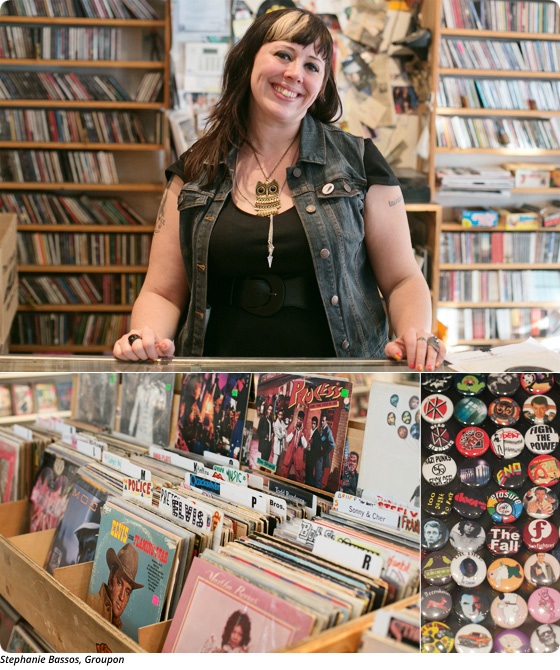 It's just after 6 p.m. on a sunny Wednesday in spring, and Lincoln Square buzzes with its usual after-work activity: parents pushing strollers, guitar-strapped students hoofing it to lessons at the Old Town School of Folk Music, leftover rush-hour traffic snaking its way through the bend at Lincoln Avenue. But this everyday scene is accompanied by a decidedly unexpected soundtrack: from an open door just south of the L tracks pours a hypnotic banjo drone, more at home at a backwoods séance than a bustling Chicago street.
The music emanates from the turntable at Laurie's Planet of Sound, where clerk Melissa Geils has just dropped the needle. The record is The Godward Way, a limited-edition release by Daniel Higgs, former lead vocalist of Baltimore post-hardcore legends Lungfish. You won't find it just anywhere, and you definitely won't hear it on the radio. For Geils and the rest of the staff, that's the point: when you come to Laurie's, you come to learn something new.
Open since 1997, Laurie's is now an iconic part of the Lincoln Square landscape, a fixture on par with the Chicago Brauhaus or the Lombard Lamp. Geils has been around for 14 of those years, working with a small crew of longtime clerks to uphold the vision of owner John Laurie.
"[John] is a huge media junkie and strange and unusual films guy. That's his other love. Probably, at this point in time, more so than music," Geils says.
This passion for oddities manifests itself in the DVDs that line the shelves along the shop's north wall. Carefully curated by the Laurie's team, the titles strike a careful balance between rare and familiar; compilations of local favorite Bozo the Clown share space with B-movie classics (I Was a Teenage Frankenstein), notoriously hard-to-find flops (Ishtar), and modern-day entries in the cult canon (FDR: American Badass!). The shop's music video section also houses its share of obscurities, from collections of Kraftwerk videos to showcases from now-shuttered New York clubs such as CBGB and Max's Kansas City.
If you think it sounds like the kind of place the guys from Mystery Science Theater 3000 might shop, the Laurie's team would take it as a compliment; that show is also well-represented, as is its contemporary successor, RiffTrax. This diversity also makes for an eclectic customer base. You're just as likely to find nostalgic twentysomethings grabbing a cheap copy of Space Jam as you are to run into B-movie completionists seeking the final piece in their Tor Johnson collection.
Also making up the tight-knit community of regulars are crate diggers who comb through the shop's curiosity-filled vinyl collection. For Geils, the loyal clientele represents the new role the store has assumed in the age of digital media. "It's way different than it was when I first started working," she says, glancing down at the store's cassette bin. "Now, the independent record store is for people who care about music enough to purchase it in object form. We've become kind of a community place."
Loyalty breeds familiarity, though, leaving Laurie's clerks perpetually on the hunt for new, even more impressive wares. In addition to working with distributors and buying used record collections, the staff often hits the streets, scouring antique stores for everything from vintage bowling patches to a taxidermied fish (which is currently available for the low, low price of $25). According to Geils, though, the clerks are still happiest when in the store, chatting about life-changing songs or pairing eager customers with a long-forgotten film.
"We've always had a really small staff of nice people," Geils says with a smile. "I think we're kind of known as the nice record store, but that's fine."
PARTING PIECE
In addition to holding court behind the counter at Laurie's, Melissa Geils also dabbles as one of the tastemakers behind BLVD Records. Since opening in 2010, the label has amassed a tidy catalog of seven releases, ranging from the brawny noise rock of Fake Limbs to the moody goth atmospherics of Staring Problem. They're all available at Laurie's, along with an assortment of material from other notable Chicago labels including The Numero Group and HoZac Records. But when it comes to local perspective, the shop's most valuable find might be You Weren't There: A History of Chicago Punk, 1977-1984, Regressive Films' 2007 documentary that charts the snotty bands and fearless clubs that helped put the city's underground music scene on the national map.
BY: Tyler Clark
Guide Staff Writer
Tyler is a writer, storyteller, and musician from Chicago. His stories have appeared on stage at shows including Mortified, Story Club, and Lethal Poetry.