Curiosity Shop: Logan Square's Bucket O' Blood Books and Records
BY: DAN CAFFREY | 3.29.2013 |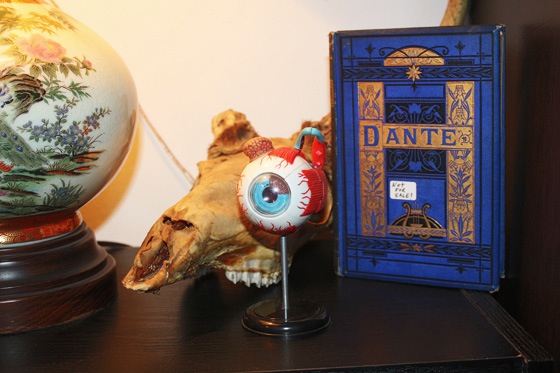 You'd think the Logan Square gem Bucket O' Blood Books and Records would be crawling with horror fanatics and full-on gore hounds. And sometimes it is. But the curated inventory of books, records, and CDs is more a reflection of owner Marc Ruvolo's personal tastes than a definitive library of splatter fiction and horror punk. "I just try and put as much cool stuff in here as possible," he explains.
Sure, there's a true-crime novel called The Trash Bag Murderer displayed at the front of the store. But right below that is a coffee-table book about the Broadway puppet musical Avenue Q. And yes, there are a few macabre decorations lining the walls—a couple of gargoyle heads here, a deer skull there—but they accent the space without overwhelming the handpicked collection of horror, literary, and science fiction.
Then there's Ruvolo himself. Soft-spoken and friendly, he prefers a hoodie and blue jeans to piercings and eyeliner. His welcoming nature even extends to Bucket O' Blood's frequent in-store events. He keeps everything BYOB and all-ages, from book readings by Bram Stoker Award-winner John Everson to a showcase of Harry Potter-themed rock bands.
That's not to say things don't get rowdy every now and then. A performance from Arizona folk-punkers Andrew Jackson Jihad drew an unprecedented crowd to Bucket O' Blood. "They just have super crazy fans coming from far away," Ruvolo says, laughing. "There must have been over 75 people in this tiny little store."
Parting Piece
Although we were drawn to a novella from the late Harry Crews, a 1967 Batman comic featuring an obscure villain called Bag O' Bones, and an original UK pressing of Kiss's Alive II (on red vinyl!), Ruvolo's favorite item isn't for sale. Sandwiched between two buckling rows of Star Wars and Star Trek novels sits the almighty Jabba Glob, a mint-condition, in-package Jabba the Hutt figurine that comes with a tub of green slime. Ruvolo is more than happy to explain how it works: "If you squeeze him, the goo comes out of his mouth."
Hungry for more? Try these independent booksellers in Logan Square.
Just steps away from Lula Cafe, this relative newcomer to Kedzie Boulevard spotlights works from local authors and hosts literary events throughout the neighborhood—think discussions at Revolution Brewing and author readings at the Logan Square Auditorium.
Like many off-the-beaten-path record stores, Saki is multipurpose: it sells books, houses an art gallery, and regularly hosts a variety of live events, such as standup comics and listening parties. Amid the treasury of obscure vinyl, buyers can also find a library of that long-forgotten yet cherished art form: zines.
Although several Logan Square bookstores specialize in specific genres, Uncharted Books takes pride in its more generalized catalog, which led the Chicago Reader to dub it Best New Bookstore in 2012. Just look at the staff favorites: One of Tanner's favorite novels is Treasure Island. Ruth, on the other hand, prefers French and Latin-American literature (Genet, Valenzuela, etc.), and Josh digs on the likes of DeLillo and Steinbeck. Then there's Ramona, an adopted siberian husky who serves as the store mascot and naturally prefers The Call of the Wild and Old Yeller.
BY: Dan Caffrey
Guide Staff Writer
Outside of Groupon, Dan is a playwright, Senior Staff Writer for Consequence of Sound, and contributor to The A.V. Club.