Curiosity Shop: Vintage Taxidermy and Antique Oddities at Andersonville's Woolly Mammoth
BY: Mel Kassel |
Apr 9, 2013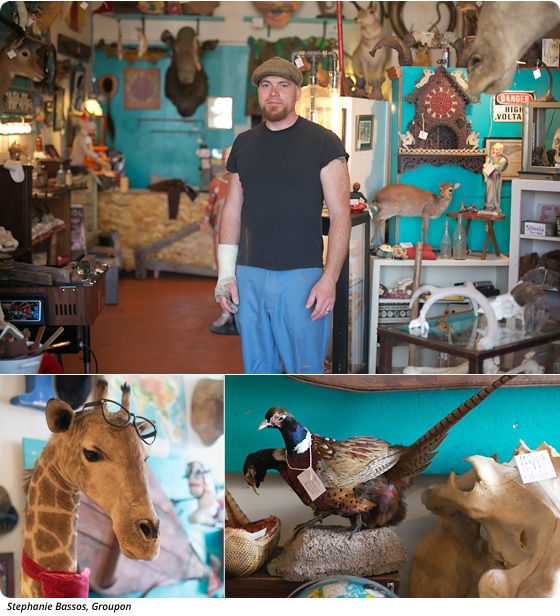 Woolly Mammoth's taxidermy collection creates a "motionless zoo" amidst the antique shops of Andersonville.
As he stares up the nostrils of a 7'3" stuffed giraffe, Adam Rust explains the world of competitive taxidermy. "Judges will take a flashlight, and they'll look up the nose of an animal, and look for the capillaries." This giraffe—Sir Neckalaus to his friends—won't be bringing home a medal any time soon, despite the size of his snout. That's because Adam doesn't care for the hyperrealism that wins contests. When he and his wife Skye are hunting down animals for their store, Woolly Mammoth, they prioritize character over correct anatomy. Therefore, most of the taxidermy items they sell are vintage. Adam admires the craftsmanship of older mounts, and he lists a few indicators of their quality: glass eyes, wood backing, and a heft that implies plaster on the inside, rather than styrofoam. "My favorite detail of all, and you can see it in this bobcat up here, is that lots of that vintage stuff left the skull in." He also gestures to the worn moose head above the register. "I really like the dilapidated stuff, too. I think it's kind of poetic." Adam and Skye prospect for items a couple of times a week, attending auctions, scouting through private collections, and meeting with vendors who range from veterinarians to junk dealers. Adam often customizes their finds—he'll replace a rabbit's kitschy base with a more practical wood block or transform a fish into a functioning lamp. Though they source many pieces from hunters, he says they never think of their wares as trophies. "We consider this an orphanage for these beasts; they're all endearing to us … For the longest time I had a problem buying rugs, because I thought, why should it be beneath my feet?" His compromise? Hang them on the wall.
Parting Piece:
One of the shop's more memorable examples of taxidermy art is a pheasant with two heads. "Those are actual pheasant heads, but it's a gaff," Adam says, using the term for a lifelike yet fake sideshow attraction. It's worth noting that Woolly Mammoth carries intriguing artifacts that aren't stuffed, as well. Antique medical instruments, biology books, and historical oddities abound, including an authentic ferrotype of Lizzie Borden.
On the Prowl for More Animal Art? Visit These Critter-Centric Galleries:
Brimfield:
Also located in Andersonville,
Brimfield
specializes in home decor. The shop displays decorative taxidermy items such as African kudu horns alongside its custom furniture and tartan blankets.
Art Scott at the Alley:
A
DNAinfo profile
of Art Scott proclaims that he "appreciates the elegance of a squid in a jar." His
Etsy store
testifies that he also appreciates cobras in glass spheres and catfish in corked bottles. Like Woolly Mammoth, he is slated to appear in the forthcoming season of
Oddities
on the Science Channel. Art sells his specimens at
the Alley
in Lakeview, where he also works as a piercer.
The Field Museum:
The man-eating
Tsavo lions
are only two of the
Field Museum
's taxidermied wonders. Nature Walk, the
Hall of Birds
, and other educational dioramas boast enough stuffed animals for an entire afternoon's worth of exploring.
Animal Inside Out at the Museum of Science and Industry:
Thanks to Dr. Gunther von Hagens, the inventor of the plastination process of biological preservation, visitors to
this exhibit
can view the inner workings of more than 100 animals. The so-called "anatomical safari" exposes the muscles, organs, and body systems of several species, from the ostrich to the giant squid.