Dallas' Unique Pizza Joints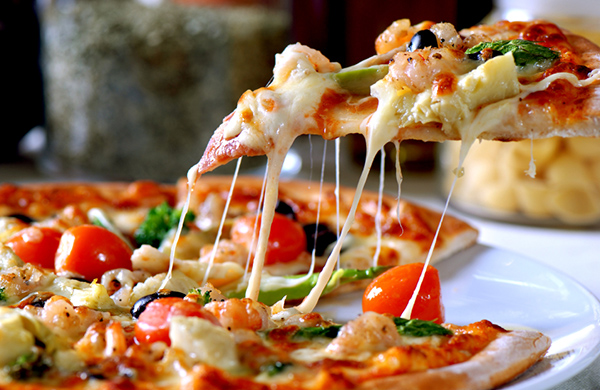 While Dallas' pizza scene may not be mentioned in the same breath as New York slices or Chicago deep dish anytime soon, the area has nonetheless made great strides over the past decade to churn out fantastic pies. Whether you're into authentic Neapolitan style or you like your pies topped with newfangled ingredients like chicken and ranch dressing, there's a Dallas pizzeria out there for you.
For slices with a wafer-thin, crackery crust and a robust, spicy tomato sauce, beloved dive bar Louie's on Henderson Avenue in East Dallas is the place to go. The nondescript white building may look unassuming, but the pies have a loyal cult following that keeps the parking lot packed on a nightly basis, thanks in part to a coveted appearance on Food Network's Diners, Drive-Ins and Dives. Pitchers of beer and slightly surly service are a charming part of the Louie's experience, as is the zippy Italian sausage that seems to top nearly every pizza that emerges from the pint-sized kitchen.
If authentic pies from the motherland are what you seek, look no further than Olivella's, a tiny but charming hole-in-the-wall located near Southern Methodist University. Owner Charlie Green brought in a Naples native to train the staff when he opened his pizzeria back in 2007, and it shows. The pies are about as real-deal Neapolitan as you can get, cooked quickly in a rocket-hot, wood-burning oven that gives the crust an irresistible char. There's also a thin, crisp-crusted Roman-style pizza that's served up in long rectangles. Customers can keep things traditional with the Margherita pizza, or order the fan favorite The Dream, made with housemade mozzarella, tangy gorgonzola, pancetta, chicken and jalapeños.
Plenty of pizzerias in the city claim to be New York-style, but Zoli's New York Pizza Tavern owner Jay Jerrier went the extra mile and brought in a consultant from a popular Brooklyn slice joint to help perfect the pies at his casual, counter-service Oak Cliff spot. Three different pizza categories are offered by the slice: the typical chewy-crusted New York-style, the thicker-crusted, slightly fluffy Grandma with sweet pomodoro sauce, and the extra-thick Sicilian with a robust, anchovy-laced finish. No need to feel bashful about asking for a side of ranch dressing here – Zoli's makes its own jalapeño ranch in-house.
BY: Gayot
Gayot
GAYOT.com serves as a leading worldwide authority on the good life. Millions of readers turn to Gayot's savvy, professional reviews on dining, travel and lifestyle. From "Best of" lists and travel guides, to a searchable restaurant and hotel database, Gayot provides dependable coverage while keeping up with the latest trends and news.