Dark Bars Need Love, Too: Where to Go to Escape the Sun
BY: Alison Hamm |
Jun 10, 2013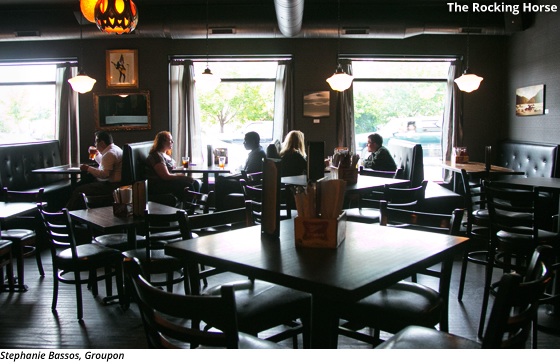 Summertime in Chicago is often about finding the right patio. Be a rebel and find a cool, dark bar instead. We've selected a quick roundup of the best places to avoid summertime bliss—whether you want to hide from baseball fans or just linger over a cold beer.
To chase a platter of tater tots with a whiskey shot:
The Rocking Horse
| Logan Square (2535 North Milwaukee Avenue) Sure, it can get pretty bright in here with the curtains open, but if you and a group of friends can snag one of the cushy black booths next to the windows, just pull the heavy dark curtains closed. Now that you're safely in the shade, get ready to dive into a huge platter of tater tots. Keep it simple with regular, ranch, or Cajun options, or order them as they do in the land of ice and snow: poutine-style, smothered in shredded cheddar and brown gravy. Once you're done, erase any regret with the daily whiskey shot. Then, prepare to cringe in horror if anyone asks you to reopen the curtains.
To placate your sunshine-seeking friends while you hide out inside:
The Orbit Room
| Avondale (2959 North California Avenue) The Orbit Room's large, tiki-themed patio and above-average bar food attract plenty of daytime drinkers and diners. But while everyone else soaks up the sunshine, sneak inside and snag a black barstool. Soak up the Rat Pack decor while you consider the list of cocktails: rumchata martinis, singapore slings, and other tiki cocktails you can savor in the cool, dim bar light.
To pretend Cubs fans have finally abandoned Wrigleyville:
L&L Tavern
| Wrigleyville (3207 North Clark Street) Has the apocalypse hit Wrigleyville? No, you've just walked into L&L Tavern. Dip in for a break from all the sun-soaked fun and baseball fans. As the
Chicago Reader
put it, it's "an unpretentious glorious oasis amid the Clark/Belmont brouhaha." Or as my friend put it, "It's so sketch. I love it."
To drink $2 Hamm's Beers and stare at a tin ceiling:
Gold Star Bar
| Ukranian Village (1755 West Division Street) I'm not kidding in my byline or bio. Yes, my last name is Hamm, and yes, I dream of bars where I can buy a can of Hamm's for two bucks. At Gold Star, the bartenders hand over the Hamm's with a whiskey-special shot, if so desired, as long as you don't try to hand over a credit card—it's cash only. With a jukebox, a pool table, and tiny boxy TVs, it's the perfect place for a dive-bar fan who needs a break from the sun. It also took "dark bar" to a whole new level when I was there once—I was in the ladies' room when the bathroom light mysteriously shut off. It was creepy, but after escaping a pitch-black bar bathroom, the best thing to do was order another Hamm's.