Date Night in Two Square Blocks: Uptown
BY: DANIELLE MALLOY | 5.2.2013 |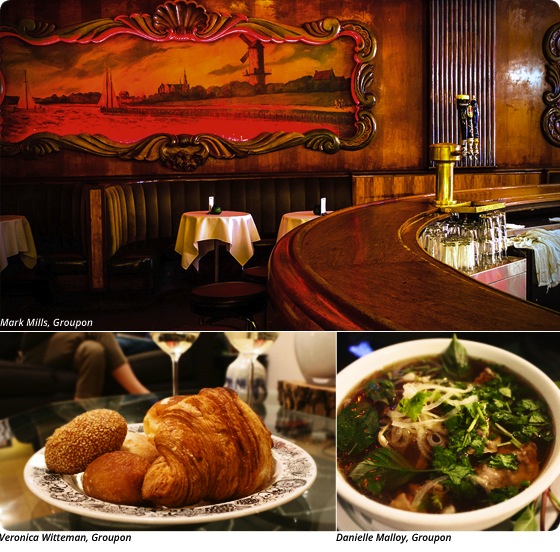 As a gentle breeze floats off Lake Michigan, Red Line trains rumble to a stop. Bright lights of historical theaters illuminate a path as couples stroll arm in arm down the block, the aromas of authentic Asian cuisine stirring appetites.
STOP.
You're not in Lakeview, Wrigleyville, or Rogers Park—this particular destination falls somewhere in between. Uptown, once the entertainment mecca of Chicago, has plenty to offer if you're up for a date that takes you off the beaten path. From sampling bánh mì sandwiches in Little Vietnam to learning the definition of love from a jazz singer at The Green Mill, below are our picks for a night out in Uptown. Best of all, all the stops are within two blocks of each other, so the only cab fare you'll need is for getting there and back.
Nha Hang Viet Nam | 1032 W. Argyle St.
With its more than 200-item menu, this cozy 10-table eatery encourages culinary exploration. For those coming to dinner with empty stomachs and unwavering resolve, a big bowl of pho is the way to go. (Unfortunately, that last bit doesn't rhyme: for those who haven't hear it aloud, pho is actually pronounced "fuh.") Sure, the classic Vietnamese soup might not be the most romantic food, but if your date can handle you slurping up a steaming vat of broth, noodles, and bean sprouts—with basil stuck in your teeth and your eyes tearing from hot red-pepper sauce—you probably have yourself a keeper. Viet Nam serves 11 varieties of pho ($6.95–$8.95) filled with everything from vegetables and chicken to rare steak, flank, tendon, and tripe. If you're in the mood for a more shareable dish, the extensive menu includes spring rolls, bánh mì sandwiches, and catfish in a clay pot.
La Patisserie P | 1052 W. Argyle St.
Just a 60-second walk from Nha Hang Viet Nam, La Patisserie P—a self-described Euro-Asian bakery—offers a little bit of everything sweet. And with many items costing around $1, you and your date can sample a bunch of unique pastries without breaking the bank.
When asked about the most popular item in the case, staff members all seemed to agree that their Parisian-inspired butter croissants are the most sought-after delectable. It's easy to believe, since the crescent-shaped rolls are lighter than air yet still just perfectly chewy. If you're in the mood for a more traditional Asian confection, try the Filipino-style pan de coco (coconut bread). These soft, flaky pastries—about as big as a halved tennis ball—are stuffed with sweetened grated coconut that's rich and moist. You might never touch a Mounds bar again. Just make sure you get to La Patisserie P before closing: it's open until 8 p.m. on Fridays and Saturdays; 7 p.m. on Wednesdays, Thursdays, and Sundays; and 6 p.m. on Mondays.
The Green Mill | 4802 N. Broadway
After cruising the hole-in-the-wall eateries on Argyle, The Green Mill jazz club—just two blocks south of Little Vietnam—makes for a more traditional romantic evening. Candlelit tables and plush half-moon booths invite dates to nestle up and enjoy the melodies of local musicians. The venue's regular performers include Patricia Barber, a jazz-ballad singer who may incite some hand-holding and loving gazes into your date's eyes—or your expertly mixed cocktail, depending on how the date is going.
The Green Mill has been a destination for couples for years, and it's even been the site of some marriage proposals, said owner Dave Jemilo. One occurred during a set by Grammy Award–winning jazz vocalist Kurt Elling. "[Elling] started talking about romantic stuff and had the kid get on stage right there and propose," Jemilo said. "The place went crazy." No pressure or anything, though. Even if you're only out on a first date, an evening at The Green Mill won't disappoint.
BY: Danielle Malloy
Guide Staff Writer
Dani is an associate editor at Groupon. She enjoys live music and hates capers. When she's not searching for the perfect pair of holiday socks, she can be found trying to convince passersby why Solange Knowles is so much cooler than her sister Beyoncé.