Day Off: Architectural Gems, Puerto Rican Eats, and Honky-Tonk Tunes in Humboldt Park
BY: María Lalonde |
May 17, 2013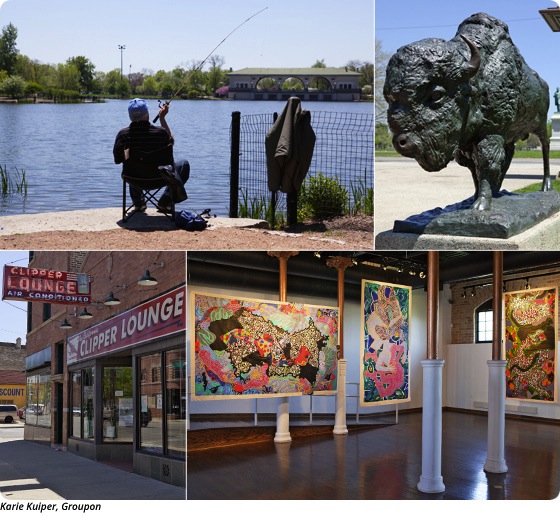 Work up an appetite exploring the landscaped gardens and historical architecture of Humboldt Park before refueling with a juicy steak jibarito and finishing the day off with live music at a 1940s-era lounge.
Humboldt Park
After bypassing busy streets and chain stores, stumbling into
Humboldt Park
's 219-acre grounds can be a bit of a shock. Vanished are the reggaeton-blasting motorbikes and fluorescent-lit laundromats; in their stead are families on bicycles, grassy playing fields and tennis courts, and more than 100 species of migratory and native birds. The historic park is home to a variety of architectural treasures, including the Humboldt Park Stables, a dramatic brick building with tall arches, red-tiled steeples, and timber gables. Today, the stately building houses the
Institute of Puerto Rican Arts & Culture
—the only museum in the United States dedicated to showcasing Puerto Rican history and culture. The museum's front archway opens into a courtyard, glimmering with brilliant mosaics that celebrate the island's artistic accomplishments. Inside, you'll find an ever-changing array of artistic and historic works from local, regional, and national Puerto Rican and Latino artists. Pieces range from somber photograph documentaries to bright urban caricatures to generations-old knitted dolls. The museum regularly updates its exhibits throughout the year and offers free admission to the public. Head north of the museum to find the park's lush Formal Gardens, where mist from a walk-through fountain moistens the petals of a sweeping array of colorful flowerbeds. The garden's entrance is guarded by two bison—bronze replicas originally designed by Edward Kemeys, the sculptor responsible for the lions that flank the steps of the
Art Institute of Chicago
. Not far from the garden lies the sunny lagoon, ringed with a sandy beach and surveyed by its own lifeguards. Feel free to splash about in the cool chlorinated water or grill corn and burgers on the shore. The entire lagoon is watched over by the Humboldt Park Boathouse, a soaring prairie-style pavilion erected in 1907. On warm summer evenings, the boathouse hosts outdoor movie nights, dance performances, and concerts.
La Palma
With chicharrónes vendors roving around the park, food trucks permanently parked on side streets, and countless eateries serving chewy mofongo and crispy jibarito sandwiches on Paseo Boricua alone, there is no shortage of Puerto Rican dining options in Humboldt Park. La Palma sets itself apart from its neighbors with its memorably friendly staff and authentically rendered guisados: hearty traditional stews brimming with chunks of cod, chicken, beef, or—on weekends—goat.  Dishes are served cafeteria-style along a lengthy counter, so diners can get a good look at freshly made corn fritters, fried green plantains, and roasted pork pernil before making a decision. The chefs at La Palma whip up their take on the Humboldt Park–born jibarito sandwich fresh to order, layering crunchy plantains with juicy strips of lean meat and garlic sauce.
The California Clipper
Housed in a historical tavern, The California Clipper is haunted by regulars of the rockabilly scene and a real ghost that allegedly hangs out around the ladies' room. The dimly lit space retains its 1940s charm with big red booths, vintage posters, and classic, understated cocktails. Arguably, the time to visit this neighborhood watering hole is on weekend nights, when local bands grace the stage with honky-tonk, blues, western swing, and jazz sets. You'll knock elbows with multiple generations out on the dance floor, from young professionals sporting pinup-style hairdos to swing dancers in their 60s. But if you can't make it on the weekend, the bar hosts other
events
throughout the week, including Monday-night trivia and monthly spoken-word shows. Regardless of what night you come in, there's always plenty of board games to play and chatty regulars to swap stories with—the only thing you won't find is a TV. Drinks-wise, the Clipper is best known for its signature Purple Martin cocktail, a concoction of coconut rum and grape soda from what might be the only grape-soda tap in Chicago.