Decorate Like the WPA with These Vintage-Style Chicago Tourism Posters
BY: TYLER CLARK | 12.3.2013 |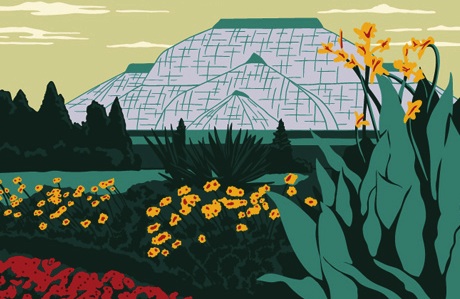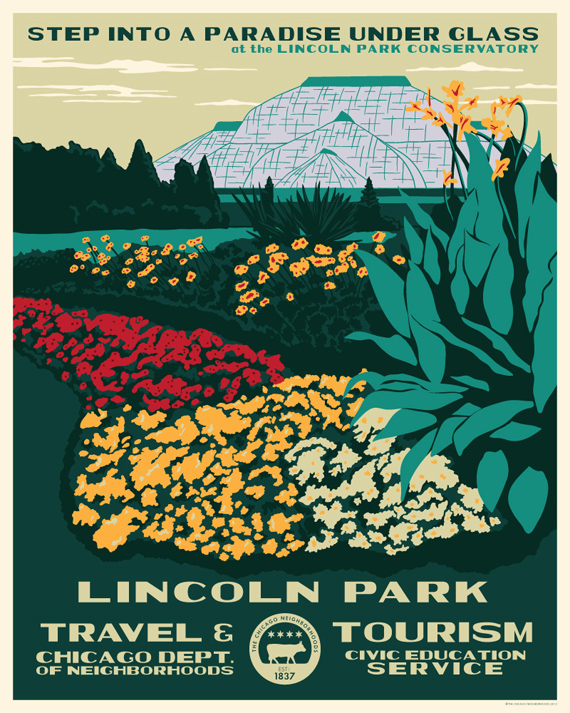 Steve Shanabruch had a serious case of logo fatigue. The designer behind The Chicago Neighborhoods had spent the past 18 months breathing graphical life into neighborhoods as big as the Loop and as obscure as Budlong Woods. The logos brought acclaim, earning him love from Chicagoist and a Best of Chicago 2012 nod from the Chicago Reader. People were even wearing them on T-shirts.
But instead of satisfaction, Shanabruch felt only frustration. He'd designed 118 logos. According to the Wikipedia page that helped inspire the project, Chicago boasts 244 neighborhoods, sub-neighborhoods, and community areas. Shanabruch still had more than 100 logos to go, and his font of civic enthusiasm was running dangerously dry.
Fortunately, inspiration hung in a frame on the wall in front of him.
"My wife and I have a Rocky Mountain National Park poster in our living room," Shanabruch says. "One day I was just sitting there, kind of burned out on all the logos I'd been doing for the neighborhoods, and I wanted to do something different. I was looking at the poster, and thought 'Huh. That's probably a good idea.'"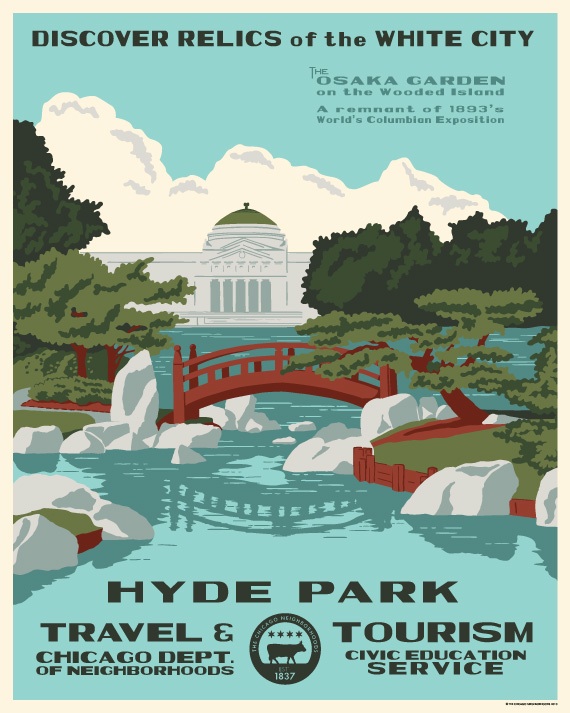 POSTER PLUCKED FROM THE 1930s
The national-park poster that hung on Shanabruch's wall represented a pivotal intersection between the government, the artistic community, and the grand spaces and landmarks shared by both. Originally produced between 1938 and 1941, the national-parks posters were produced by the Work Projects Administration, FDR's massive public-works program designed to bust Depression-era unemployment.
Designed by unheralded artists for temporary use in public offices, the posters were saved from obscurity through the work of Doug Leen, the former park ranger who's spent more than 40 years restoring, re-creating, and adding to the original 14 national-parks pieces commissioned by the WPA. Even in Leen's new posters (which now number more than 40), the hallmarks of the originals' Depression-era origins remain: stylized use of limited colors, central depictions of breathtaking locales, text exhorting viewers to get up and go.
Inspired by Leen, Shanabruch found himself drawn to the idea of conflating Chicago landmarks with the WPA aesthetic. "It's classic, it's easily identifiable, it's simple, and iconic," he says. "This is what America is, and this is what Chicago is."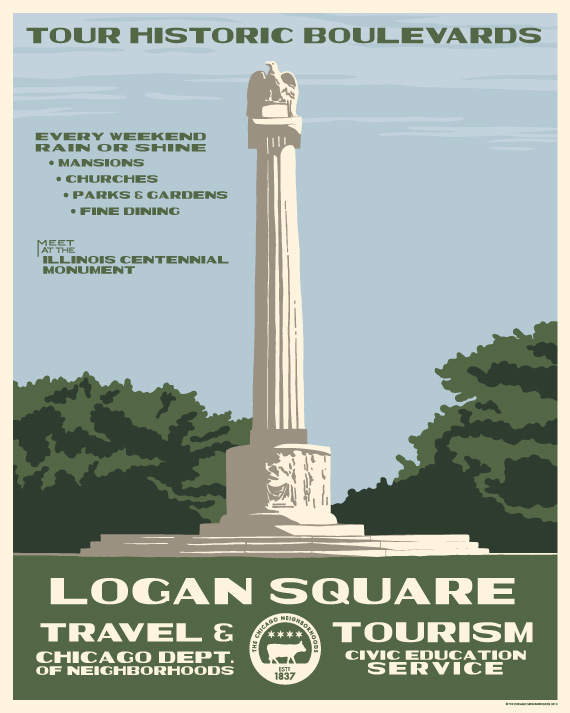 FROM THE CENTENNIAL MONUMENT TO DEARBORN STATION
For his first subject, Shanabruch picked a structure instantly familiar to many Blue Line residents: Logan Square's Illinois Centennial Monument. When asked about the choice, he admits that it was equal parts personal preference and pragmatism.
"I wanted something super recognizable, and also something that might sell right away," Shanabruch says with a laugh. "Something to get the word out."
Subsequent choices mirror that combination. In the six neighborhoods he's covered so far, Shanabruch has paid homage to his birthplace (Givins' Irish Castle in Beverley) and current neighborhood (the El tracks above the Chicago River in Ravenswood Manor), as well as places that challenge his color palette (Dearborn Station in the South Loop) or connect his work to popular city attractions (the Lincoln Park Conservatory).
No matter the reasoning behind them, Shanabruch's prints ($35) demand viewers' attention. Their vibrant, stately depictions of neighborhood landmarks come paired with text from the fictional Chicago Department of Neighborhoods urging viewers to "discover the relics of the White City" or "step into a paradise under glass." By harnessing this blend of civic pride and intrepid adventurousness that inspired the poster artists of the 1930s, Shanabruch recasts these familiar—and overlookable—structures as exotic destinations worthy of exploration.
Which, if you ask him, is the point.
"If people left their bubbles, they'd be surprised at what kind of cool stuff is out there."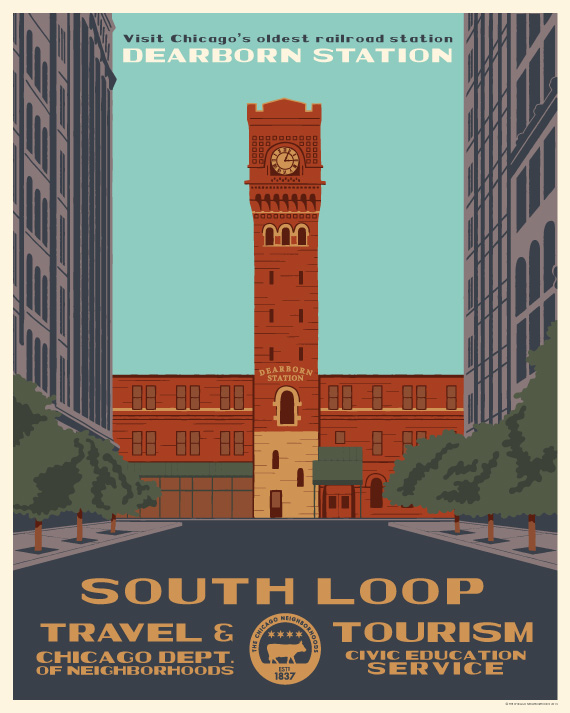 CHICAGO TOURISM RECONSIDERED
Between his logo work on The Chicago Neighborhoods and his new series of prints, Steve Shanabruch has become a one-man Chicago hype machine. Although he doesn't have an office at City Hall, his recent boosterism has left him critical of the city's own official branding efforts.
"It's always pretty weak, unfortunately," Shanabruch says. "That's coming from a designer. I tend to analyze this stuff when I see it, and the stuff that Chicago puts out isn't the greatest stuff."
Calling the opportunity to work for the city in an official capacity "a dream come true," Shanabruch already has his first priority in mind.
"As a native, for tourism, I'd want the city to push other things outside of downtown. I know that most tourists think of Chicago as Navy Pier or the Mag Mile, but there's so much more. Spread it out. Share the wealth with the whole city. We're not just downtown."
Prints from Shanabruch's WPA series ($35) and neighborhood logo series ($15) are available for purchase at thechicagoneighborhoods.com/Prints.
BY: Tyler Clark
Guide Staff Writer
Tyler is a writer, storyteller, and musician from Chicago. His stories have appeared on stage at shows including Mortified, Story Club, and Lethal Poetry.