Decorating a Wedding Can Be Cheaper Than You Think
BY: Michelle Schuman |
Mar 20, 2014
When planning a modern wedding, words like "simple" and "cheap" are not often the first that come to mind. But a growing (and courageous!) group of DIYers have dreamed up thousands of ways to create a truly unique setting for their special day. Luckily, many of them are also bloggers who are happy to share their ingenuity online.
Below, we've rounded up five of our favorite DIY decorations. If you love working with your hands—or just want to keep your budget below the price of college tuition—these charming ideas will add personality to your wedding with items found in your home or local hardware store.
1. Paper hearts table runner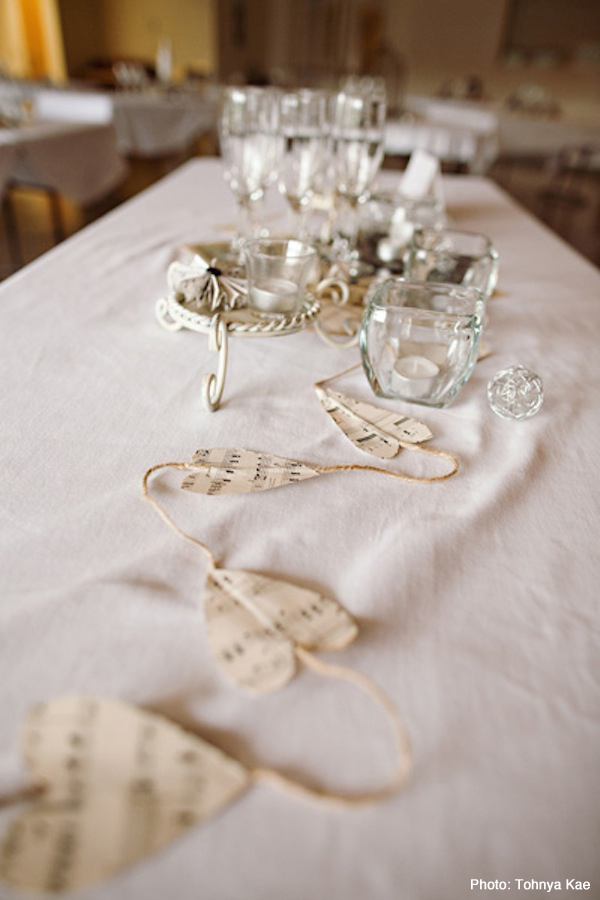 Though this particular garland was made from music sheets, any colored or patterned paper would do. Ruffled's bloggers provided no instructions—just more great, musical inspiration—but it seems all you'd need are scissors, paper, twine, glue, and possibly a stencil. (Though freehand cutting might look more … heartfelt.)


2. Light-bulb place cards
Yes, light bulbs are an unlikely choice for a formal event, but this bright idea from Wedding Chicks is just as functional as it is fetching. These place cards look elegant enough with their crackled bronze paint job, but when hardwired to batteries, they'll cast a romantic glow over your reception long after the sun has set. If you prefer not to paint them, low-watt Edison bulbs would be equally stunning.
3. Chalkboard wine-bottle vases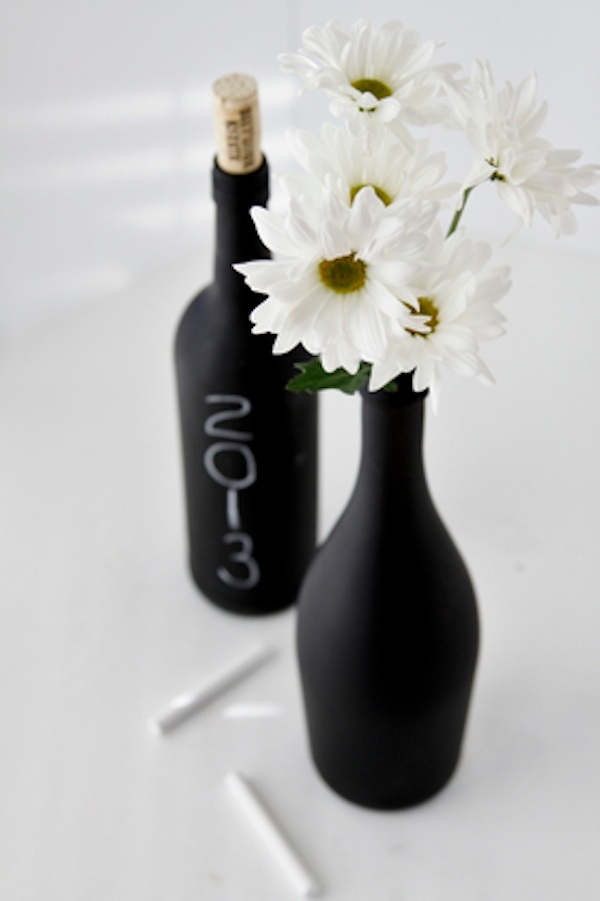 Wine bottles are no strangers to wedding centerpieces, but chalkboard paint adds an interactive spin. Place a couple of liquid-chalk pens or paint markers on each table so guests can draw on the bottles and leave well-wishes for you and your partner.
If you're new to chalkboard paint, Nook & Sea offers easy-to-follow instructions for working with it. If the traditional blackboard finish doesn't match your decor, A Beautiful Mess shows advanced crafters how to make it from scratch in any color.


4. Moss centerpieces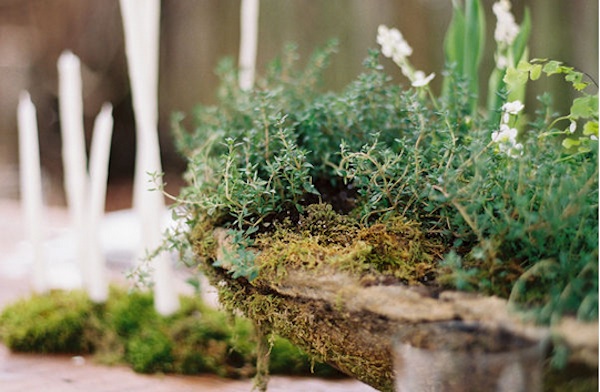 These moss pots introduce a botanical element to both indoor and outdoor settings without the high cost of flowers. The DIY experts at Once Wed have charted out the best way to whip these up—they might look complicated, but all you need is cement, moss, a bowl (used as a mold), and at least three days to let them grow.
5. Dried flower bouquets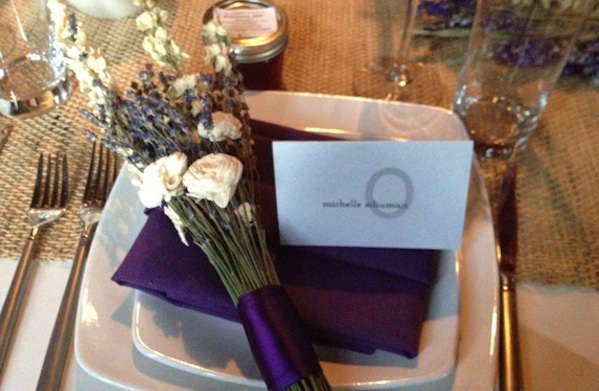 Last year, I was the maid of honor in a friend's wedding and helped her bundle the bouquets pictured above. Dried buds are much cheaper than fresh flowers and less of a hassle because they don't require water or refrigeration. Aside from accessorizing the wedding party, they can also be used for centerpieces and other decorations.
Bonus tip: the bride also made the table runners pictured here by simply cutting burlap to the proper dimensions and ironing it with a press cloth. She liked the rusticness of the unfinished edges, but more exacting brides-to-be can read Inspired By Charm's tricks for cutting straight lines and creating clean edges.
In order, photos courtesy of: Ruffled, Abbey Grace Photography, Polka Pics, OnceWed.com, Michelle Schuman
BY: Michelle Schuman
Michelle is a freelance fashion designer and dancer from Detroit. She has traveled the US extensively (and loves it!), but her biggest goal is to travel abroad.