Designer Lesley Timpe on Turning Fashion Rules—and Hats—Inside Out
BY: Sarah Gouda |
Apr 4, 2013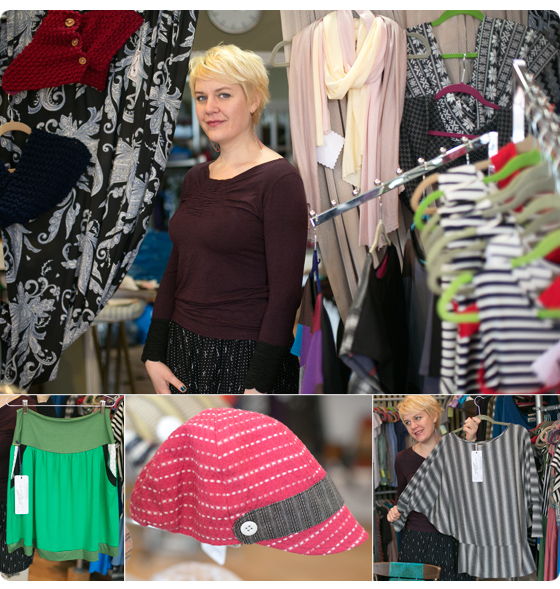 As both a boutique owner and a fashion designer, Lesley Timpe wears many hats. Which is fitting, considering it was her line of reversible newsboy hats that first put her funky clothing label,
Squasht by Les
, on the map. The distinctive mod caps are cut from whatever fabric catches Lesley's eye, whether it be a bright '80s-inspired print or a muted blue plaid. That sort of playfulness extends to the rest of her line as well, particularly her nostalgic dresses and bat-wing blouses. She updates retro styles by breaking the rules, purposely clashing colors or mixing the sartorial elements of different eras, and the results are surprising and effortlessly flattering. Below, Lesley details the eras, icons, and experiences that have influenced her unique aesthetic.
Q: Where do you draw inspiration from? Do you go into a design with something clearly planned out in your head or wing it as you go?
A:
For me, it's all about the fabric. I look at the fabric and then I get inspired. I've worked with tweeds, silks, and high-end fabrics for the hats, and I do mostly printed knits for my dresses. I have heard women talk about every type of body problem, so I use the prints as a base and draw inspiration from retro cuts to find a flattering shape.
Q: Which retro cuts do you think work well on everybody? Do you find yourself drawn to a particular era over and over again?
A:
I really get a lot of inspiration from several decades. I love the 1950s-style, Dior-inspired "New Look" silhouette, which is nipped in at the waist and fuller at the hips. It seems to work on many body types. I also like to play around with '60s mod cuts, and our bat-wing tops are a nod to the '70s. The 1980s have always been an inspiration to me but more from a fabric/print standpoint. I love the bold and bright fabrics in obnoxious prints, but I use them with restraint.
Q: Who are your favorite fashion icons of bygone eras?
A:
I have always been inspired by the work of fashion designers who are unafraid of trying something completely new, something completely out of left field. To name a couple: Cristobal Balenciaga and Elsa Schiaparelli. These designers were not afraid to take a risk. They are not fashion icons but, rather, fashion visionaries shaping the face of fashion itself.
Q: How have your personal experiences influenced your aesthetic?
A:
I earned my fashion degree at Maestro Mateo Design School, a small art school located in Santiago de Compostela, in the northwest region of Spain, north of Portugal. The region is called Galicia, in the province of La Coruña. Everyone in Spain always dresses to the nines—all high heels and edgy clothes—and I do think that comes out in my prints, but I balance it with a practical, Midwestern feel.