Devil's Lake State Park: A Retreat Thousands of Years in the Making
BY: Stephanie McDaniel |
Aug 2, 2013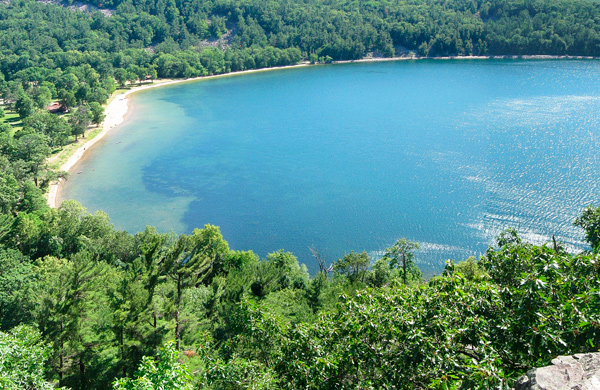 More than 15,000 years ago, a colossal sheet of ice slowly crawled across Wisconsin's surface. This glacier left vast deposits of rock and water in its wake, some of which eventually settled in Devil's Lake. Imposing in both name and appearance, the lake and its surrounding wilderness have endured as one of the state's greatest natural treasures. Hikers now amble down trails shaped by the glacier's ancient path of destruction, planting their feet on rocks formed long before the end of the last ice age. Devil's Lake State Park is home to a portion of the Ice Age National Scenic Trail, which extends for more than 1,000 miles across the entire state of Wisconsin. The park lives up to its billing as Wisconsin's largest with 29 miles of hiking trails, sandy beaches, and the mighty Baraboo Range—a monadnock of quartzite rock that stretches up to 800 feet above the Wisconsin River.
Geological Wonders, Close at Hand
The park greets visitors with quartzite cliffs and glacial kettles that beg to be examined up close. You'll need a
Wisconsin State Parks vehicle admission sticker
to enter, but once inside the park it's just a short trip to the nature center, where a geological display demonstrates how Devil's Lake was formed. A three-dimensional landform model shows a bird's-eye view of the region, including the 13.7 miles of Ice Age National Scenic Trail that fall within the park's bounds. You can trace the path of the ancient glacier across these 13.7 miles, which include modern trails such as Sauk Point Trail, Johnson Moraine Loop, and the Roznos Meadow Trail. With a grand total of
29 miles of hiking trails
, Devil's Lake State Park is a veritable feast for hikers' feet. The park's topography is stunningly diverse; some trails follow stoney ascents, whereas others wind through the woods and meander across fields studded with loose boulders. There's even a loop around the lake that follows an abandoned steam-engine railroad on one side. On the East Bluff Trail, a strenuous climb carries hikers up the Baraboo Range and presents opportunities to watch rappellers dangle over the side of the cliff. At the summit looms the Devil's Doorway, a harrowing passageway created by water freezing and thawing in cracks throughout the once-solid rock.
Seasonal Activities: Watersports and Winter Workouts
Watercrafts rule Devil's Lake in the summer, when warm weather attracts paddleboats, kayaks, and canoes to the lake's glassy surface like mosquitos to a flame. Swimmers can take to the water from two sandy beaches located on either end of the lake. After splashing about in the shallow shoals, a number of bath houses nearby provide a convenient way to wash off the glacial sands. If you prefer mental exercise, the nature center hosts programs that begin at 10:30 a.m. on most days. These introduce participants to Indian mounds, snakes, and local geology. Though summertime promises the best variety of outdoor adventures, each season presents a unique slate of activities. In autumn, the park's trees develop foliage that's nothing short of glorious. Canopies over the bluff trails and the park's entrance road turn gold, while views from the South Shore Road encompass swaths of yellow and orange. Later in the year, winter enthusiasts traverse forests on cross-country skis and slide to the Quartzite campground on sleds and toboggans. Spring flowers peep out of the ground in April, dotting the Uplands Trail and blanketing the Steinke Basin in a kaleidoscope of color.
Where to Stay: Overnight Camping and Park Amenities
The best time to hit the trails is bright and early, before the hot sun rises and the crowds start pounding the dirt. With this in mind, consider staying overnight at one of the park's three campgrounds. The Quartzite, Northern Lights, and Ice Age campgrounds contain a total of 423 sites that range from grassy meadows to wooded alcoves. A store in the Ice Age campground sells food and groceries, including hot dogs and marshmallows to roast, along with basic camp and beachside items such as ice, firewood, and hats. If you're not accustomed to sleeping on the ground, local
hotels
provide a soft bed and air conditioning.
How to Get There
By Car:
Take I-90 West from Chicago's Loop. The drive takes approximately three hours.
By Bus:
Book a
Greyhound
ticket from Chicago to Baraboo, Wisconsin. From the station, it's a 10-minute cab ride to the park.
By Train:
Take the
Amtrak
train from Chicago's Union Station to either Portage or Wisconsin Dells. Upon arriving at either destination, a 30-minute cab ride will get you to the park.
BY: Stephanie McDaniel
Stephanie McDaniel is a political theorist-turned-novelist from South Carolina. On the rare occasion she's not writing, she spends her time folk dancing, singing, and adding sea salt to Lake Michigan.