GROUPON GUIDE TO NEW YORK CITY
Dim Sum For Everyone: Vegetarian Dim Sum Spots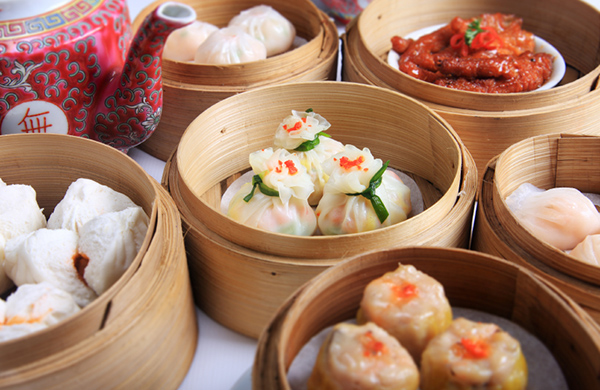 The dim sum lunch, or
yum cha
(literally "drink tea"), is the Cantonese answer to Spanish tapas. It is as much a tradition in New York City's Chinatown as weekend brunch on The Lower East Side. The bustling scene is all too familiar: packed tables, servers pushing metal carts while hawking their selections, the din of impatient, hungry diners. They wait for shrimp dumplings, steamed pork spareribs, roast pork buns, pork and shrimp
shu mai
-- the seemingly endless variety goes on and on. But for vegetarians, the choices can be few. When it comes to dim sum, seafood and meat dominate the menu. New York vegetarians need not despair, because there are two very appetizing dim sum havens for non-meat eaters, and they're right in Chinatown.
Buddha Bodai
on Mott Street serves a completely vegetarian and kosher menu of dim sum favorites, ranging from shrimp dumplings to beef rice rolls. The restaurant is usually packed on weekday lunch hours with City Hall municipal types, while the weekend clientele consists of tourists, locals and the environmentally conscientious. An all-day menu of vegetarian iterations of Chinese standards is also on offer, with creative takes on dishes like roast pork and sesame chicken. Using seitan, tofu and yam starch (among other vegetarian and kosher-friendly ingredients) as substitutes, many of these plates will fool even the committed carnivore in appearance and flavor. The line outside the door on Sunday afternoons may be the best way to spot
Vegetarian Dim Sum House
on Pell Street. Crowds tend to gather on weekends, anxious for healthy vegetarian takes on traditional dim sum dishes. The array of vegetarian dumplings -- pan fried, watercress, snow pea leaf, monk dumplings -- draw in voracious vegetarians who want the variety of a full-scale dim sum restaurant without sacrificing their principles or lifestyle choices. The menu is comprehensive, full of inventive vegetarian fare using Eastern and Western-style vegetables, not to mention an exhaustive list of diced, sliced or sautéed mushroom dishes. At Vegetarian Dim Sum House, there's no need to solely imitate meat dishes. Here, vegetables are allowed to take center stage.
BY: Gayot
GAYOT.com serves as a leading worldwide authority on the good life. Millions of readers turn to Gayot's savvy, professional reviews on dining, travel and lifestyle. From "Best of" lists and travel guides, to a searchable restaurant and hotel database, Gayot provides dependable coverage while keeping up with the latest trends and news.