Director Elly Green Discovers the Glee of Smelling Bread in Redtwist Theatre's "Happy"
BY: Will Landon |
Mar 11, 2014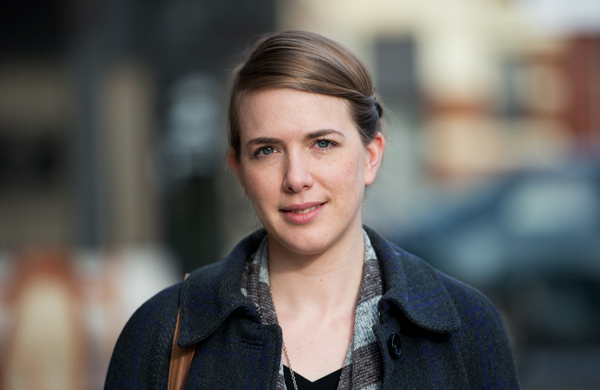 Redtwist Theatre director Elly Green gives us a few reasons—theme-, time-, and food-related—to see the company's show, Happy.
Elly Green
cut her teeth in London, earning an MFA in theater directing from Birkbeck College in 2006, then racking up credits at dramatic giants such as National Theatre, Royal Court Theatre, and Almeida Theatre. A few years later, she jumped across the pond to make a name for herself in the smaller storefront world of Chicago. She helmed
Rabbit
at
Stage Left Theatre
, and she's about to close the Jeff-recommended production of playwright Robert Caisley's
Happy
at
Redtwist Theatre
(1044 W. Bryn Mawr Ave.). The script challenges the supposed happiness of an artist named Eduardo and his two friends—married couple Alfred and Melinda—when Eduardo's girlfriend, Eva, decides to criticize their positive outlooks. We sat down with Green at
The Coffee Studio
(5628 N. Clark St.) to discuss the themes of the play and why one of the most pivotal scenes involves bread.
What makes someone truly "happy," according to the script:
"The play is not investigating happiness as much as it is the projection of well-being that we put out there to the world. Eva (Amanda Powell) is different from the other three characters only in that she doesn't pretend to be something she's not. That doesn't mean that I think the other characters in the play are pretending ... consciously."
Best reason to see the show:
"It's 75 minutes."
But really:
"Although it is a dark comedy, it's actually full of some pretty big existential questions. It asks questions about being human, and I think any play that's universal in that way is worth exploring. It's got a really fantastic lead role for a woman [with] killer lines."
Best food-related reason to see the show:
"My favorite moment—and this is a very trivial thing—is probably when Eduardo (Michael Kingston) makes Alfred (Michael Sherwin) smell his loaf of bread. The two boys just do it with a lot of gleefulness. It is a stage direction in the play; it's not something that we've invented. It's in the very first page that we're introduced to Eduardo, who is a character that
Robert Caisley
describes as 'full of life' and charisma, and his love of life is brought out by his love of the neighborhood, his love of this Armenian bakery, and this bread that he gets there."
Favorite classical play:
"My favorite classic play … [is] probably
As You Like It
, because it's the first Shakespeare play I ever saw. I was 9, and then I learned the speech from it. And not necessarily that it's the best Shakespeare play, but it was my first exposure to that poetry. I saw it in a small theater in Bury St Edmunds [in Britain]. I haven't seen it as an adult, that I remember."
Favorite contemporary play that's not Happy:
"I think it's better to pick something I haven't directed, which seems personal and a bit self-indulgent. Tom Stoppard's
Rock 'n' Roll
, I think, is an example of a political, epic, very funny, huge achievement in terms of playwriting. I saw the original production at the Court [Theatre], and it had my all-time favorite actor, Rufus Sewell. I'd love to do it, but it's got like 26 characters or something." Happy
runs through Sunday, March 16. Tickets are $25–$35. Also, catch Green's next project, assistant directing for
Henry V, 
at the Chicago Shakespeare Theater (Navy Pier, 800 E. Grand Ave.).
BY: Will Landon
Will Landon is a Chicago-based writer who sings punk rock songs with the Blue Ribbon Glee Club and occasionally works for free as an assistant stage director.