GROUPON GUIDE TO SAN FRANCISCO
Local Food Finds Hidden in San Francisco's Ferry Building
BY: Anjali Shah |
Apr 4, 2014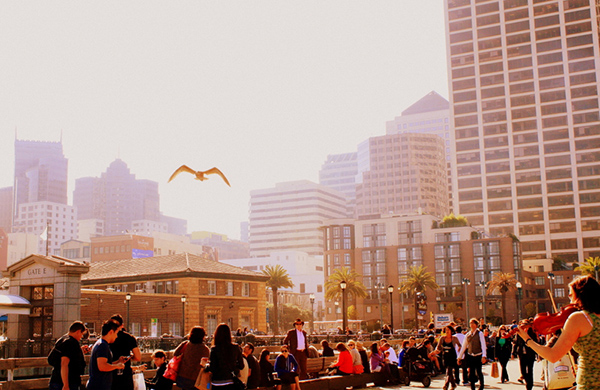 The Ferry Building in San Francisco is an iconic landmark filled with delicious bites to eat. Over 40 shops, large and small, celebrate food in all its forms -- offering everything from artisan cheeses and freshly baked bread to just-caught fish and seafood. New merchants are constantly joining the band of bakeries, casual eateries, prepared food sellers, miniature grocery stores, and specialty shops.
Here are a few highlights of must-visit places at the Ferry Building. The best time to go is on a weekday mid-morning (after rush hour) when it's quieter and less crowded.
Start the morning off with a coffee at Blue Bottle (there is always a line but it's worth the wait!) and some freshly baked rolls at Acme Bread. Top it off with a homemade biscuit at Biscuit Bender -- an inventive biscuit bakery with flavors like Mexican Hot Chocolate and Corn-Jalapeno.
For a healthy snack, stop by Pressed Juicery. If you're trying to get more greens into your diet, definitely try the Green 3: a leafy garden of kale, spinach and parsley that's sweetened with apple. They also have over a dozen unsweetened fresh pressed juices to try.
At lunch time, visit Bouli Bar for a pizza unique to this restaurant. Each is fired in a wood-burning oven, ending up with a wonderfully charred crust, crispy bottom and chewy puffy rim. There are many options for toppings including burrata, eggplant, zucchini blossoms, and a red pepper relish.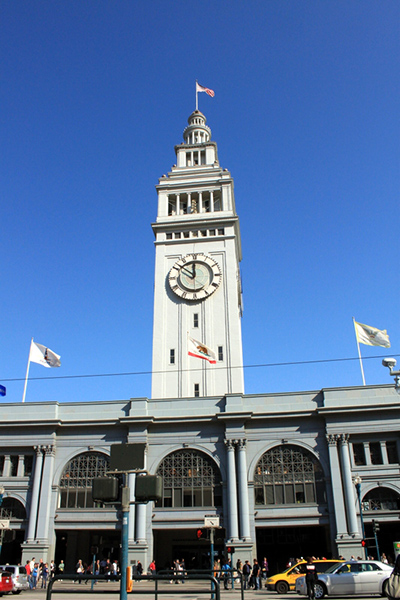 Cowgirl Creamery's "sidewalk" cafe experience in the Ferry Building is a fast and easy way to sample their delicious cheeses. Order up at the counter and claim a spot at one of the standing tables -- there aren't many seats but there is plenty of standing room! Cowgirl Creamery is famous for their cheeses, and also makes a mean grilled cheese that's worth checking out. Call it lunch #2!
For a bit of dessert, Recchiuti makes bon bons in unique and interesting flavors like lemon verbena and bergamot tea. Miette is a traditional French bakery that provides the perfect sweet ending to your day in the form of a cupcake, cheesecake slice, or macarons.
The Ferry Building is open seven days a week, but many stalls close by 6 or 7 p.m. on weekdays so it's best to enjoy the market for breakfast, a snack, lunch, and dessert vs. trying to visit these stalls around dinner time.
BY: Anjali Shah
Anjali Shah is a food writer, certified health coach, and owner of The Picky Eater, a healthy food and lifestyle blog. She taught herself how to cook and now creates healthy, flavorful recipes made with simple, wholesome ingredients. A Bay Area native and a self-proclaimed "foodie," Anjali has become an expert on all things food & health in the SF Bay Area. Through her blog, The Picky Eater, Anjali shares her passion for local finds and tasty, healthy cooking.