Dish of the Week: A Cinnamon-Sugar Cupcake at the Cupcake ATM
BY: Alison Hamm |
Apr 18, 2013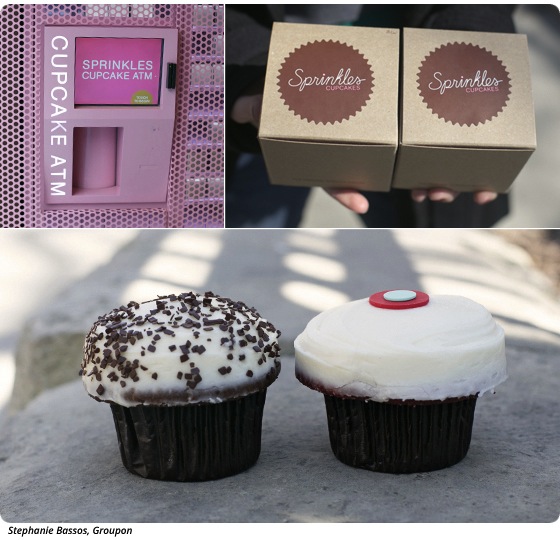 Mere steps from Michigan Avenue, there is a bright pink machine with two magical words written on it: CUPCAKE ATM. Basically, it's the best vending machine of all time. I discovered it while walking to a friend's house after a Friday-evening happy hour. As we got nearer, one in our group suddenly squealed with delight. "You live right by the cupcake ATM!" she said in a surprisingly high octave. Cue the dramatic music. Cue the slo-mo montage of us running through a meadow—a meadow filled with cupcakes, slowly and deliciously spilling over the grass. Or more accurately, cue my mouth dropping as I said, "There's a cupcake ATM?" Obviously, we stopped. It was about 9 p.m. on a Friday night, yet there was a line. I had never been so excited to pick out a cupcake. And I had certainly never been this excited to stand in an ATM line. But I did, hovering behind other grown-up men and women also eagerly waiting to get a cupcake out of a vending machine on their Friday night. Finally, it was my turn. The pink machine's screen read Touch to Begin. I pressed my finger to the screen, and images of cupcake options appeared. Carrot. Gluten-free red velvet. Cinnamon sugar. Coconut. Doggy cupcake. Yes, that's right. There's even a doggy cupcake—a sugar-free cupcake with a yogurt frosting that's safe for pooches to eat. I couldn't decide. There were so many people behind me! So much pressure. Before I fully understood what was happening, I pressed the cinnamon-sugar option and was scanning my Visa. (It's $4 per cupcake. Don't expect a receipt.) The machine whirred, and in a mere moment, the pink cylinder below the touchscreen swirled open. There it was: a brown box with, presumably, a cupcake inside. I grabbed it and walked back to my friends. When I opened it before them, I felt like I'd just won a prize. The feeling was short-lived. I'd managed to pick one without any frosting! Had I done my research, I would have known that the cinnamon-sugar cupcake was a "lightly spiced buttermilk cake dusted with cinnamon sugar," as it's described on the
Sprinkles Cupcakes website
. However, frosting or no, the cupcake was soft, tasty, and clearly fresh. My friend generously gave me a bite of her red velvet cupcake, covered with a thick swirl of cream-cheese frosting. The frosting was delicious, but the cupcake was a little dry. I was no longer so crushed by my choice. Either way, it was a Friday night, and I had just bought a cupcake out of a pink vending machine. I was happy. Everything was all right with the world.
Open 24 hours, the Sprinkles Cupcakes ATM is located at 50 E. Walton St. and is restocked day and night with a variety of fresh cupcake flavors for $4 each. Take your mom—or your dog.
BY: Alison Hamm
Guide Staff Writer
Alison would rather interview a chef or food blogger than actually cook. She never says no to a Hamm's Beer on special.