Dish of the Week: A Cinnamon-Sugar Cupcake at the Cupcake ATM
BY: ALISON HAMM | 4.18.2013 |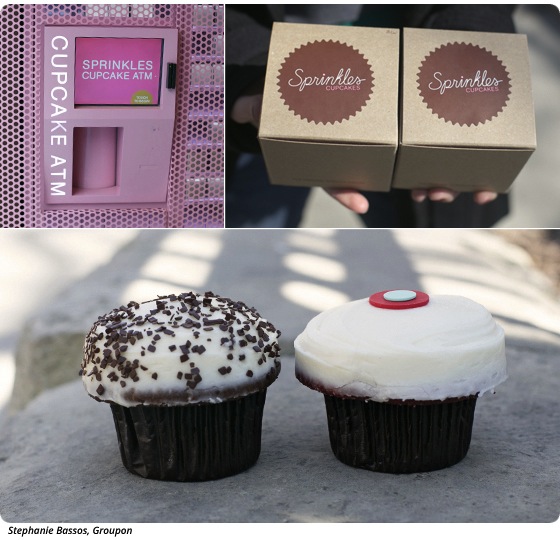 Mere steps from Michigan Avenue, there is a bright pink machine with two magical words written on it: CUPCAKE ATM.
Basically, it's the best vending machine of all time.
I discovered it while walking to a friend's house after a Friday-evening happy hour. As we got nearer, one in our group suddenly squealed with delight. "You live right by the cupcake ATM!" she said in a surprisingly high octave. Cue the dramatic music. Cue the slo-mo montage of us running through a meadow—a meadow filled with cupcakes, slowly and deliciously spilling over the grass. Or more accurately, cue my mouth dropping as I said, "There's a cupcake ATM?"
Obviously, we stopped. It was about 9 p.m. on a Friday night, yet there was a line. I had never been so excited to pick out a cupcake. And I had certainly never been this excited to stand in an ATM line. But I did, hovering behind other grown-up men and women also eagerly waiting to get a cupcake out of a vending machine on their Friday night. Finally, it was my turn.
The pink machine's screen read Touch to Begin. I pressed my finger to the screen, and images of cupcake options appeared. Carrot. Gluten-free red velvet. Cinnamon sugar. Coconut. Doggy cupcake. Yes, that's right. There's even a doggy cupcake—a sugar-free cupcake with a yogurt frosting that's safe for pooches to eat.
I couldn't decide. There were so many people behind me! So much pressure. Before I fully understood what was happening, I pressed the cinnamon-sugar option and was scanning my Visa. (It's $4 per cupcake. Don't expect a receipt.)
The machine whirred, and in a mere moment, the pink cylinder below the touchscreen swirled open. There it was: a brown box with, presumably, a cupcake inside. I grabbed it and walked back to my friends. When I opened it before them, I felt like I'd just won a prize.
The feeling was short-lived. I'd managed to pick one without any frosting! Had I done my research, I would have known that the cinnamon-sugar cupcake was a "lightly spiced buttermilk cake dusted with cinnamon sugar," as it's described on the Sprinkles Cupcakes website. However, frosting or no, the cupcake was soft, tasty, and clearly fresh.
My friend generously gave me a bite of her red velvet cupcake, covered with a thick swirl of cream-cheese frosting. The frosting was delicious, but the cupcake was a little dry. I was no longer so crushed by my choice.
Either way, it was a Friday night, and I had just bought a cupcake out of a pink vending machine. I was happy. Everything was all right with the world.
Open 24 hours, the Sprinkles Cupcakes ATM is located at 50 E. Walton St. and is restocked day and night with a variety of fresh cupcake flavors for $4 each. Take your mom—or your dog.
BY: Alison Hamm
Guide Staff Writer
Alison would rather interview a chef or food blogger than actually cook. She never says no to a Hamm's Beer on special.