DIY: How to Reclaim Old Furniture
BY: RACHEL MATUCH | 5.20.2013 |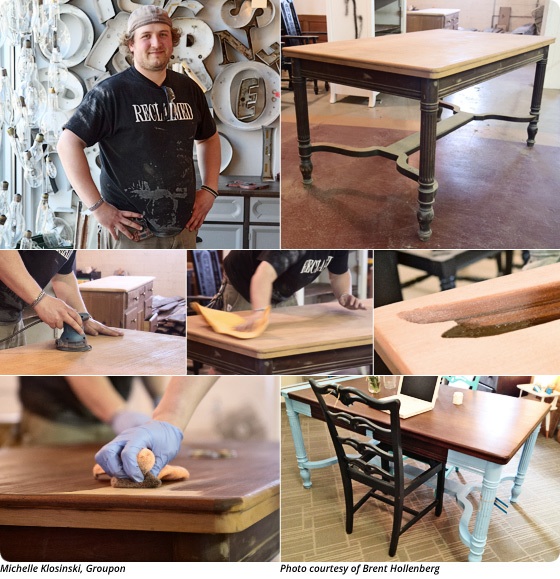 "It is just a shame that someone painted all these dressers," clucked a customer as she walked through Reclaimed, a salvaged-furniture shop in Crystal Lake. According to Janna Hoft, who helps out at Reclaimed, the customer thought she was in a typical resale shop. She didn't realize that the culprits behind all that paint were right in front of her.
When Reclaimed owner Brent Hollenberg hears from naysayers who think wood should never be painted, he could tell them that some customers drive for hours to take a look at his work. Instead, he patiently explains to them that paint can save many pieces that wouldn't otherwise be salvageable.
Of course, Brett doesn't limit himself to paint—he also refinishes natural wood pieces, creates new items by pairing reclaimed wood with custom welding work, and more. "We are trying to reuse the stuff that's out there that's already been manufactured. We want to keep it out there instead of it just being mulch, and people can get a better product at a better price, and with their kind of style to fit their house," he says. "So everyone wins, really."
Brent started restoring furniture after a friend of his bought an expensive refinished changing table. "I thought, 'Wow, I could do that,'" he says. "I could probably do it for a bit cheaper. And better quality." So he started buying, restoring, and reselling furniture, working out of his garage in Arizona. In September of 2012, he decided to return to his native Chicagoland to open Reclaimed.
Reclaimed has thrived in its first year. Recently, designer Cheryl Torrenueva of the Food Network's Restaurant Impossible stopped by for some reclaimed boat oars, destined for a restaurant being revitalized in Twin Lakes, Wisconsin. Many custom orders come from downtown Chicago, as well as Los Angeles and New York. But rather than keep the secrets of their success to themselves, Brent and Janna teach the tricks of the trade in three-hour painting classes. Here, they walk through a refinishing project from start to finish:
What You Need:
Piece of wood furniture
Stain of your choice
Paint of your choice (Brent recommends Benjamin Moore, which he says is "like painting with butter")
Polyacrylic or polyurethane protective finish (choose polyurethane for high-use surfaces or surfaces you plan to eat off of)
Clean rags
Paintbrushes (Brent recommends the Purdy brand)
Gloves
Eye protection
Mask (if you're working with poor ventilation)
Drop cloth
What You Do:
1. Find a piece. Not sure if that garage-sale find is worth the effort? Brent recommends looking in unexpected places. For a dresser, "look at the back. If it's wood backing, odds are, the whole thing's solid wood," Brent says. Next, look at the drawers. Janna recommends looking for "dovetail" drawer joints, which lock together like puzzle pieces and signify better construction. In general, older is better. "[If it was] made in the '70s, it's going to last," Janna says.
2. Get ready. Brent generally recommends working outside—but if you're using water-based paint, he says you can really work in any room, even inside a tiny apartment. Before you start, don gloves (a must) and eye protection (optional). If you're working inside, you'll also want to lay down a drop cloth. A mask can help if there's little ventilation.
3. Sand the piece. Go with the grain as much as possible. Brent uses an orbital sander, which "moves easier" and doesn't eat the wood like a belt sander can. For this old Lincoln desk, he started with 80-grit sandpaper to remove the existing polyurethane coating, then followed up with 220-grit and 320-grit.
Janna notes that if there's a thick polyurethane coating, the piece might start to appear blotchy as you sand. "Sand through discoloration until it's one color," she says.
4. Clean up the dust. "We just want to clear the dust away from sanding," Brent says, so it doesn't have to be spotless.
5. Test out your stain. Brent picked out a Minwax oil-based stain in Special Walnut. He's pretty confident picking out a stain these days, but there were plenty of missteps in his early career. "You test it on a piece of wood first," Janna says. "Sometimes it just doesn't take to the grain or the wood like you think it would. It's kind of just a game you play." Even if you've used a certain stain before, the final color varies depending on what base you're applying it to.
6. Start staining. Ball up your rag so that you've got a smooth, fluffy knob between your fingers. Then, dip the tip of the rag in the stain and brush it against the rim of the can to remove excess stain. Again, "go with the grain" and watch for drips. "When I get a lot on my rag, I try and stain in the center," Brent says. "When the rag is drier, go to the sides," where you don't have to follow the grain.
7. Apply another coat—if you need to. Brent says that one coat of stain can be enough for a piece, but you should do a second coat if there are a lot of imperfections. To fill in a stubborn scrape that's not taking color, Janna recommends pressing the rag firmly against the area and holding it for a few moments.
8. Paint the base. First, tape off and cover the stained portion of the piece. Then, use your paintbrush to paint the base. Avoid using a cheap brush, which might shed bristles while you're painting.
9. Protect the stain. To do this, Brent gently sands the stain with 350- to 400-grit sandpaper, "just to keep the finish nice and matte." Next, he applies a topcoat of polyurethane, which is ideal for food-grade surfaces. When it's done, "you could put a wet drink on it, and it will be fine," which is important for a high-use piece of furniture.
BY: Rachel Matuch
Guide Staff Writer
When she's not writing at Groupon, Rachel pillages her local library, plays board games, and cooks (but never, ever bakes).