GROUPON GUIDE TO WASHINGTON-DC
Turn Plain Wardrobe Staples into Trendy, Fall-Friendly Pieces
BY: Jess Snively |
Aug 22, 2014
Fall is quickly approaching, which means you might be looking to update your wardrobe. And, if you're anything like me, the dropping leaves signal that it's time to rifle through the couch cushions for loose change, head to the store, and ask the sales associate, "How many outfits can I get for this much?"
To avoid that scene, I came up with three DIYs that will transform wardrobe basics—black sunglasses, a black tank top, and black ballet flats—into on-trend fashion statements for fall.
With any luck, you might find you already have these staples in your closet. And even if you don't, you can pick them up for a wallet-friendly price almost anywhere, including the apparel and accessories section of Goods.
Vintage-Inspired Cat-Eye Glasses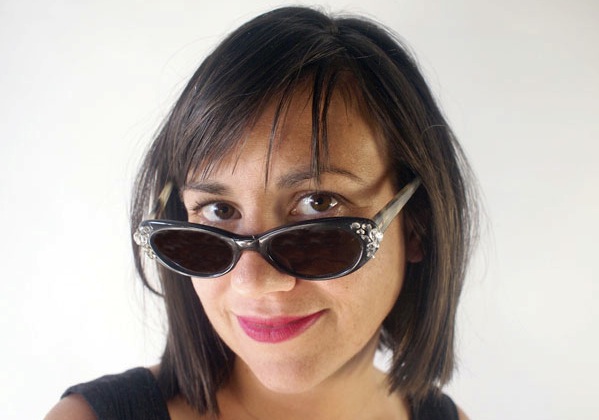 What You Need:
Plain cat-eye glasses
Craft glue (Aleene's Original Tacky Glue is my go-to)
Sparkly vintage brooches and clip-on earrings (I think actual stones look more chic than plastic rhinestones)
Needle-nose pliers
What You Do:
1. Using the needle-nose pliers, pry a variety of rhinestones from the vintage brooches and earrings. I made sure to get jewels in multiple shapes and sizes.
2. Glue the jewels onto the rims of the glasses for a glamorous vintage look.
Geometric Bleach-Dyed Tank Top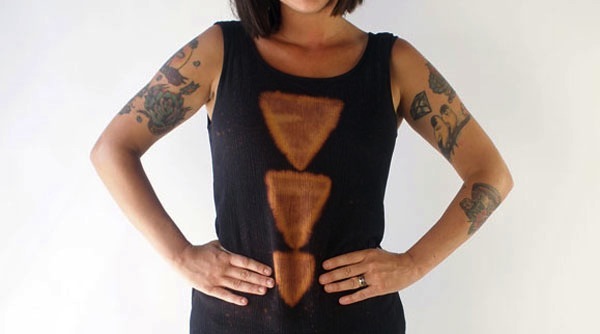 What You Need:
Black tank top
Bleach
Empty spray bottle
Cardboard
X-Acto knife
What You Do:
1. Mix one part bleach and one part water in the empty spray bottle.
2. Create your stencil. To make mine, I cut three triangles—points facing downward—in a vertical line into the cardboard using the X-Acto knife.
3. Lay the shirt flat on a piece of cardboard. Insert another piece of cardboard inside the shirt so the bleach doesn't soak through to the back.
4. Lay the stencil on the shirt and carefully spray it with bleach.
5. Let dry for about an hour, then rinse in cold water. If you leave the bleach on for too long, it will eat holes in the fabric. Machine wash it, and it's ready to wear!
Gold Polka-Dot Ballet Flats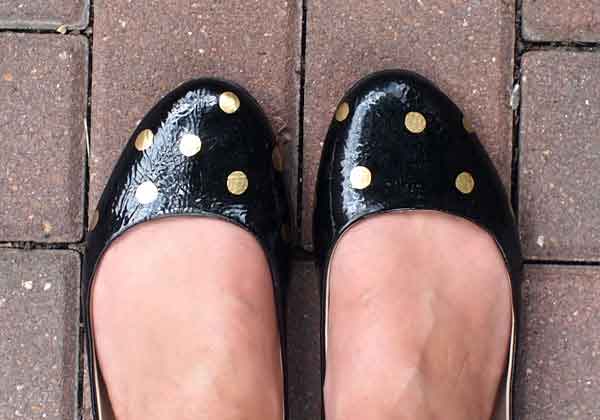 What You Need:
Ballet flats
Gold paint marker
What You Do:
1. With the gold paint marker, draw polka dots all over the shoes. Seriously, it's that easy. Now you're to strut your stuff among the fallen leaves.
Photos by Jeremy Stephinson and Jessica Duff, Groupon
For fall wardrobe staples you can't make yourself, shop ideel for Essentials or its Season Kick Off for boots.