DIY: Sew Your Own Beer Koozie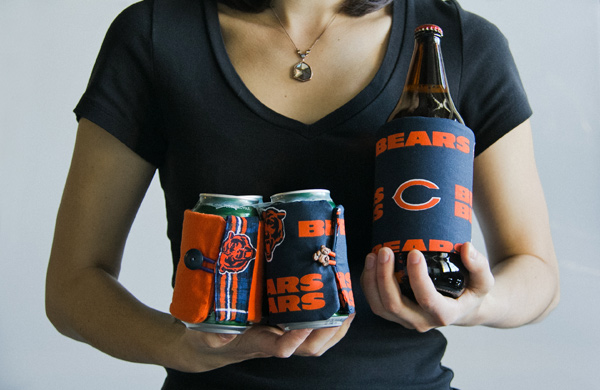 A few phrases are like nails on a chalkboard when uttered during football season. "Bears fumble" and "Cutler sacked" probably top the list, but "warm beer" comes in at a close third. Luckily, there's an easy way to keep your game-day brew at the perfect temp and cheer on your team at the same time: a football-themed beer koozie. Best of all, you can complete this customizable DIY project in less than an hour and be back on the couch in time for kickoff.
What You Need: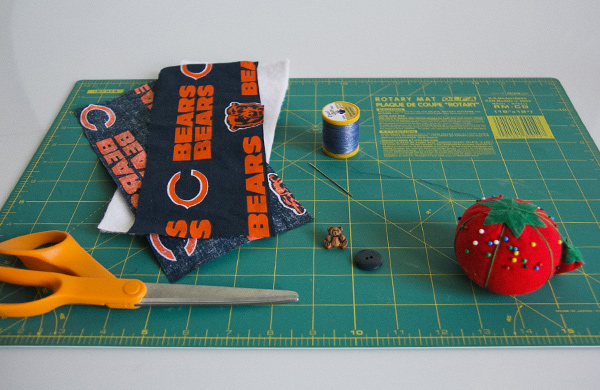 Measuring tape or ruler Two 4.5"x10" cuts of fabric (preferably in your favorite team's colors) One 4.5"x10" cut of
Insul-Bright
One decorative button One elastic hair tie Thread Hand-sewing needle Pins Scissors Sewing machine
What To Do:
1.
With a threaded hand-sewing needle,
sew the button
onto the right side (design facing you) of one fabric rectangle. For correct placement, make sure the button is 1" from the right edge, and exactly halfway between the top and bottom of the rectangle (in this case, right at the 2.25" mark).
Note: Any old junk-drawer button will work, but if you're looking for something with a little character, try Soutache in Bucktown.
2. Stack your fabric layers
and Insul-Bright in the following order: Insul-Bright on the bottom, button-less fabric rectangle (right side up), then the fabric with the button (wrong side up). Make sure the designs on both pieces of fabric will be facing the same direction when sewn.
Pin securely
around the edges.
3.
Using the sewing machine,
sew a straight stitch
¼" from the edges on all sides. Leave 2" open on the button-less side so you can turn the koozie right-side out.
4. Clip the corners
close to the seam line to prevent extra bulk. Turn your koozie right-side out, and gently push out the corners from the inside—the eraser end of a pencil works well for this.
5.
Now it's time to
sew on the elastic hair tie
, finishing the final seam in the process. First, wrap your koozie around a can to determine how much elastic you'll need to loop around the button. Once you've determined this, pinch the elastic to create your loop and place the raw ends into the opening on the button-less side of the rectangle, directly opposite the button. Make sure all raw edges are tucked in, and sew a straight stitch down this edge, closing the opening, and backstitching over the elastic to secure it.
6. Clip
any excess thread, fasten around your favorite canned beverage, and enjoy!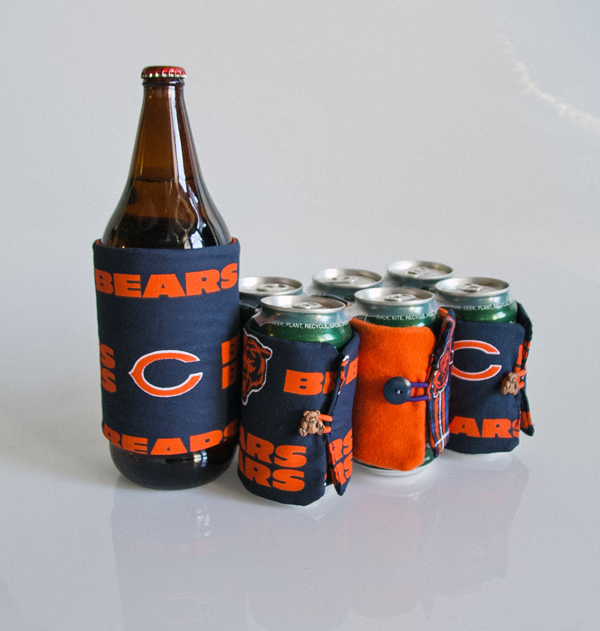 This project is made to fit a standard 12-ounce can. You can adjust the measurements and number of buttons accordingly for bottles, mini-kegs, or any other vessel you use to drink beer.
Photo: © Stephanie Anderson, Groupon