DIY: Vegan Lip Balm with North Coast Organics' Nathan Morin
BY: Andrea Marchiano |
Jul 24, 2013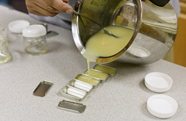 A self-proclaimed "veg-head" and dedicated user of organic self-care products, Nathan Morin survived 12 years without deodorant. "And then I moved to Chicago and became a bike commuter," he said. Much to his chagrin, Nathan discovered that none of the deodorant formulas on store shelves met his stringent criteria. So he set out on his own to create an organic deodorant that actually worked, proving that necessity is indeed the mother of invention. The resulting formula,
Death by Lavender
, sparked the foundation of Nathan's business, North Coast Organics. There, he leads a small staff—including his mom, who serves as the minister of munitions (what other companies might call a chief operating officer)—as they churn out
products
that are organic, vegan, and handmade locally in an Indiana production facility.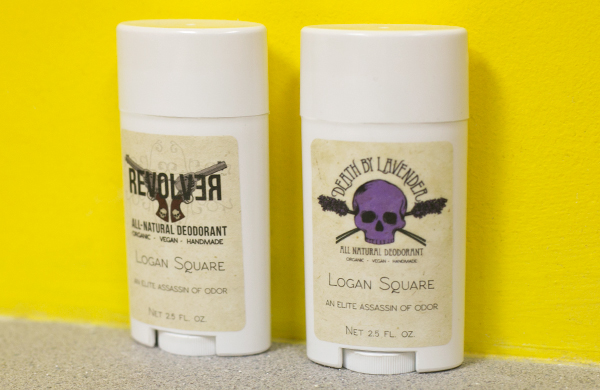 Nathan plans to add after-shave, facial toner, moisturizer, makeup remover, and baby products to the lineup in the coming months. A storefront in Logan Square is also in the works, where customers will be able make their own products such as North Coast's lip balm. Nathan welcomed me into his Chicago-based office and showed me how to make that very lip balm, which is otherwise available online or at fairs and markets throughout the city.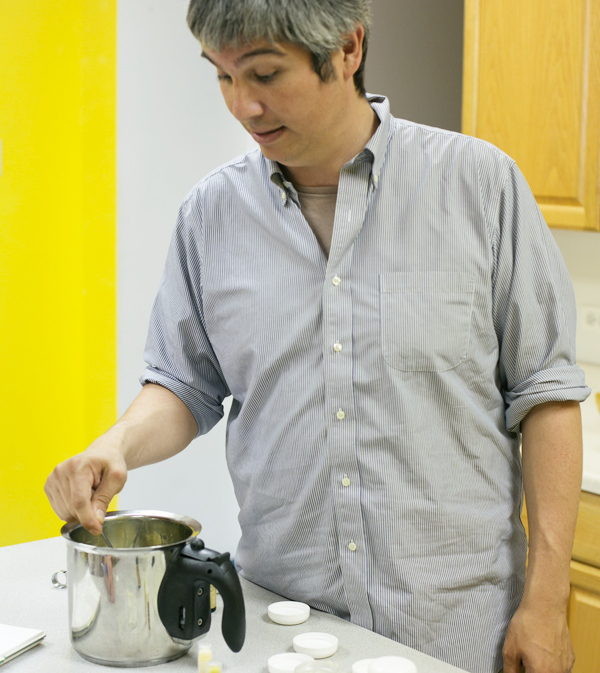 What You Need:
Double boiler 1 ounce of wax (Nathan uses soy or carnauba waxes, which are vegan, though nonvegan beeswax also works) 1/2 ounce of coconut oil 1/2 ounce of apricot oil 1/2 ounce of sunflower oil 1/2 ounce of shea butter 30 drops of essential oil in the scent (or scents) of your choice Slider-tin containers like
this
or similar; Nathan said an old Altoids tin or glass jar works as well
This recipe yields about 15 slider-tin lip balms. 
What You Do:
1. Fill the boiler's base with water and bring it to a boil. 2. Heat up the wax in the top bowl. Stir it until it's melted and smooth. 3. Once the wax has melted, remove it from the heat and add the coconut, apricot, and sunflower oils. 4. Wait until the wax is cool to add the shea butter. "When you heat shea butter and it's not been refined, it gets kind of crystally. We really can't prevent that, but we can do as much as we can to lessen it," Nathan said. 5. Add drops of the essential oils you've chosen. For our batch, Nathan used a combination of tangerine and orange essential oils. Yum. 6. Pour the completed concoction into the slider tins.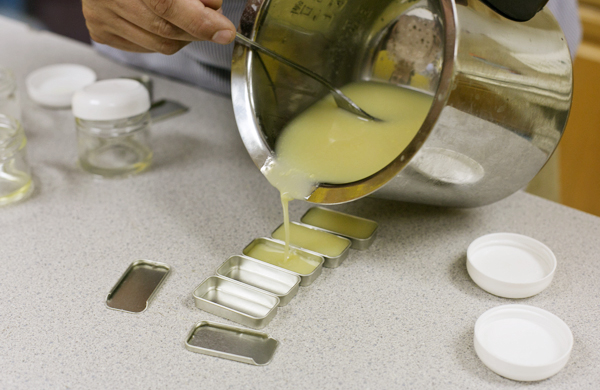 7. Allow the tins to cool overnight or place them in the fridge or freezer for a faster finish.
Photos: Stephanie Bassos, Groupon
BY: Andrea Marchiano
Guide Staff Writer
Andrea studied journalism at the University of North Carolina at Chapel Hill. She enjoys pop culture, reality television, and brunch.