Do the First Date Right at Pilsen's Second Friday Art Walk
BY: Collin Brennan |
Feb 13, 2014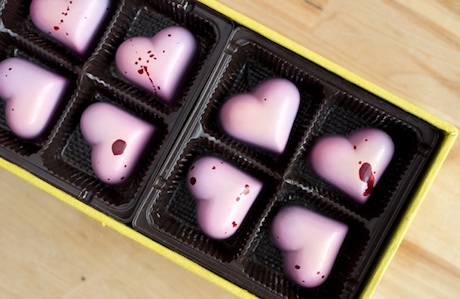 Set the mood with a DIY chocolate-making class, then seal the deal with a heated board-game battle or a raunchy used book.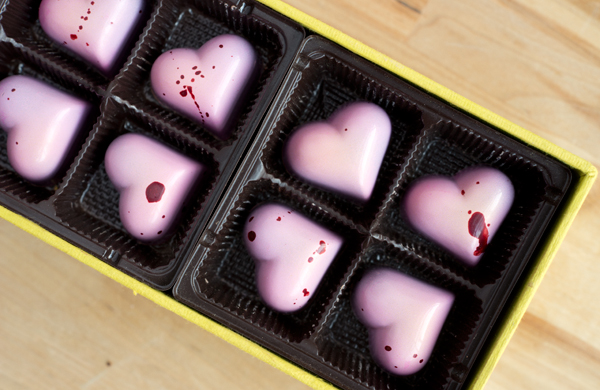 So, brave soul, you've chosen Valentine's Day for your first date. It's a move that oozes confidence, but it also means you'll have to raise your game considerably. Fall short, and you'll be forced to take that long walk home alone, dodging sparks from other romances and searching for meaning in chalky candy hearts. This is going to take heavier artillery than a heart-shaped box. And nothing puts the "art" in heart (or artillery, for that matter) like the Chicago Arts District's
2nd Friday Gallery Night
, a longstanding tradition that opens the doors of East Pilsen's studios and galleries to the public. In a stroke of luck—or is it fate?—the second Friday in February happens to fall on Valentine's Day. Here are five stops to help ensure that you go home with more than an empty wallet and a several-thousand-dollar equestrian statue.
Get Your Hands (and Minds) Dirty During a DIY Chocolate-Making Class
Where:
Chocolat Uzma Sharif
(1823 S. Halsted St.) When we
last checked in
with chocolatier Uzma Sharif, she was busy preparing a Valentine's Day theme for her 2nd Friday art station. In just a few days, couples will finally see what she's bringing to the table. "I think the public is [always] a little scared at first," Uzma said about her previous 2nd Friday experiences. "But once we show them what they can do with the chocolate, they really like to get their hands dirty." And nothing says dirty like a thick, melty—okay, we're stopping now.
Bond Over a Board Game…by Destroying Your Lover's Barn
Where:
showPOD
(1800 block of S. Halsted St.) Well, that was embarrassing. Once you find a way to shower off all that chocolate, it's time to salvage the date by getting those competitive juices flowing. Located at the corner of 18th and Halsted streets, the showPOD exhibition space will play host to local game inventor Greg Burhop and his latest creation, Knock Down Barns. The objective here is simple: your date has just lovingly crafted a miniature barn, and you must destroy it. How? By flicking little marshmallow-esque projectiles at it. There is some analogy for relationships just begging to be teased out of this, but remember: this is only your first date. All that horrible stuff comes later.
Pick Up a Lovingly Used (and Formerly Banned) Book
Where:
Open Books Warehouse
(905 W. 19th St.) It probably wasn't a good idea to scream "I am the stronger!" until everyone else at showPOD backed away in silence. But you've learned your lesson and you're ready to prove you're more sophisticated than that slip-up might suggest. In which case you should head to the Open Books Warehouse and treat your date to a used copy of your favorite literary masterpiece. Prices start as low as $1 per book, and all proceeds help support the nonprofit's literacy programs in Chicago. To get your date thinking about what might happen later (hint, hint), we suggest anything by Henry Miller, the Marquis de Sade, or Dr. Seuss.
Give Some Time to Gender Issues with the Ladydrawers Comics Collective
Where:
URI-EICHEN Gallery
(2101 S. Halsted St.) Ok, so your date didn't appreciate the obvious innuendos in
There's a Wocket in My Pocket
. Not everyone is ready to embrace the Doctor's saucier side. For a genre that might go over better, head to URI-EICHEN Gallery, which will be hosting a powerful exhibition by a group of independent comic artists known as Ladydrawers. The exhibition, entitled
Our Fashion Year
, collects a year-long series of monthly comic reports on gender and labor concerns in the international garment and sex trades. The art on display will range from tiny strips to massive giclée prints, the latter a collaboration between Julia Gfrörer of Portland, Melissa Mendes of Brooklyn, and Chicago's own Anne Elizabeth Moore. To further sweeten the deal, Valentine's treats will be served, and at 8 p.m., attendees will get a peek at the Ladydrawers' upcoming documentary,
Comics Undressed
. Sounds racy.
Cap Off an Eventful Night with a Craft Beer or Cocktail
Where:
Simone's Bar
(960 W. 18th St.) By now the two of you have been through so much together. There was the incident with the chocolate, the incident with the board game, the incident with the—really, just a series of incidents that needn't be dwelled on. Toast to a night of enlightenment with a craft beer or cocktail at Simone's Bar, a futuristic nightspot that looks like something straight out of the romantic comedy
Blade Runner
. If the night hasn't exactly gone the way you planned, patch things up with The Cure All—a blend of spiced rum, Licor 43, fresh lemon juice, and honey. It's served hot, if you get our meaning.
The 2nd Friday Gallery Night runs from 6 p.m. to 10 p.m. To see the full schedule of events, click here.
Photo: Andrew Nawrocki
BY: Collin Brennan
Guide Staff Writer
Collin is a senior editor and a staff writer for Consequence of Sound. He self-publishes zines and moderates writing workshops for The Chicago Publishers Resource Center (CHI PRC).