Do You Solemnly Swear to Execute This Presidents' Day Party Awesomely?
BY: Amelia Buzzell |
Feb 11, 2014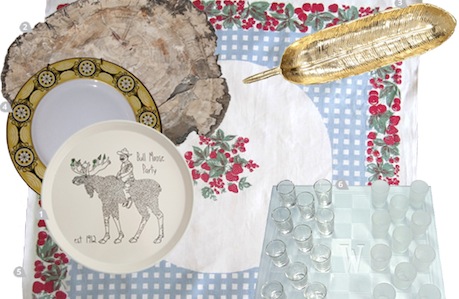 Replicas of White House china, a tablecloth that ribs George Washington, a boozy homage to Checkers Nixon—expect to be reelected to host next year.
A Presidents' Day party seems like a stretch until you consider that after Valentine's Day, the winter wears on without another nationally recognized occasion to eat candy. Then it seems as imperative as the State of the Union. No such party would be complete without tributes to George Washington and Abraham Lincoln, whose February birthdays are the inspiration for the holiday. Start with a tablecloth dotted with Washington's least-favorite fruit. Top it with sliced-wood trays evocative of Lincoln's boyhood log cabin. Of course, the holiday is a chance to celebrate American presidents of any era. White House reproduction china patterns, such as the yellow James Madison dessert plates below, and a whimsical Bull Moose Party platter commemorate our 4th and 26th presidents, respectively. As the party rages on, guests can split into teams to honor former first dog Checkers Nixon with an alcoholic version of the children's game, after which someone will surely upend a gold feather–shaped snack tray, treat it like a quill, and pen an invisible amendment to the game rules. Even without a
1,400-pound wheel of cheese
, Andrew Jackson would approve.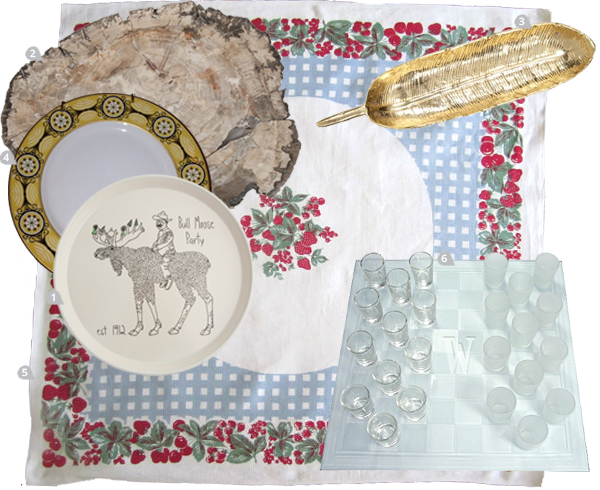 1.
Bull Moose Party platter
; Fishs Eddy ($22.95) 2.
Petrified-wood tray
; Jayson Home ($65+) 3.
Gold Athena tray
; Jayson Home ($48) 4.
White House reproduction china, "James Madison"
; eBay ($17) 5.
Cherry tablecloth
; Etsy ($28) 6.
Shot-glass checkers
; HomeWetBar.com ($23.95)
BY: Amelia Buzzell
Guide Staff Writer
Amelia is a Senior Writer who owns about 600 houses' worth of housewares. She daydreams about throwing parties and amassing more housewares.