Don't Buy Flowers That Have More Frequent-Flyer Miles Than You Do
BY: Daphne Sidor |
Apr 8, 2014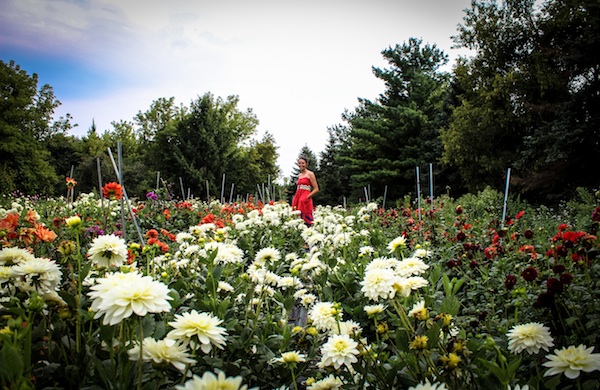 Locally grown flowers last longer and have a smaller carbon footprint. Heidi Joynt of Field & Florist tells us how to shop for them, arrange them, and even grow them yourself.
On a leaden day in late March, Heidi Joynt is thinking about hellebore. "Those are hands-down my favorite flower because they can bloom even in snow," says the owner of sustainable flower purveyor
Field & Florist
. It's an inspiring example of perseverance in a particularly brutal Midwestern winter. This time of year, even a battered gas-station bouquet can seem like a tempting way to add some color to your surroundings. But if you can make it through the final stretch, Joynt says, you'll soon be able to find a wealth of lovely local blossoms to fill your home. As she sees it, the wait is worth it. A huge majority of the cut flowers sold in the US are produced in South America, meaning that they often spend days traveling by truck or plane before they make it to the florist's shop. That adds up to a lot of carbon emissions and shortens the life of your bouquet. With delicate flowers such as dahlias—which don't ship well—it's hardly worth the effort. That's where Field & Florist comes in. During the warmer months—generally April to October—Joynt sources blooms from her own flower farm in Barrington, IL, where she uses eco-friendly growing methods such as drip irrigation and compost fertilizer. Once the Midwest growing season is past, the business turns to other sustainable farms within the US. Beyond eco-friendliness, there are other upsides to Joynt's hands-on approach to floral design, especially when it comes to weddings. "I'll talk with clients a year in advance, so I'll have time to incorporate colors and textures they're looking for into my crop plan…They really like that idea, that it's a bouquet that was grown
for
them," she says. "We try to keep the colors of what we grow really unique so that they're different from what you're going to find in a grocery store or at a traditional florist." In preparation for flower season, I asked Joynt for recommendations on what local flowers to look for in shops and farmers' markets this summer, along with some tips for showing them off. But she went one step further and also gave some growing advice for those who have the yard space and ambition to cultivate blooms on their own.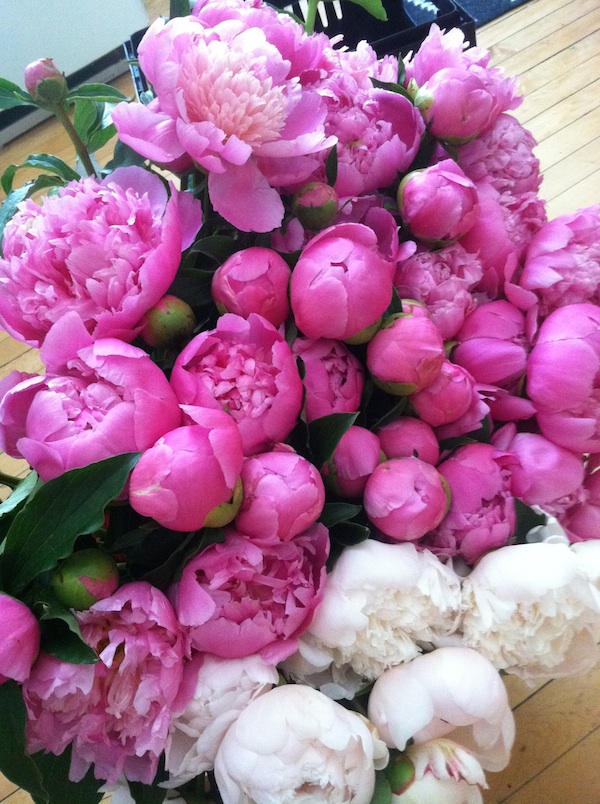 May/June
What to look for:
Peonies—especially Coral Charm and lacy white Mother's Choice varieties
How to display them:
"A circular vessel about 6 inches in diameter would be ideal," Joynt says. "Cut the stems to be 3–4 inches taller than the vase, so when they open up you have a low and lush arrangement." As for greenery, she recommends "anything that has a natural drape to provide a soft collar," such as fuzzy, silvery lamb's ear or gunnii eucalyptus leaves.
How to make them last:
Joynt says peonies should be cut in "marshmallow stage," when "the bud is soft and squishy to the touch. You can keep peonies in this stage in a cool area—ideally a foodless fridge—for two to three weeks, wrapped in newspaper. Once you cut the bottom of the stem and put them in water, they'll open the next day.
Grow your own:
Peonies are best planted in the fall, their roots placed about 2 inches below the soil. They may take a few years to produce flowers, but once they start, they tend to explode.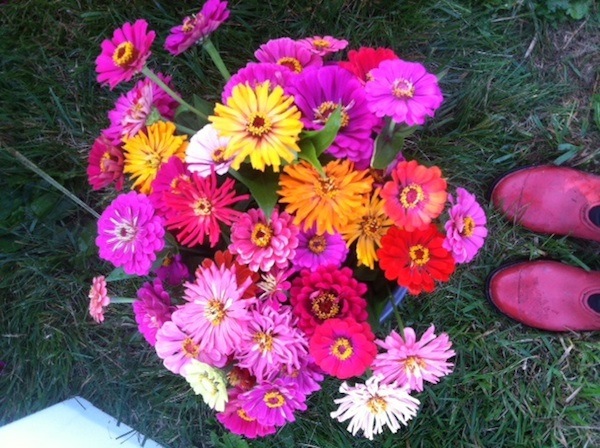 June/July
What to look for:
Zinnias
How to display them:
"A fun way to display zinnias is to find an old tin with interesting imagery and stuff it full of zinnias in varying colors, "Joynt says. "Take care to cut them at slightly different heights so their heads don't all bump into each other." If you can find them, antique coffee cans work beautifully.
How to make them last:
When cut and placed directly into water, zinnias should last a week or more. After that, just pick some more. Joynt calls zinnias "the workhorse of the flower garden. They come in all colors and keep producing all season long."
Grow your own:
Plant zinnias in the spring as soon as the soil is workable, placing them 2–3 inches apart. To get fuller plants, thin them to one plant every 4–6 inches once they've come up, and don't be afraid to harvest as many flowers you like: "The beauty of this plant is, the more you cut, the more they will produce."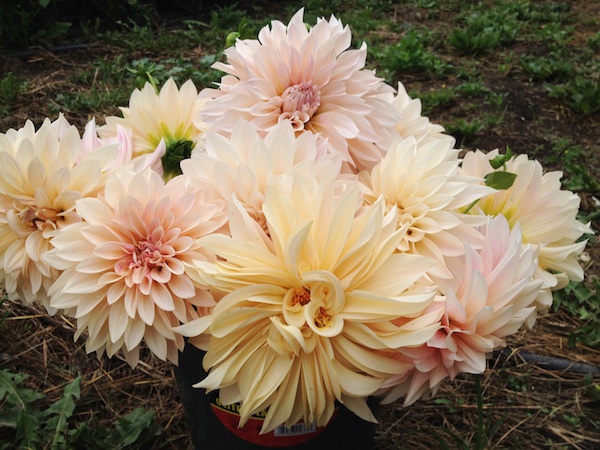 August/September
What to look for:
Dahlias
How to display them:
Joynt recommends gathering three to five bud vases together: "Because these flowers come in so many colors and sizes, placing a single bud in a small vase on its own allows for each bloom to be noticed…You don't have to go far for accent greenery; look to your own backyard for snips from small-leafed shrubs to tuck behind the dahlias."
How to make them last:
As with all cut flowers, keep them away from direct heat and out of the sun. Then, be sure to change the water and clip the stem bottoms each day to keep them hydrated.
Grow your own:
Dahlias begin life as tubers, potato-like roots planted 4–6 inches below the soil. Some tips: plant them horizontally with any eyes pointing upward; stake them as they grow; and—to ensure long stems and lots of branching—remove the top 3–4 inches of the main stem once it's reached 12 inches. Dig up the tubers at the end of the growing season, and you can replant them in the spring.
Photos courtesy of Field & Florist
BY: Daphne Sidor
When she's not busy writing, Daphne is an indie-pop musician, year-round bike commuter, and newbie gardener.