Don't Just Eat Barbecue. Wear It, Too.
BY: Kelly MacDowell |
May 9, 2014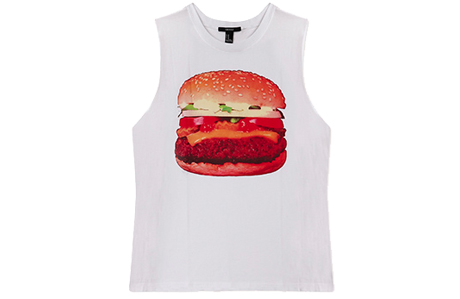 On May 1, England-based men's boutique End. debuted a sneaker collaboration with Saucony that had a very unusual inspiration: hamburgers. Collectors were hungry to get their hands on a pair, and lined up outside the store for the chance to snag shoes with a color palette reminiscent of buns, lettuce, and ketchup. Just as the End. x Saucony kicks helped people dress like their favorite barbecue food, other products allow you to smell—and even taste—like cookout staples. A marbled bar of bacon-scented soap lets you wash rib sauce off your hands without losing any meaty musk, and watermelon-flavored lip gloss tastes like the real thing (sans seeds, of course). OPI's deep burgundy nail polish, Mrs. O'Leary's BBQ Sauce, isn't manufactured any longer, but die-hard fans can still snag bottles online at slightly braised, er,
raised
prices.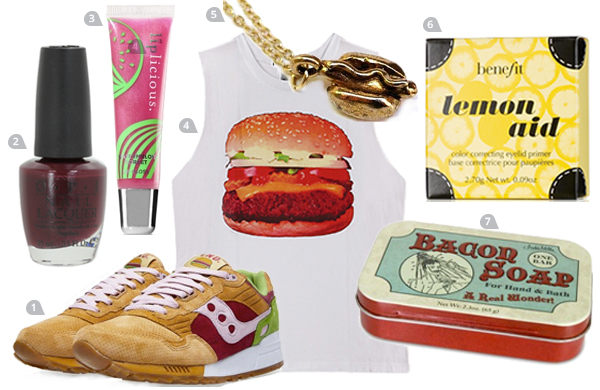 1.
End. x Saucony Shadow 5000 Burger sneakers
; End. ($135) 2. 
Mrs. O'Leary's BBQ Sauce nail polish
; OPI ($7.99+ on Overstock) 3.
Liplicious lip gloss in Watermelon Sorbet
; Bath & Body Works ($7.50) 4.
Fun Hamburger muscle tee
; Forever 21 ($12.80) 5. 
Gold-plated pewter hot dog charm necklace
; Etsy ($18) 6. 
Lemon Aid color-correcting eyelid primer
; Benefit ($20) 7. 
Bacon-scented hand and bath soap
; Archie McPhee ($5.95)