Don't Look for "No Climbing" Signs at the Luci and Ian Family Garden
BY: Heidi Gollub |
Jun 17, 2014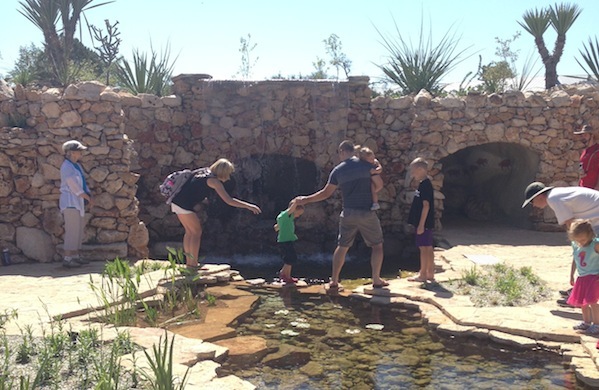 There's a reason the
Luci and Ian Family Garden
has been dubbed the "Garden of Yes." The new addition to the
Lady Bird Johnson Wildflower Center
is more interested in letting kids enjoy themselves outdoors than imposing restrictions on their play. It says to kids: yes, you may climb on that precarious-looking felled log. Yes, you may walk behind the waterfall. Yes, you may hop across the pond on little stepping stones and dig in the dirt. And yes, you may dump water all over the porous rocks (and yourself). No wonder the place is being billed as the cure for Nature Deficit Disorder. The freewheeling atmosphere is no accident. It's clear that the 4.5-acre stretch of woodland and meadow, which opened to the public in May, was deliberately designed to get kids moving. There are more than a dozen interactive features in the Family Garden, including a small cave to climb inside, porous limestone "pedestals" for adding water to a creek, giant bird's nests with portable wooden eggs, and a metamorphosis shrub maze. Around every corner, children will discover something new to engage with, ranging from hopscotch courts to exercise equipment.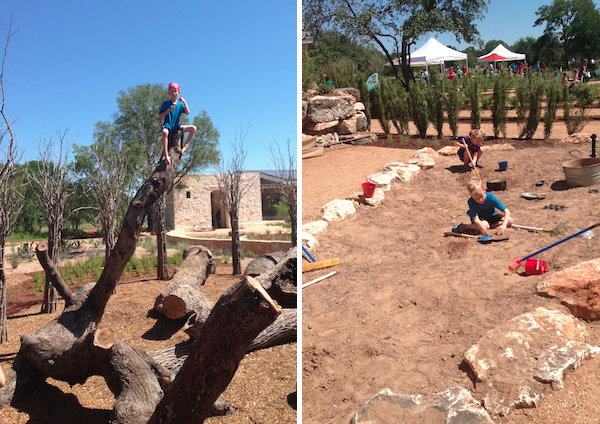 Of course, kids don't have to make all their own fun. The garden's "Nature Play Leaders" help too, offering young visitors binoculars to explore the woods, answering questions about the native plants and wildlife, and organizing games like duck duck goose on the great lawn. The only thing lacking in the new section of the Wildflower Center is shade—plan accordingly if you'll be visiting in the heat of summer. Bring plenty of water along, especially if you're planning to have a picnic in the garden. (By lunchtime the kids will be parched from playing tag on the great lawn.) You'll also want to load up a backpack or stroller with everything you need when you leave the car, since it's quite a hike back to the parking lot.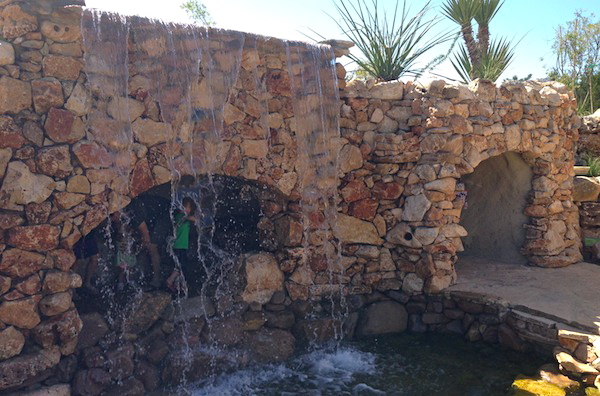 Normally you gain entry to the Family Garden with paid admission to the Lady Bird Johnson Wildflower Center. But during
Nature Nights
, families can visit both the Wildflower Center and Family Garden at no charge. Nature Nights are held on select Thursdays each summer and feature presentations, guided hikes, and nature crafting for kids of all ages. On these special Thursdays, the Wildflower Center is free all day, not just in the evening. Just make sure you arrive early since the parking lot fills quickly.
The Lady Bird Johnson Wildflower Center is located at 4801 La Crosse Ave. in South Austin.
Photos by Heidi Gollub
BY: Heidi Gollub
FreeFunInAustin.com was voted Best Hyperlocal Blog in the 2010 Austin Blogger Awards, was a Critics Pick in The Austin Chronicle's 2011 Best of Austin, was honored at The Statesman Social Media Awards in 2012, and has won Best Website in the Austin Family magazine awards for the past two years. Heidi Gollub started Free Fun in Austin in 2010 as a way to get out of doing housework.  Her theory was that running her five kids all over town on adventures for material to write about was a pretty awesome excuse for not doing dishes.  This worked swimmingly as her husband bought into her "I'm too busy being a good mother to bother with dusting" schtick and people not even related to her began visiting the website. Heidi's work on the website even led to other fun gigs, like writing for magazines and working as a True Local expert for the Austin Convention and Visitors Bureau.  All things considered, her kids don't really need clean clothes, do they?