GROUPON GUIDE TO WASHINGTON-DC
Dress to Impress a Warthog
BY: Amelia Buzzell |
May 21, 2014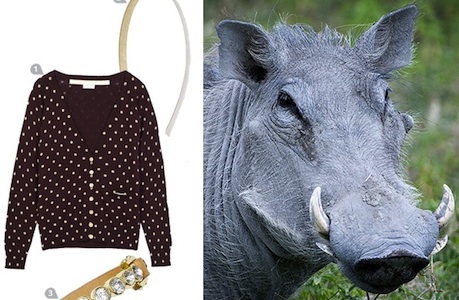 Dr. Dolittle could walk with the animals and talk with the animals, but he was special. When you visit the zoo, you can only walk
near
the animals and talk
at
the animals. (Quietly.) You'll still want to be dressed for the occasion, though—and whether you're communing with an herbivore or a hungry predator, we have just the outfit.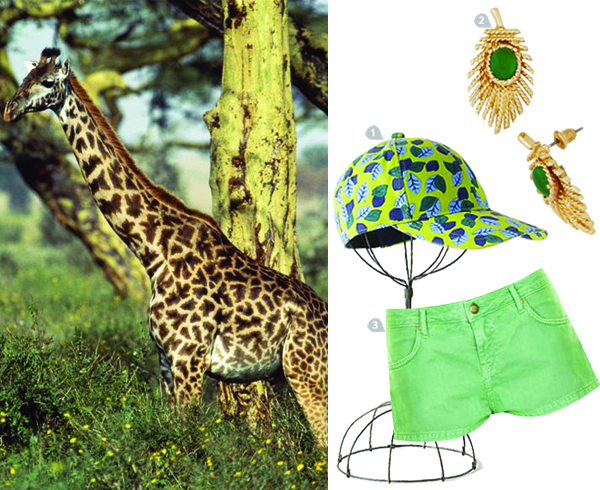 GIRAFFE
How much does it want to eat you:
Not at all. Its eyes are as gentle as its neck is long.
The outfit:
If you look like a treetop canopy, where giraffes like to snack, perhaps you'll get a kiss. Accessorize with vivid greens and tropical leaf prints. Luckily for you, they're already popular this season. 1.
Lime leaf baseball cap
; Anthropologie ($48) 2.
Leaf Nothing to Chance earrings
; ModCloth ($12.99 on sale) 3.
Moto green daisy hot pants
; Topshop ($44)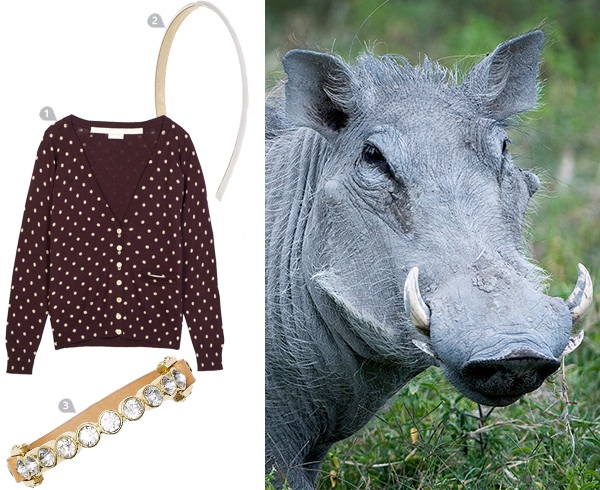 WARTHOG
How much does it want to eat you:
It doesn't, unless you just rolled around in some truffles.
The outfit:
Warthog "warts" aren't blemishes—they're just fat reserves. Show an appreciation for the warthog's complexion by donning polka dots and a bracelet with round beads. A white headband mimics the hog's mighty tusks for an extra ego boost. 1.
New Bandwagon cardigan
; Gorman ($129) 2.
Shine classic headband
; ban.do ($8 on sale) 3.
Modernist crystal and leather stretch bracelet
; Ann Taylor ($24.99 on sale)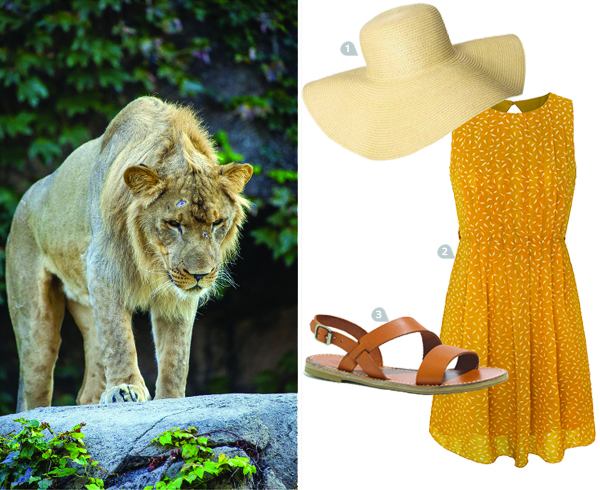 LION
How much does it want to eat you:
A little bit? Unless you're one of the dudes who befriended
Christian the Lion
, or
this guy
, you'd do well to keep your distance.
The outfit:
Try to blend in with the pride. Create a mane with a sun hat, and wear tawny, lion-colored clothes. If all else fails, promise the lion you can get him a meeting with MGM. 1.
Women's floppy straw sun hat
; Old Navy ($19.94) 2.
Paisie printed dress
; John Lewis ($100.77) 3.
Slingback Sightseer sandal
; Madewell ($59.50)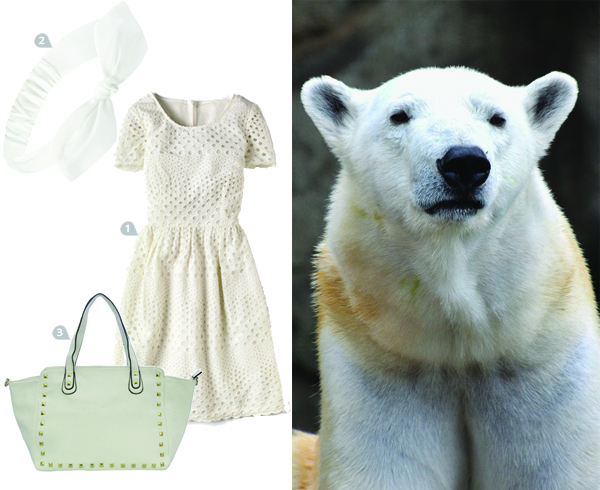 POLAR BEAR
How much does it want to eat you:
Enough to make you nervous. It might think you're a weird, upright seal.
The outfit:
Cover yourself in your best summer whites, and maybe you can pass as a cub. (Fun fact, though: polar bear fur is not white, it's
transparent
. We see it as white because the clear, hollow hairs reflect light.) 1.
Pretty eyelet dress
; Boden ($158) 2.
Charmed bow head wrap
; Forever21 ($3.80) 3.
Yoki studded handbag
; Goods ($23.99)
Find more outfit ideas on ideeli.
Photo credit: Lincoln Park Zoo, African Wildlife Foundation and Smithsonian National Zoological Park