Drink Like It's 1932 at Hearty Restaurant in Lakeview
BY: Rachel Matuch |
May 9, 2013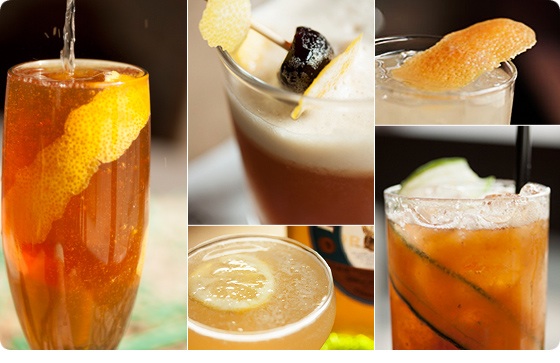 If you drop by
Hearty
—the Lakeview restaurant Steve McDonagh owns with his partner, Dan Smith—you should find Steve on a mission. He goes from table to table convincing his diners of one thing: they need to give gin a chance. He meets plenty of folks who say they swore it off after college. "A lot of people think they don't like gin because they think of what gin used to taste like. It was harsh and would give people headaches," Steve says, citing the heavy pine and juniper flavors that used to characterize gin. "But especially now, with the new American gins and the process, they're lovely and they're flavorful. And what's important about a cocktail is that all of the ingredients are adding layers of flavor—just as with cooking." Gin was big before Prohibition set in, and Steve champions the return to classic cocktails made with flavorful spirits, rather than flavorless vodka. Steve's pretty confident in the persuasiveness of gin, once people taste it done right. "I don't think I've ever had anyone tell me they didn't love it," he says. "It's just a fear of the unknown." If you're at Hearty, let Steve convince you himself. His old-fashioned libations pair well with the kitchen's new take on comfort food, such as a rabbit-sausage corn dog with apple-cabbage slaw, or the tuna noodle casserole with panko-crusted ahi, saffron-cream egg noodles, sautéed shiitake mushrooms, and crushed wasabi peas. They even have an inspired new take on Beefaroni that involves short ribs. But back to the booze. When Steve's convincing people that they really do love gin, he has a couple of go-to drinks, including what he calls his "gateway cocktail"—the Aviation. "Everyone loves it," he says. "It's a real pleaser for people who don't think they drink gin but would maybe drink a martini with vodka." Here's the recipe, ready to convert gin-shy drinkers.
Aviation Cocktail
From
The New Old Bar: Classic Cocktails and Salty Snacks from The Hearty Boys
by Steve McDonagh and Dan Smith. "This is the cocktail I most frequently recommend for the non-gin drinkers. It's a perfect example of how gin is more than just an alcoholic ingredient, but how it adds flavor and depth to a cocktail," writes Steve. "The Aviation is silky, crisp, and slightly fruity." The book also contains a version of the drink with crème de violette.
What You Need:
2 ounces gin 1 ounce maraschino liqueur 1/2 ounce fresh lemon juice Brandied cherry, for garnish
What You Do:
1. Combine the ingredients in a cocktail shaker filled with ice. Shake well. 2. Strain into a chilled coupe. 3. Garnish with a brandied cherry and serve. Yields 1 cocktail.