Drink of the Week: Old Style Pitchers at Two Way Lounge in Logan Square
BY: LISA LADEHOFF | 5.10.2013 |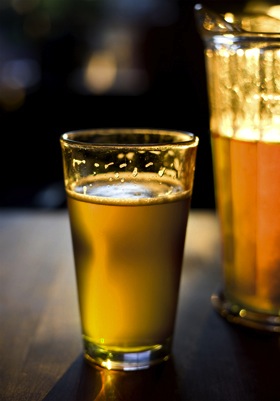 It's still early when we walk next door to the Two Way Lounge—so named for its two doors on opposite ends of the bar, good for a quick exit. My friend Allen and I are greeted with that familiar smell of a well-used bar before the bodies move in. It is a smell that blends bleach, day-old alcohol, and that powder dissolved in the sink all the glasses go in for washing.
On this Thursday evening on a temperate April day, the bar is mostly empty. Inside there is a resounding aura of neon. Only the old regulars are here at this point, the barflies cradling pitchers of beer to themselves and watching the games (Bulls on one end of the bar, Blackhawks on the other).
I order one pitcher of Old Style—I think they have Budweiser too, but Old Style reminds me of Chicago—and two mugs. They are frosty mugs. If you order another pitcher, might as well get new mugs. Take full advantage of the frostiness. Bring your thirst.
Mondays and Thursdays, there are $1 Old Styles or $6 pitchers. Just go for the pitcher. Everyone else is doing it, because they know and they've brought their thirst.
Back when I first discovered the Two Way, it had an epic jukebox. That was years ago. Things have changed. The jukebox now is one of those TouchTunes digital "jukeboxes." Can that even really be called a jukebox? I'm going to rename it the steal-your-money-when-you're-drunk box. It mostly has one hit from the bands you like. Don't even dream of a B-side if you want two plays for your dollar. For $1, I put on "Just Like Heaven" by the Cure and "Everybody Wants to Rule the World" by Tears for Fears—barely their best song.
For any one song your heart desires, you can pay a dollar for it. Any song—anything—one dollar. Throughout the night, a girl returns to the jukebox three times to put in three subsequent dollars, each time to play the same Coldplay song.
We order two more pitchers. An old, toothless guy who declares himself to be called "Papitoooo!" dances up and down the bar to every single song—even the Cure—acting charmingly vivacious and/or very drunk.
Someone puts on a brain-rattling, quick-tempo song in the style of Mexican Norteño music—surely they must have paid a dollar for that—and Papito hops up and down the bar in his fedora and heavy chain, moving with a surprising grace. A trio of young, unassuming dudes walk in, and we turn their way as a draft blows warm, humid air in from outside. They take one look around, glance at Papito, and turn right back around and leave.
This is Helen's Two Way Lounge. It's at its best, and worst, before 10 p.m. That's plenty of time to work up your appetite for cheap beer.
BY: Lisa Ladehoff
Guide Staff Writer
A native of the city of big shoulders, Lisa is a small-shouldered books and booze enthusiast living on Chicago's Northwest side with a large cat, a tiny bar, and a medium-sized library.