Drink of the Week: Portillo's Chocolate Cake Shake
BY: Aimee Algas Alker |
Aug 1, 2013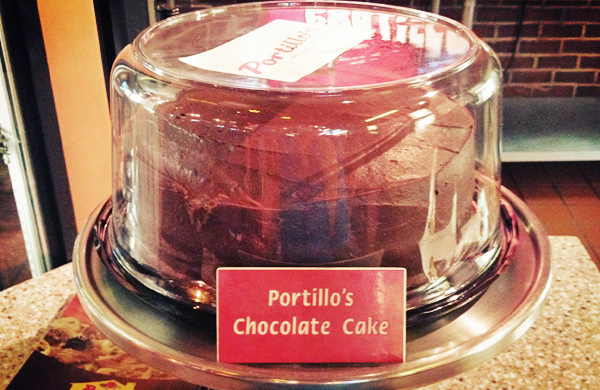 "I don't like cake." People never would believe me when I told them. They'd give me looks or a litany of persuasive arguments: "C'mon, I'll cut you a
small
piece," or "It's
chocolate
." But still, all my life, I did not like cake. Until I got pregnant. I swear this kid is a sugar fiend, because my sweet tooth has been out of control. So now, at parties, I give in to the "small piece," still thinking
I don't like cake
, and that small piece turns into two more. So when I heard about the chocolate cake shake at Portillo's, I thought,
Let's give that sweet tooth a run for its money
. If you've never been inside a Portillo's, it's a hodgepodge of antiques, old-timey music, gingham-topped tables, and a contingent of employees hustling behind the counter. Their italian beefs are juicy and flavorful, and their char-grilled dogs and crinkle-cut fries are something I dream about at night. I've been countless times, but the one thing that's never crossed my lips is what they call their "famous" chocolate-cake shake. Why would I? I don't like cake. At least, I
used
to not like cake. My husband, Jamie, had never had one either, which was a surprise; it blends together the three things he likes best: chocolate, cake, and ice cream. When I asked my brother if he ever tried one, his eyes got big and his voice very, very low, as he said, "yes." Querying my friends, I got similarly rabid reactions. It wasn't enough to say they'd tried it; they wanted to communicate how much they
loved
it. Even the guy behind the Portillo's counter. "We take a chocolate milk shake and blend it with like half a slice of chocolate cake," he said and smiled. "It's so good." So now, with my newfound sweet tooth, and my husband's chocolate cravings, we decided to take the plunge. I let my friends know via Facebook, and got comments as encouraging as if I'd announced I was about to run my first 5K: "Tell us all about it!" To share, Jamie and I ordered a large, which was roughly the size of a Big Gulp. Before he took a sip, he wondered, "What's the calorie count of this thing?" We both agreed that it was probably close enough to the RDA for the
entire day
and not worth looking into. I was ravenous, and thought about waiting to try the shake until I had a few fries in my belly, but honestly, I just couldn't wait. I found a straw and inhaled. The creaminess of the chocolate shake was punctuated by morsels of spongy cake. With a few more tries, I attempted to distinguish what I was tasting. Was it icing? Was it cake? But after awhile, it just didn't matter. Each sip tasted richer and richer, and I had to cut the sweetness with a few fries. There was no symphony, no swell of strings or little birdies flying around my head to tell me
this is it, the shake you've been searching for
, but I thought it was pretty good. "The shake part is really thin," Jamie said, but I suppose it must have been to counterbalance the dense bits of cake floating around. We didn't finish the shake, which is remarkable for my husband, who's been known to eat in just one sitting an entire pint of Ben & Jerry's. It's also remarkable for me, who just the day before scarfed down a brownie à la mode in less than 10 minutes. "I'm not sure I'd ever order one again," he said. Maybe it was texture—the cake was blended down into a sort of goo—or maybe it was too much of a good thing? Maybe cake and ice cream are meant to be enjoyed separately? I mean, you'd never put your mashed potatoes and your meatloaf in a blender. Maybe my sweet tooth—or my kid—isn't as sugar-starved as I'd thought. Still, my curiosity wasn't completely satisfied. Jamie said he'd never order one again, but me? I'm wondering if I should try another, to see if those dense little morsels of cake really were the perfect counterbalance to the creaminess of the ice cream. I'm wondering if it might be better if I nixed the sandwich and just ordered fries to dip into the shake. Quite possibly, this is how a chocolate-cake-shake addict is born.