Drink of the Week: Two Manhattans at the Matchbox in River West
BY: LISA LADEHOFF | 5.3.2013 |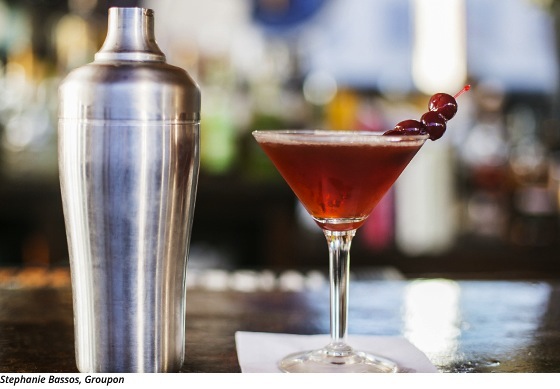 The rust-colored gate that protects the front door of the Matchbox has just been opened. I am the first to arrive. Climbing onto a stool toward the middle of the bar, I don't even look at the menu—I have come here for one thing: the manhattan, straight up.
When I ask, the bartender, whose name I learn is Graham Courter, says they make their manhattans "perfect," some kind of lingo that I nod at and pretend to understand. Later, I find out that "perfect" means using equal parts of sweet and dry vermouth. He explains the recipe: Buffalo Trace bourbon, sweet and dry vermouth, juice from cherries soaked in French brandy, and bitters. It's a wonderfully simple drink—and an exceptional cocktail when made properly. Four of the brandied cherries are skewered on a red plastic toothpick resting idly against one side of the cocktail glass. A tender, sweet reward at the end of the drink.
"Oscillate Wildly" by the Smiths floats out over the speakers. My manhattan arrives with an accompanying shaker, the adult version of getting the silver canister that holds the remainder of a hand-spun milk shake. It is 4 p.m., sunny, and unusually warm for April. In here, it's quiet and cool—for now.
I highly recommend a visit at this time. Cut out of work early for a drink or two, stumble across the street to the subway, and experience rush hour on the Blue Line while inebriated.
The Matchbox isn't called that for nothing. Cozy would be an understatement, but when I visit, it's empty. A few regulars trickle in, calling the bartender by name. The interior is shaped like a wedge, larger by the door—able to fit a row of bodies seated and a row standing—and, when it gets crowded, almost impassable at the rear where the bathrooms are. Above the bar hangs a large black-and-white photo of the owners, showing them embracing in front of a silver train car being lifted by a crane. (The iconic car would soon become the connected restaurant, the Silver Palm.)
I take it as a good sign that the Smiths are playing. Pete, my friend and neighbor, walks in through the side door—a welcome surprise. One manhattan becomes two. He warns me that I should "never have more than two at the Matchbox—even if it's just a mixed drink" because everything there seems to exhibit a certain stiffness.
I scribble notes on a napkin, gazing around at framed photos, old articles, a poster, a charming lineup of bottles, seven cartons of cigarettes. One man walks up to request a pack of Camels. Bars still do that? I wonder. "Ask" comes on, and I resist the urge to sing along because I am drunk and it'll give me away. Pete was right—never have more than two at the Matchbox.
BY: Lisa Ladehoff
Guide Staff Writer
A native of the city of big shoulders, Lisa is a small-shouldered books and booze enthusiast living on Chicago's Northwest side with a large cat, a tiny bar, and a medium-sized library.