Drinking Is Studying: How to Become a Certified Cicerone
BY: Cody Braun |
Jul 26, 2013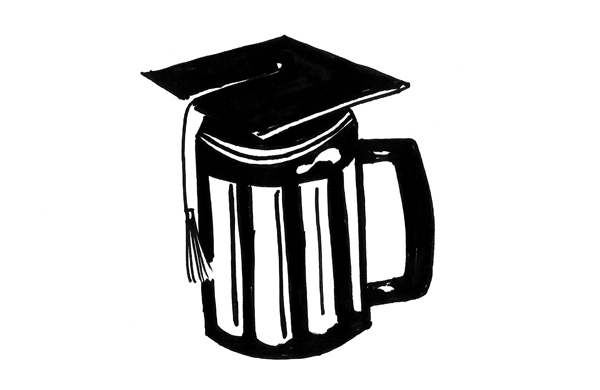 This article is Part One in a series. Cody will continue his quest to become a Certified Cicerone, so check back in soon. 
A few nights ago a friend stopped by with a bottle of
Two Brothers
Off the Cuff. I was about to study for a tough test, so his timing was perfect. For my test, I wasn't going to have to deal with any angry deans because I was starting on the
Cicerone Certification Program
, a Chicago company that seeks to give beer experts the level of legitimacy that's been bestowed on sommeliers for decades. "They're like firefighters and policemen," says Virginia Thomas, the company's business manager. "With anything that's very similar, there's going to be a bit of a rivalry, but I don't think there's any bad blood." Not long ago, wine lists were simply longer and more complex than beer lists, but that's not really the case anymore, thanks to the popularity of adventurous craft brewers. The difference between a black IPA and a pilsner is at least as great as the difference between a burgundy and a chardonnay.
Ken Henricks of Howells & Hood
talked to us about how important it is to have servers who know their stuff when you have 360 beers. There wasn't really a term comparable to sommelier for beer professionals until Cicerone Certification Program started giving them credentials in 2008. Thomas was one of the first employees at its Lakeview headquarters, but she's only completed the first level of the program. That makes her a Certified Beer Server. The Cicerone Certification test, which Thomas hasn't taken yet, is much more involved. Only about 40% of people pass it the first time. Part of the reason she's held off is that she's one of only eight employees, so she still has to help grade tests sometimes. "I'm working to remove myself from the testing process," she says, "so I'm not seeing questions before I take my exam in the next six months or so." The final step in the process is Master Cicerone certification. Of the eight employees, only two have completed that process, which requires years of experience, recommendations from brewers, and travel to beer-producing regions of Europe. I know a bit about beer. I was born an enthusiastic stone's throw from Bavaria, and I've been homebrewing for five years. So I decided I'd start at the bottom and work my way up. One of the nice things about becoming a Certified or Master Cicerone is that you don't necessarily have to take any classes. "We don't care how you get the knowledge," Thomas says. Though the company will suggest a set of books and classes, some people pick up their beer expertise while working a bar, brewing at home, or watching commercials in which people have fun at the beach. I paid the $69 fee to take the Beer Server test and sat down to look at some of those materials, which include
Randy Mosher's Tasting Beer
, a book I thought I recalled flipping through once. About 18,000 people from around the world have passed the Beer Server test (that's the first-level one), so I figured it couldn't be that bad. I cracked a Hopped-Up Goose Juice from
Hoppin' Frog Brewery
to fortify my spirits. I was ready to ace this thing. The test is heavy on questions about beer styles. "Which beer is not light colored?" and "What fact is not true of porters?" No problem there. There are also some questions about the brewing process, including one asking if you should tell a patron that hops look like "small brown caterpillars." (For reference, you shouldn't and they don't.) Then there was a stretch of questions that any bartender would probably ace, but I started floundering. The timer on the test ticked quickly downward. Thirty minutes isn't really that much time. How do you clean glassware? Have I been changing kegs wrong? Finally, I arrived at the moment of truth. You need at least 75 of the 100 questions correct. I limped in with a respectable 85%, so I'm certified to say that the Goose Juice IPA was delicious. And recommend that you not eat any small brown caterpillars.
Check back in soon, as Cody will continue his quest to become a Certified Cicerone. In the meantime, take this quiz he created from his training materials.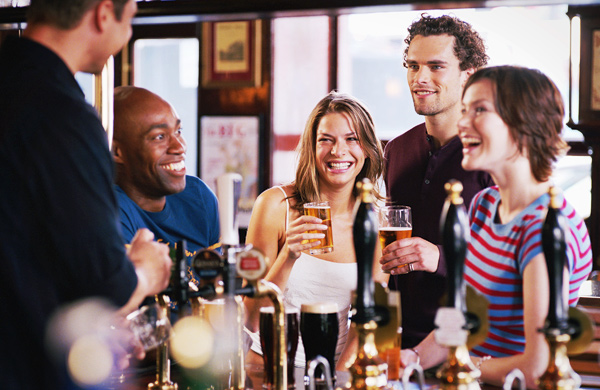 Are you a beerthusiast or a total kegnoramus? Take the Groupon Official Beer Expert quiz to find out!  
1. Which of the following is not a characteristic of a stout?
a) Dark color b) Rich maltiness c) Intense hoppiness
2. Which of the following is a common characteristic of hops?
a) Piny b) Chewy c) Reddish
3. Which of the following is a good name for a bartender?  
a) Cranston b) Crandall c) Sir Anthony Poursgood
4. What is the best way to serve a belgian ale?
a) In a pint glass b) In any sort of pitcher-shaped mascot that might bust through the wall c) In a tulip glass
5. Which is a flavor that is most likely contributed by yeast?
a) Bitterness b) Spiciness c) Toothpaste
6. Which of these beers would not generally be described as "hoppy"?
a) IPA b) Barleywine c) Lager
7. Malt most commonly comes from which of the following plants?
a) Sugar cane b) Barley c) Moss
8. What is a typical level of IBUs for an IPA?
a) 50 b) 500 c) 5,000
9. PBR, Bud Light, and most other American macrobrews are all what style of beer? 
a) Lagers b) IPAs c) Stouts
10. Which type of beer containers are most susceptible to skunking?
a) Cans b) Green bottles c) Clear bottles
Answer key: 
1. C | 2. A | 3. C | 4. C | 5. B | 6. C | 7. B | 8. A | 9. A | 10. C 
1–4 answers correct: You might not know a lot about beer, but you've learned life's most important lesson: never try to be good at things.  
5–6 answers correct: You know your way around a keg. In college you definitely had a fun party name like Kego or Kegster. 
7–8 answers correct: You aren't intimidated by a beer list, and you have a good grasp of many different beer styles.
9–10 answers correct: Check your answers again. You got the bartender-name one? Fine. You're an Official Groupon Beer Expert.
Illustration: © Dav Yendler, Groupon
BY: Cody Braun
Guide Staff Writer
Cody is a banjo-carrying gypsy now accustomed to having a permanent home in which to brew beer, store journalism degrees, read Wodehouse, and bake bread.