Drinks and Diversions: Chicago Bars with Outdoor Games
BY: Kevin Moore |
May 30, 2013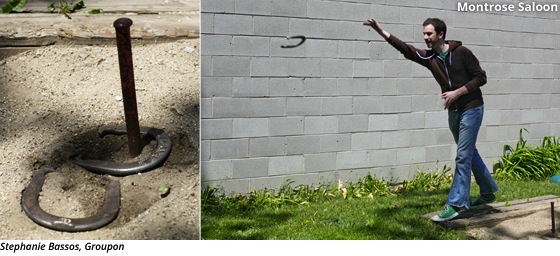 Every year, there are two things that signal the final death knell of Chicago's cruel winter and equally unforgiving spring: street-cleaning schedules begin to appear on the flowering trees, and outdoor patios start to fill with thirsty patrons. The prospect of enjoying a drink outside is tempting enough, but many of the city's bars, taverns, and restaurants also lure crowds with outdoor games and sports. Here's a roundup of establishments that will keep you well hydrated as you play.
For the H-O-R-S-E enthusiast:
Phyllis' Musical Inn (Wicker Park | 1800 W. Division St.) 
During the warmer months, the beer garden draws crowds with its
basketball hoop
and the accompanying sounds of rhythmic dribbling. Spectators can sip drinks at picnic tables as they wait for their chance to practice hook shots and alley-oops.
For the blacksmithing apprentice:
Montrose Saloon (Irving Park | 2933 W. Montrose Ave.)
Cheers follow the clang of metal on metal as patrons pass the time with rousing matches of
horseshoes
. The bar features two pits for open play, encouraging visitors to shoulder up to the regulars and snag the next opportunity for a quick game.
For the person who loves yelling at blades of grass:
Cody's Public House (Lakeview | 1658 W. Barry Ave.)
The beer garden honors Italian lawn bowling with a regulation-sized
bocce court
. Between tosses, guests can either debate whose throw ended up closer or settle the matter with the help of the bar's electron microscope.
For the sand-castle architect:
Augie's (Lincoln Park | 1721 W. Wrightwood Ave.)
Augie's brings a bit of the Chicago beaches inland with its sand
volleyball court
. Surrounded by an outdoor café with seating for about 100 people, the court gets put to good use during the summer when the bar hosts Monday-night volleyball league matches.
For the competitive spirit who thinks sweating is a sign of weakness: 
Guthries Tavern (Lakeview | 1300 W. Addison St.)
Sunshine and sweaty brows are hallmarks of summer fun, but sometimes it feels good to nurse a microbrew indoors while rediscovering your Uno skills. With more than 50
board games
lining its shelves, Guthries is perfectly willing to serve as an air-conditioned haven.
BY: Kevin Moore
Iowa-born, Arizona-raised, and Illinois-tax-paying writer who can answer any Trivial Pursuit question about wine or snakes.