Eataly-Mania Twitter Roundup
BY: Cody Braun |
Dec 3, 2013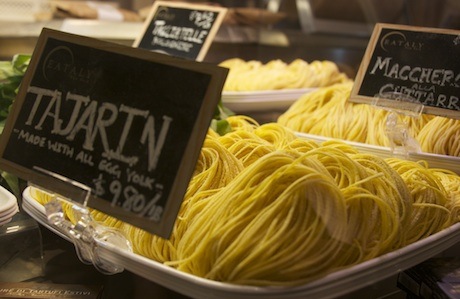 Wagstaff found the mayor at Eataly before the official opening.
Mayor Emanuel just bought tonight's dinner at #eatalychicago pescheria! @ Eataly http://t.co/qLk5vrQDQs — Wagstaff Chicago (@wagstaffchicago) December 2, 2013
And Michael Nagrant keenly noted that Emanuel might be there to purchase one of his trademark menacing dead fishes.
@wagstaffchicago Tonight's dinner or a message to a detractor? — Michael Nagrant (@MichaelNagrant) December 2, 2013
And nobody should get between Grid and Nutella.
Current office debate over when to line up for @Eataly's Nutella bar. These pictures suggest now: http://t.co/aemVNki3gM — Grid Chicago (@Grid_Chicago) December 2, 2013
Or Time Out Chicago. Just don't stand near the Nutella counter, basically.
Dear @Eataly, You had us at Nutella counter: http://t.co/aLR2JcWUxe Sincerely, The people of Chicago — Time Out Chicago (@TimeOutChicago) November 27, 2013
Ever-logical Crain's thinks about the big picture. Also the Nutella counter.
Chicago's @Eataly will be roughly the size of 5 Trader Joe's — including 8 restaurants, a brewery and Nutella station http://t.co/lQTTXnbbRT — Crain's Chicago (@CrainsChicago) October 15, 2013
John N. is willing to play devil's advocate on this whole "Eataly" thing.
John N.'s Review of Eataly Chicago - Chicago (2/5) on Yelp - http://t.co/gQUh6hRYmv — Chicago Yelp Reviews (@yelp_chicago) December 2, 2013
But most people are expecting the best.
Ima punch somebody's throat if Eataly isn't up to all the hype. — Harriet Thugman (@ChellzIsWinning) December 2, 2013
And they don't seem too disappointed.
I can drink wine while I shop. I can drink wine while I shop. I can drink wine while I shop. I can drink wine while I shop. #eataly #heaven — Erica Lockerbie (@eLockerbie) December 2, 2013
Even Brian Boitano congratulated Eataly.
Congrats @Eataly, on your Grand Opening today! #eatalychicago http://t.co/taZLvubdvu — Brian Boitano (@BrianBoitano) December 2, 2013 Photo credit: Melanie Zanoza Bartelme, Groupon | Explore more Chicago Italian restaurants
BY: Cody Braun
Guide Staff Writer
Cody is a banjo-carrying gypsy now accustomed to having a permanent home in which to brew beer, store journalism degrees, read Wodehouse, and bake bread.