Eclectic Finds at the Vintage Garage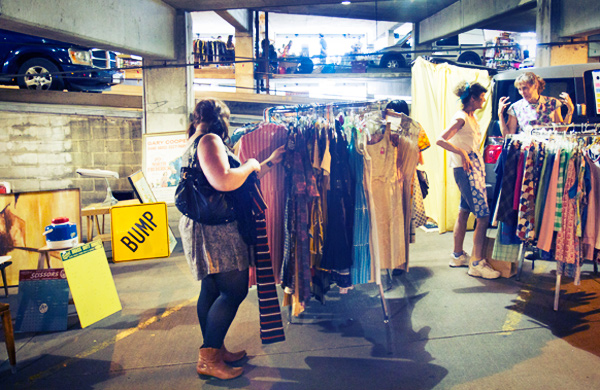 When I first walk into the parking facility on North Broadway, it seems I've wandered onto the set of a '50s greaser flick: rock 'n' roll echoes through the first floor, while groups of people clad in rockabilly gear mill about. But this is no movie set; it's the monthly vintage market known as the
Vintage Garage
. Instead of demonstrating their best twist, passersby absentmindedly sway to the beats as they browse the racks of retro clothing, mid-century furniture, and velvet-lined jewelry trays that fill the space. Their throwback clothes are a nod to July's "Rockabilly and Tiki" theme—this afternoon, there will be a costume contest for the ginchiest threads.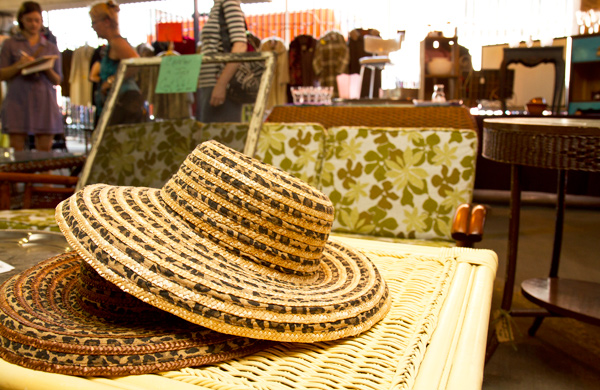 From April through October, this ordinary parking facility transforms into a colorful showroom brimming with eclectic finds. One-of-a-kind quilts sewn from vintage saris are stacked on one table; another holds yellowing pages sourced from outdated almanacs. Out of the corner of my eye, I spot a zebra-striped rug.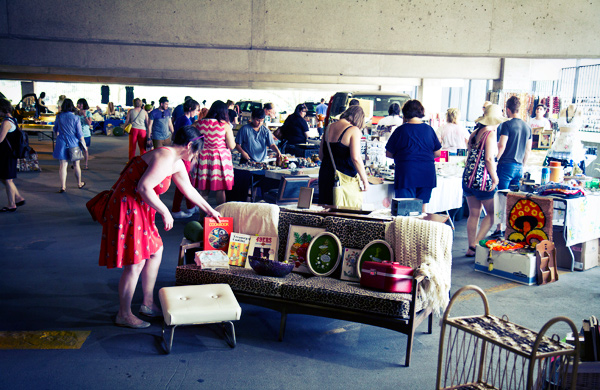 Even as a newcomer to the world of vintage, this charming hodgepodge calls to me. I'm not looking for specific pieces to add to my collection, I just want to browse some interesting merchandise and maybe bring home an item or two (or three, specifically a metal bar cart, a wooden folding chair, and a needlepoint picture of birds in a cage). I also want to learn more about this unique world from the vendors. It's clear from the get-go that they're a passionate bunch who, lucky for me, love to talk shop.
Hello, Good Buys
About 10 years ago, tired of working weekends and holidays, Donna quit her job as a professional chef. Luckily, she had a backup plan: turn her antiquing hobby into a full-time gig. Today, Donna sells furniture and home decor from the '40s and '50s at the Lincoln Antique Mall, but she's also a regular at both the Vintage Garage and Randolph Street Market. Why this event in particular? She thinks the Vintage Garage tends to attract a hipper crowd of 20- to 30-somethings, people who might not normally frequent antique malls. While we're chatting, a young woman who seems pretty representative of that crowd remarks that Donna's pieces remind her of her grandmother. Donna says jokingly to me, "If I had a dollar for everyone who said that, I wouldn't have to do these markets." But I think she would anyway. She has too much passion for the antiquing world to quit now.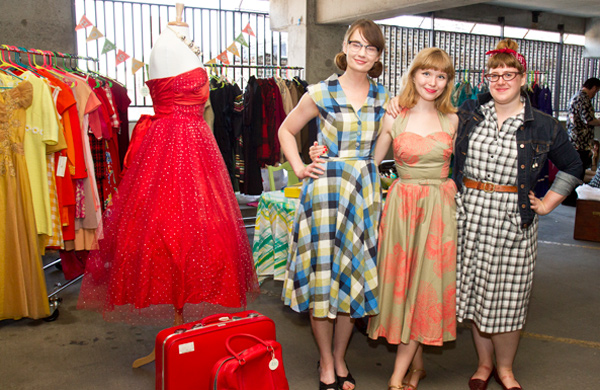 Hopscotch & Soda
Co-owners Ginny, Lindsey, and Jillian are the newest additions to the Vintage Garage—in fact, today is their first-ever market appearance. Their second-floor booth is stocked with racks of clothing from the '40s through the '80s, items they normally sell on
Etsy
. When I talk to them, they're a little anxious about making enough money to cover the entrance fee ($140 for two parking spaces), but eager to try selling their clothing on a new platform. As Jillian says, "live events. . . allow us to meet and build relationships with our clients." Plus, Lindsey adds, "buying in-person gives you a better sense of how the garment is going to look and feel on," a perk that online-exclusive shops can't compete with.
The Back Room
When I ask Sylvia if she markets any of her pieces online, she shakes her head and laughs. "I'm vintage." She currently sells her eclectic mix of throwback and contemporary home decor entirely at private shows and events like the Vintage Garage, a technique she calls "low-tech, high-touch." But she's the first to admit that not having an online presence has its downfalls, and plans on taking a social-media class at the Jane Addams College of Social Work. Sylvia's old-school approach makes her a rarity among the vendors here—most sell their items from antique malls and online shops like Etsy, and use Chicago's vintage markets to expand their customer base. It's an appropriately timeless reminder of the value of these small expos to small-business owners.
Yetti Treasures
For husband-and-wife duo John and Carrie, the Vintage Garage is an opportunity to connect with customers. "When you see someone fall in love with a piece, you feel like you're doing something right," says John, who deals in mid-century modern furniture. He likes to meet people face-to-face and hear what they plan to do with their purchases, a personal touch that's lost in the world of Twitter and Facebook. Right before I came over, a hairdresser bought a piece that she planned to use for hanging scissors, and John is still riding the high. She's not the clientele that Yetti Treasures normally attracts, but it's these types of connections that make this market special.
The Vintage Garage takes place on the third Sunday of every month, from 9 a.m. to 5 p.m., through October 20 at 5051 N. Broadway.