"Esprit de Corps" Highlights Therapeutic Art at the National Veterans Art Museum
BY: Emily Wachowiak |
Nov 8, 2013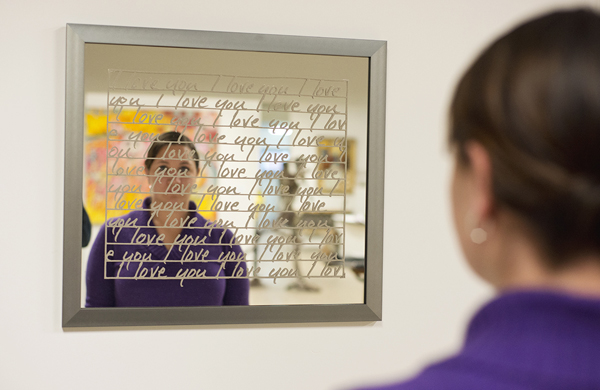 Much of the artwork on display in the
National Veterans Art Museum's
exhibit
Esprit de Corps
feels incomplete. That's not to say that a piece like Benjamin Suarez's dark
Self Portrait - The Vietnam Vet
is merely a work in progress. Rather, it's to acknowledge the raw, unsettled sense of urgency engendered by a work like Suarez's, which the artist returned to time and time again between 1974 and 1989. Elsewhere in the gallery, Jerry Frech's four Iraq war journals exhibit a similarly unpolished aesthetic. The partial sketches from his soldier days are overlaid with notes the MFA student scrawled in bright-red ink just months ago.
Esprit de Corps
opened November 11, and its name translates to "spirit of the body." This is a phrase used often in the military to describe troop morale, but in this context it refers to the inner spirit that veterans draw on to cope with the lingering traumas of war. Visual art gives them a language through which they can address these traumas and help others understand their experiences. It's not an easy task, which is why the NVAM staff celebrates each work in the gallery as a feat of "creative resilience." "Too often, we focus on the negative and forget that so many of the veterans who come home are strong, extraordinary, resilient human beings," says Communications Coordinator Sarah Eilefson. Of the nine artists featured, five are Vietnam veterans, four are post-9/11 veterans, and all are survivors of trauma. But instead of dwelling on the horrors of war,
Esprit de Corps
celebrates the artists' ability "to grow beyond what they've experienced," explains Gallery Coordinator Destinee Oitzinger.

The exhibit walks visitors through each artist's story in three stages. The first features works made while the artists were abroad on duty. This is perhaps the most visceral stage, as the rawness of a work such as
Joe Fornelli's
Going Home Early
suggests. Painted with coffee, the Vietnam-era piece depicts a fallen service member on a stretcher. Frech's aforementioned Iraq journals sit just below this display, and the two works together function as a blurry snapshot of life in the throes of war.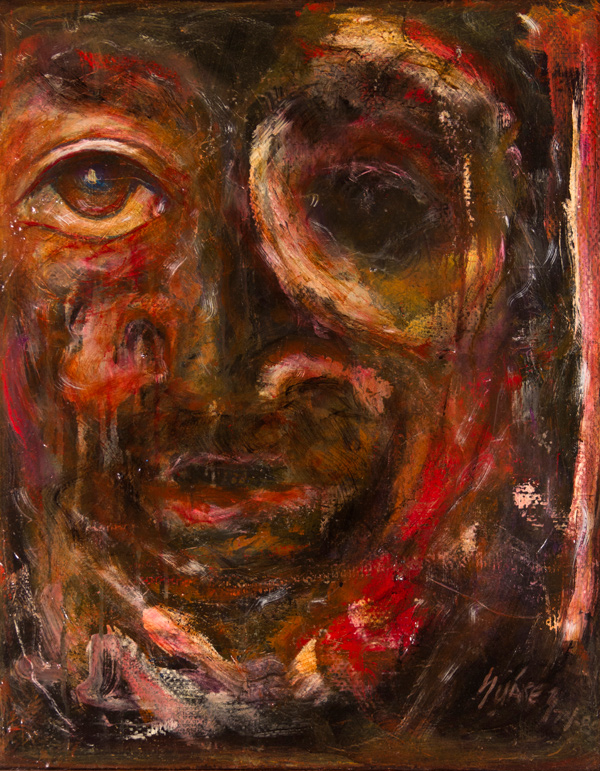 The second stage features works that the artists made to help process their experiences upon returning home. It's here that visitors will find Suarez's haunting self portrait, as well as a
Theodore Gostas
painting that depicts the most frightening moment of his five-year POW internment in Vietnam. The painting positions the viewer—as well as Gostas himself—outside the experience. Creating a new perspective from which to process an experience is the essential mission of therapeutic art, and it's clear that this is what Gostas is after in his work. After the exhibit's first two stages open up a dialogue with viewers, the third gives them a chance to speak. It begins with a piece from
Peter Sullivan's
REhumanizaton
series. A mirrored surface forces the viewer to confront his or her own image while reading the words "I love you," scribbled over and over again on paper handmade from Sullivan's National Guard uniform.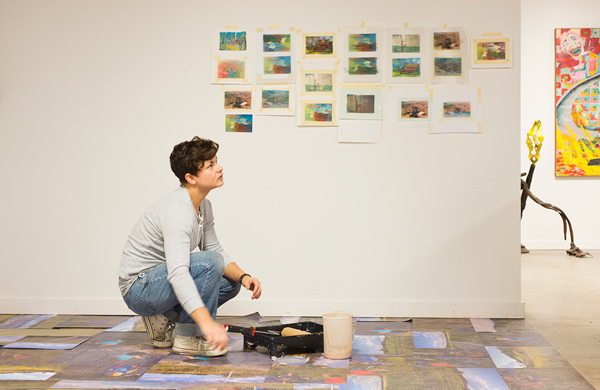 The challenges of reintegration are brought home in Air Force veteran
Erica Slone's
installation, which features photographs of Slone's family and hometown overlayed with photographs from her six years in service. Slone plans to be present in the gallery as much as possible, adding to the piece as she engages in conversation with visitors. "I want to learn from them," she says. "They're going to affect my work, even by walking around." For veterans and their families, Eilefson hopes the exhibit will continue a dialogue even after they've left the museum. "[I hear] two common refrains," she says. "The first comes from veterans who say, 'I never knew that anyone else felt the way that I did'…and the second [comes] from [family members] who say 'Now I understand why we weren't talking about it.'" The prospect of building these connections is what drives
Esprit de Corps
, as well as NVAM's recently launched
therapeutic art program
. In addition to inviting veterans and their families to organized workshops, the museum sends veterans into some of Chicago's most violent neighborhoods to teach art to children. These kids "haven't seen combat proper, but they've seen some tough things," Eilefson says. This program will put them "in dialogue with someone who can understand what they've seen." Esprit de Corps
will be on display at the National Veterans Art Museum (4041 N. Milwaukee) through August 14, 2014. Performances of
Veterans' Voices
, a play by Erasing the Distance, will accompany the exhibit November 11­–13 and 18­–20 at 7:30 p.m. in the museum's Filament Theatre.
Photo: © Timothy Burkhart, Groupon; Artwork courtesy of National Veteran's Art Museum