GROUPON GUIDE TO WASHINGTON-DC
Even in Fashion, History Repeats Itself
BY: Michelle Schuman |
Aug 5, 2014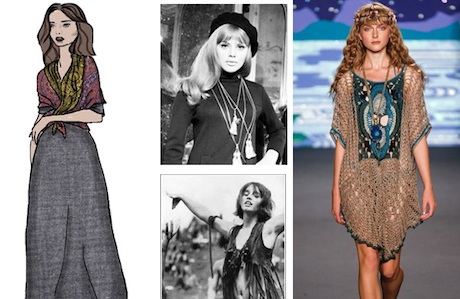 There's no denying that fashion is cyclical. Because of this, some of today's trends are decades—even centuries—old. We dug up the history behind three of today's most popular, and mapped out their connections to philosophy, politics, economics, and youth culture.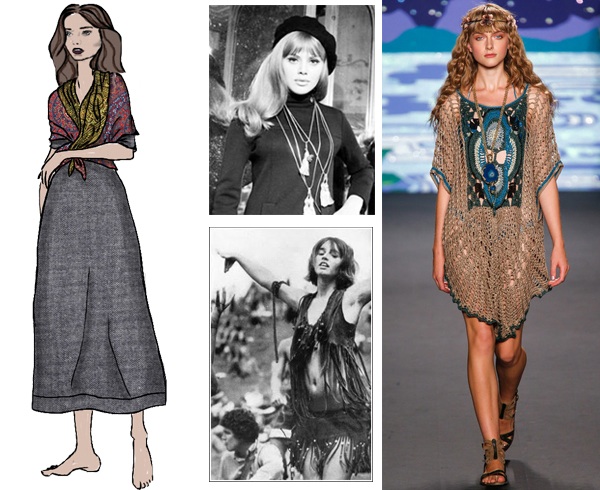 Bohemian
Its roots:
Bohemian fashion was spurred by the French Revolution, when a group of artists supported by wealthy patrons were cut off financially, plunging into a state of poverty they then celebrated as a true artistic lifestyle. Many became nomads, and outsiders likened them to the Romani gypsies who'd arrived in France by way of the former Bohemia, obtusely labeling them "bohemians." Some embraced the new nickname, covering long, loose curls in wide-brimmed hats and dressing in vibrant colors reminiscent of gypsy culture. Others favored clothing inspired by medieval and oriental dress, and others still wore distinctly threadbare coats and shoes.
Its revivals:
Though it had all but died out by WWI, bohemian culture saw a fervent midcentury resurgence amongst beatniks and hippies. 1950s styles favored a new kind of minimalism—all-black clothing, straight hair—but the free-spirited look of the 1960s mothered the "boho-chic" trend as we know it today. Design houses including Anna Sui and Free People continue to champion the movement, offering romantic, medieval-inspired frocks, fringed handbags, and scuffed-up boots. Many modern bohemians achieve a similar aesthetic with handmade and thrifted clothing, linking the now-commercialized trend back to its humble origins.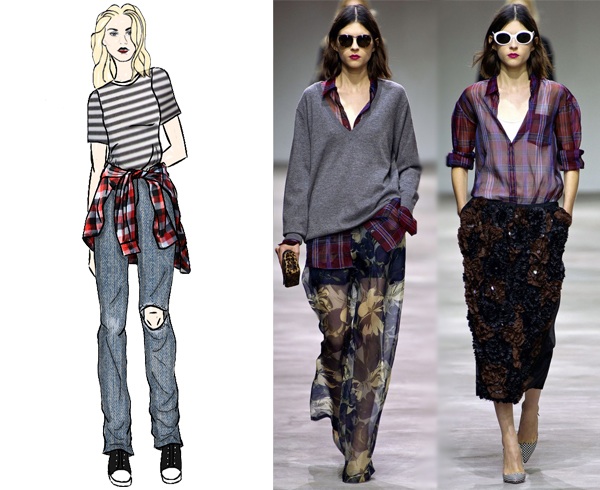 Grunge
Its roots:
Bohemian's younger sister, grunge was another countercultural movement started by impoverished, anti-materialistic artists. Those artists were the breakout stars of grunge music's first wave, led in the late 1980s by Seattle bands such as Nirvana and Soundgarden. The musicians' habit of layering flannel shirts, dirty tees, ripped jeans, and combat boots was thought to be influenced by both the region's chilly weather and prominent logging industry. Late Nirvana frontman Kurt Cobain was notoriously resistant of fame, so he was probably as confused as anyone to see
his band's T-shirt in a 1992 Vogue fashion spread
(if he even saw it). That same year, Marc Jacobs created a grunge-inspired collection at Perry Ellis; he was praised as the "guru of grunge" by
Women's Wear Daily
despite never having been to Seattle. But loyal grungers felt affronted by the capitalization of their down-and-out identity and shoppers didn't respond well to high-priced flannel, so the trend faded away.
Its revival:
Now that it's old enough to be nostalgic, grunge has returned without outcry. The once-androgynous look has been, well, romanticized, with flannel skirts and Courtney Love–esque slip dresses spotted on Saint Laurent's and Dries Van Noten's runways, as well as in fast-fashion stores such as Zara.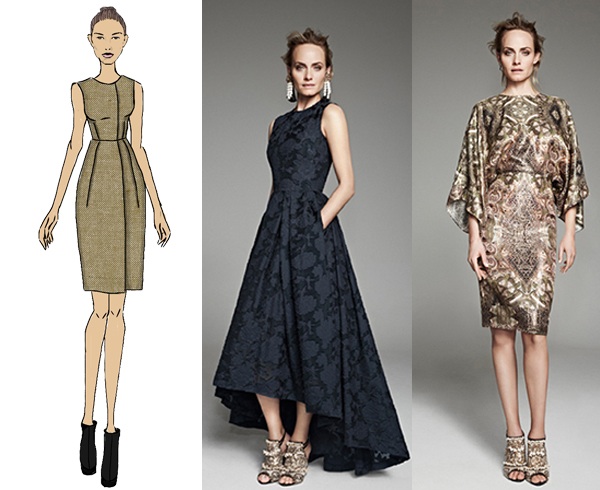 Eco-Fashion
Its roots:
Inspired by 1960s flower-child ideologies, eco-fashion began in the early 1990s with the use of recycled and environmentally friendly fabrics. Designer Martin Margiela, for example, gained an audience for using repurposed materials, and Giorgio Armani experimented with making clothing out of hemp. The movement didn't take off right away, though—despite (ongoing) condemnation of sweatshops, eco-fashion was a hard sell due to lack of public demand and challenges tied to commercializing ecologically and socially ethical values.
Its (non-)revival:
Unlike the two aforementioned trends, which made comebacks after falling out of favor, eco-fashion has steadily gained momentum. In 2002, Stella McCartney was arguably the first to break ground in this sphere, elevating eco-fashion from a perceived gimmick into a desirable trend. She offset her rock-chic aesthetic with animal-friendly fabrics, cutting out leather and fur entirely. Buoyed by burgeoning lifestyle movements such as veganism and organic eating, she's garnered a loyal celebrity following. A few years later, U2 frontman Bono launched Edun, a label that promotes trade and production in Africa. Even Barneys New York has embraced sustainable fashion, launching its own Barneys Green label.
Find even more of the latest fashion trends when you shop at ideeli.
Illustrations: Michelle Schuman, Groupon; Photos: Style.com, About.com, and H&M