Aquaponically Grown Greens and the Chefs Who Love Them
BY: Stephanie McDaniel |
Dec 17, 2014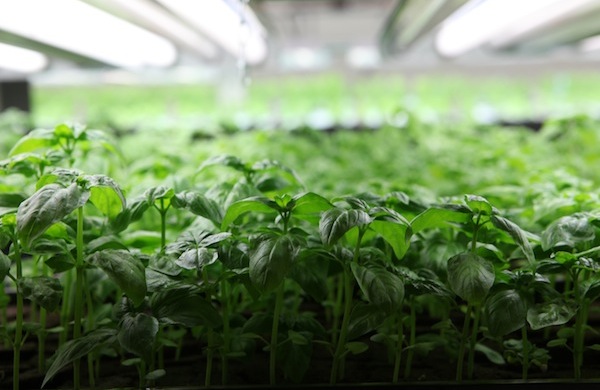 Even in the dead of winter, FarmedHere harvests its delicate microgreens and leafy vegetables. Its secret to circumventing the seasons? Fish. Or, more accurately, a growing system called aquaponics.
An aquaponics system relies on fish to fertilize the water in specialized tanks. The enriched water is then used to cultivate plants hydroponically—that is, without soil. Once the water has nourished the greens, it's circulated back into the fish tanks, where it keeps the tilapia thriving.
This system creates 100% organic produce while generating no waste. What it does generate is kale, arugula, and basil plants that are highly coveted among restaurant chefs. According to FarmedHere's chief technology officer, Paul Hardej, some chefs track when the greens will arrive at stores so that they can immediately buy everything off the shelf. The arugula, for example, "was literally disappearing within minutes [from Whole Foods]."
To find out why cooks are clamoring for these greens, we spoke to representatives from two businesses: Luxbar, an artisanal pub in downtown Chicago, and Artizone, an online food delivery service. Both venues have been cooking with FarmedHere's aquaponically grown microgreens.

Why did you choose to use these microgreens?
LUXBAR: "[We] utilize [the] microgreens for their overall quality and consistency throughout the year. In addition, we strive to procure thoughtfully sourced ingredients whenever possible. Microgreens are fairly delicate, and sourcing locally reduces travel and handling issues, helping to ensure a vibrant product."
ARTIZONE: "Their produce is high quality and harvested locally. It's full of nutrients. You can tell that [FarmedHere] holds a very high standard in terms of [what] they put out into the marketplace."
What are some of the ways that you serve them?
LUXBAR: "The greens are typically used for garnish. They add a touch of elegance to every plate. The last dish we utilized them in was the heirloom-tomato salad, served with Nichols Farm heirloom tomatoes, 6-year-old Wisconsin cheddar, and black lava salt."
ARTIZONE: "Especially with the microgreens, I try not to mask the flavors of the greens, so I toss them with a very light olive-oil vinaigrette or add them to grilled fish. The baby arugula is wonderfully spicy and the baby kale gives you a different flavor with every bite."
What do customers think?
LUXBAR: "Our guests enjoy them, as they do have a pleasant light spinach flavor and mild crunch."
ARTIZONE: "As soon as we added [FarmedHere] products to our site, we saw a sales uptick immediately. I think the fact that they are grown locally and are grown in a sustainable manner, using aquaponics, appeals to our customers."
These interviews have been condensed and edited. Photo courtesy of FarmedHere.
BY: Stephanie McDaniel
Stephanie McDaniel is a political theorist-turned-novelist from South Carolina. On the rare occasion she's not writing, she spends her time folk dancing, singing, and adding sea salt to Lake Michigan.