GROUPON GUIDE TO WASHINGTON-DC
Everyone's Mad for an "Alice in Wonderland"–Themed Party
BY: Amelia Buzzell |
Jun 18, 2014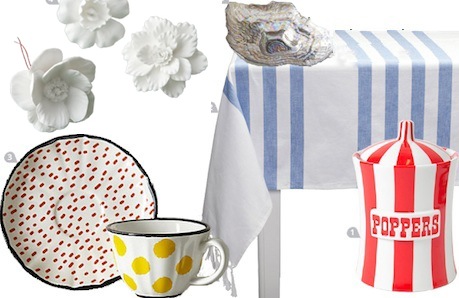 Whether it's phrases like "down the rabbit hole" or the pervasive stereotype of caterpillars smoking hookahs, the mark
Alice's Adventures in Wonderland
has left on pop culture is still apparent nearly 150 years after the book was first published. And what better way to celebrate Lewis Carroll's enduring classic than with a party that evokes his colorful, off-kilter world? Clocks placed at every setting and set to wildly different times will help loosen your guests' grips on reality. A blue- and- white-striped tablecloth pays homage to Alice's dress and pinafore in the classic Disney movie adaptation, and it contrasts nicely with a red-striped canister filled with crackers that may or may not make partygoers grow 10 feet tall. Oyster-shell plates, meanwhile, are perfect for serving snacks (or cabbages) fit for a king, while whimsical, polka-dotted teacups and saucers are so adorable, they're sure to drive your guests mad—if they aren't mad already. Should the dinner conversation lull, simply bend an ear toward a porcelain flower to see if it has any lessons to teach. On the other hand, if the party starts to get too boisterous, you can always tucker everybody out with a quick caucus race.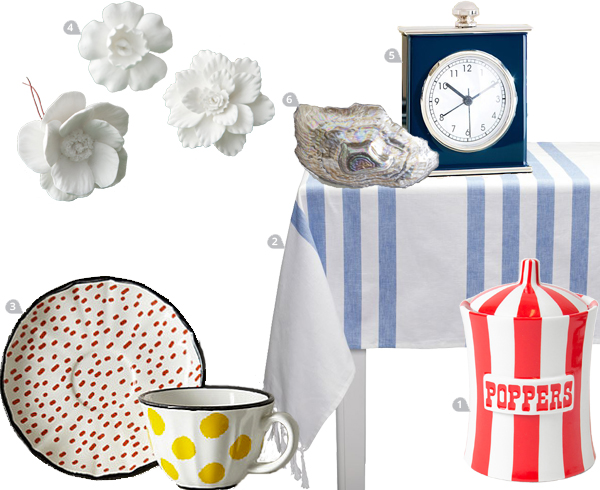 1.
Poppers canister
; Jonathan Adler ($88) 2.
Striped tablecloth
; Lene Bjerre ($108.74) 3.
Dot pop cup and saucer
; Anthropologie ($18) 4.
China flower set
; Terrain ($48) 5.
Quinn enamel clock
; Pottery Barn ($39 on sale) 6.
Two's Company lustrous shell plates
; Domino ($90 for four)