Experiencing Chicago En Plein Air
BY: Courtney Ryan |
Aug 15, 2013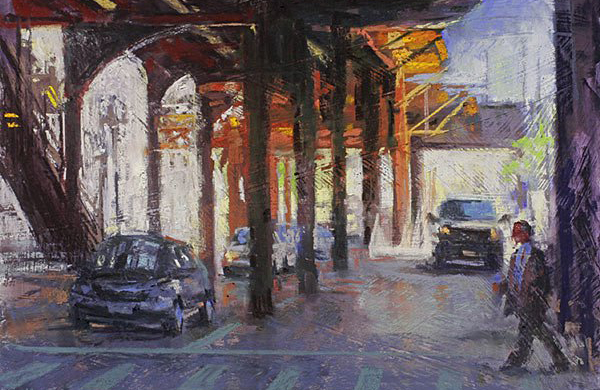 Artist
Nancie King Mertz
was drawn to painting en plein air before she even knew it was a genre of painting. "Plein air painting is painting what you see, so I paint my surroundings," she says of her work. When looking over her award-winning pastels and oil paintings, it shows. Her detailed
originals
are dream-like takes on familiar Chicago sights, from shadowy corners beneath downtown L tracks to tranquil harbors on the North Side. And though such images can also be painted from a photograph, Nancie explains that part of the plein air thrill is experiencing the light and shifting colors as she's capturing them on the canvas. "You become connected to the piece because you remember how it smelled, sounded, and felt while painting it," she says. Her appreciation for the fleeting has taken her far beyond the Windy City. She's depicted llamas roaming the Machu Picchu ruins, guards standing watch at the Hellenic Parliament in Greece, and boats docked along Florida's Forgotten Coast, which she visited during the 10-day
America's Great Paint-Out
competition this year. However, she always returns to Chicago. "It's constantly changing and there's support for the arts, so people want to buy paintings of the city," she says, adding that the balance of green space and grittiness is appealing. We spoke with Nancie about how to get started with plein air painting, where to carve out a spot, and what tricks render the best work.
Whet Your Brush
Preparation for plein air painting is as crucial as having an artistic eye. Nancie opts for an aluminum easel with telescopic legs so she can fold it up and carry it everywhere she goes. She also has a fold-up palette with about six to eight different colors of oil paint, and carries a small can of turpentine for cleanup. A few brushes and a small assortment of pastels round out the light bounty that makes painting on the fly possible. Since plein air painting is, by definition, outside, Nancie stresses that it's important to prepare for inclement weather by dressing appropriately and having the right supplies. If it's raining or snowing, she recommends oil paints, since pastels will run together if they get too wet. On a hot day, bring along bug spray and dress in light clothing.
Join the Movement
When it comes to where to begin your venture, Nancie suggests that you "start in a garden or rural area because it can be intimidating if you jump into a heavily populated area." She belongs to and recommends joining
Plein Air Painters of Chicago
, an inclusive collective that meets every Saturday morning at various spots throughout the city. The group offers support and advice for new painters as well as inspiration and critiques for those who have been in the game for a while. "It's become quite a movement," says Nancie, who has also witnessed several plein air painting contests crop up across the country in the past few years. Once you've cut your teeth at a private or isolated area, you'll want to move on to a more active pasture. Though professionals like Nancie might prop their easels up on Lower Wacker or in the median of a busy street, she doesn't recommend jumping headfirst into that kind of chaos so soon.
Buckingham Fountain
provides ample landscape and urban vistas, but with the added challenge of pedestrians passing by. However, the area is rarely bustling, and you'll probably spy another artist furiously working at their easel nearby. Nancie also prefers public rooftops, since they peer over the heart of the city while still keeping artists safely lofted. Her absolute favorite place to paint in Chicago, though, is
North Pond Nature Sanctuary
in Lincoln Park, which teems with tall grasses and vividly colored wildlife such as the great blue heron.
Don't Chase the Light
Nancie limits the time she spends on a painting to two to three hours due to the way the light changes. "It pushes you to make quick decisions. You have to put down what initially drew you to the scene," she says of the time constraints, adding that even as the day fades, "you can't chase the light." Instead, you have to "rely on your memory to maintain what [grabbed] your attention." To help speed up the process, she likes to use pastels since you don't have to blend the colors. Being able to ignore distractions and focus is also pivotal for finishing a piece. "You have to watch out for snakes and worry about being chased by bees," she says when discussing possible outdoor distractions. Then there's the people. She's had crowds stand directly in front of her to try to see what she sees, and during every outdoor excursion someone inevitably asks, "Aren't you gonna paint me?" But Nancie says that's part of the process. "I just smile and keep painting."
You can view Nancie's work at her gallery and framing studio, Art de Triumph & Artful Framer Studios, located in Lakeview at 2938-36 N Clark Street.
Photo of "Wabash Crossing" courtesy of Nancie King Mertz
BY: Courtney Ryan
Guide Staff Writer
Courtney Ryan is a Chicago-based writer and Derrick Rose fan. She spends almost 100% of her time making or eating popcorn.