Exploring Fort Point
BY: Laura Chassaigne |
Oct 22, 2013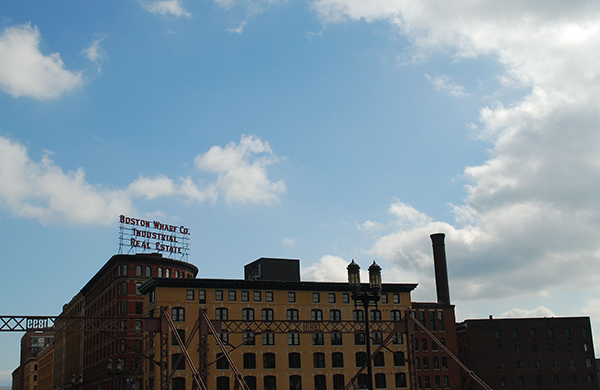 Boston has so many wonderful neighborhoods, and Fort Point is one of my favorites. This area of South Boston extends east from Fort Point Channel towards the new construction of the Seaport District. The mix of converted brick warehouses and modern glass buildings creates a unique atmosphere that feels both historical and contemporary.
Art and Design
A stroll along Fort Point Channel offers stunning views of downtown Boston from across the water. As you walk along the channel, pause to rest on the unusual benches that dot the walkways.  The 17 innovative public benches are the semi-finalists in Design Museum Boston's Street Seats competition, in which designers from 23 countries around the world participated. Some of my favorites are reminiscent of wharf poles or sail rope. The Design Museum offers guided tours twice a month, and each bench is
accompanied by text
that explains the designer's vision.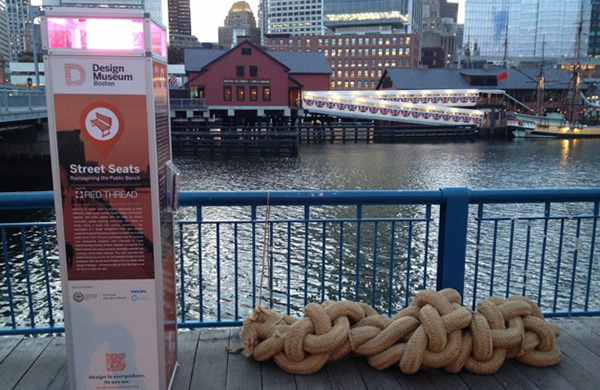 The Fort Point neighborhood has been home to artists for decades, and many of the buildings are still zoned as artist live/work spaces. During open studio events in the fall and the spring,
the studios' doors open to visitors
. You can get a feel for the neighborhood's artists all year long at Made in Fort Point, a shop showcasing the diversity of Fort Point residents, offering paintings, photographs, sculptures, stationery, jewelry, and other wearable art. The gallery features a different local artist each month, giving visitors a more in depth view of an individual's work. The Fort Point Arts Community also arranges shows of area artists at
300 Summer Street
, and the
Design Innovation Gallery
at Factory 63 features rotating exhibits highlighting Boston's creativity in design, engineering, and technology. Finally, don't forget that the Institute of Contemporary Art is just a few blocks away, and hosts exhibitions, concerts, and more in its striking waterfront location.
Fort Point Food and Drink
After a day of gallery hopping,
Barrington Coffee
is a perfect place to stop in for a recharge. They serve amazing coffee and espresso drinks made from beans roasted at their Berkshire location. I especially love the Barrington Gold espresso blend and the India Kalledevarapura blend, which is grown under fig trees in the Western Ghat mountains. In addition to being delicious, all the coffee they roast is sustainably grown and traded at a fair price. Enjoy your caffeine fix from the beautiful wooden bar, and watch the world go by. For a little something sweet, stop in at Joanne Chang's Flour Bakery, for a home-style molasses cookie or a piece of rich chocolate cake. If an Asian gastropub piques your interest, then check out Ming Tsai's new restaurant Blue Dragon. The easy-to-share tapas and well-stocked bar have made it a neighborhood favorite already. Nearby, Barbara Lynch has your evening covered with her restaurant
Sportello
and cocktail lounge Drink. Sit at Sportello's modern counter for an Italian play on a classic diner, serving delicious handmade pasta and trattoria-inspired dishes. After dinner, cap off your exploration of Fort Point by heading downstairs to Drink for a well-crafted cocktail.
Explore deals on other things to do around Boston.
BY: Laura Chassaigne
Laura highlights the people, events, and places that make Boston unique on The Boston Day Book. After spending her early years in Boston, Laura moved abroad and has lived in Montreal, London, and Paris. From the Leather District loft she shares with her husband, Laura enjoys (re)discovering the neighborhoods that make Boston great, strolling the waterfront, and exploring the city's museums. Laura is currently writing her PhD dissertation on Palaeolithic symbolic behavior, and recently graduated yoga teacher training at Kripalu.