Fall Back in Time with Top Guys' Looks from Rad Vintage in Andersonville
BY: Daphne Sidor |
Sep 24, 2013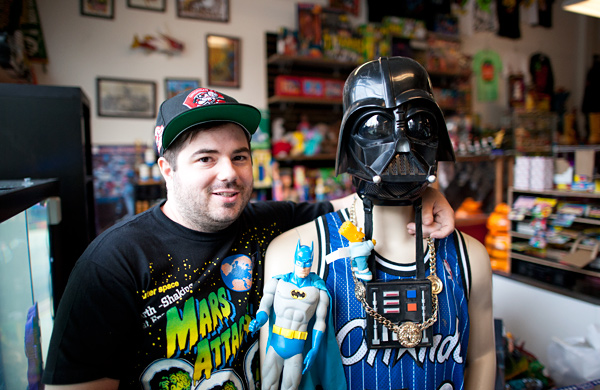 This Halloween, RJ, the owner of Andersonville's
Rad Vintage
, is going to be an old guy. That was his costume last year, and it will probably be his costume next year, too. "Last year I bought a mask that was movie-grade," he explains. "It was like 1,400 bucks. … And I thought, well, this will be my last costume and I'll just wear it every year. And it worked! People really thought I was an old man." RJ's only 33, but the costume is appropriate—he surrounds himself with enough out-of-date artifacts to furnish several lifetimes. Rad Vintage's stock can go back as far as the 1940s, although RJ's major passion is for merchandise from the 1980s and early- to mid-1990s. Starter jackets and gaudy Versace windbreakers hang from the ceiling, and you could probably construct a complete picture of the Billboard charts for 1996 by flipping through the massive racks of concert T-shirts. ("I own close to 1,000 T-shirts, personally," he says. "My wife hates it.")  There are also armies of Star Wars and Ninja Turtles toys, along with much weirder artifacts—does someone in your life need a pack of
All My Children
trading cards, perhaps? Rad Vintage is unique among Chicago vintage shops not only for its chronological niche, but for the gender breakdown of its inventory. Whereas many spots focus heavily on women, RJ started with menswear. The store's sprawling selection of team jerseys, coupled with the absence of intimidatingly fancy suits, makes it an easy entry point for male shoppers who might not think of themselves as the vintage-browsing type. Plus, there are all those toys. A few minutes' conversation reveal that RJ's curatorial decisions are guided by much more than his own nostalgia. In fact, he's a canny observer of retro trends and constantly tracks which older styles get pushed to the front of the fashion world's closet. Having already stocked up on the pieces that he predicts fashion-forward guys will want this fall, he shared a few insights with us below.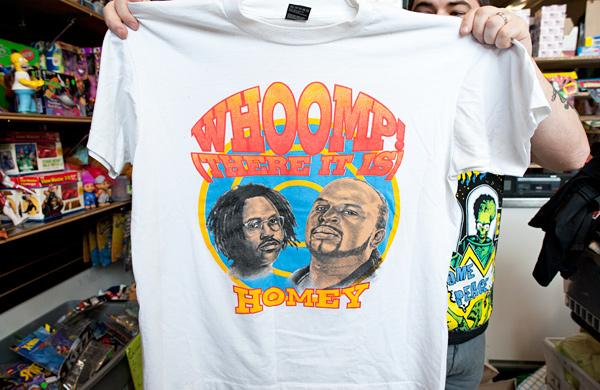 TOUR T-SHIRTS 
Specifically, rap and R & B tour tees from the mid-'90s, featuring fading photo collages on a black background. The images of the once ultrasuave musical icons have acquired some humor value in the intervening years—RJ holds up a Tupac tee and notes that giant suspenders must have been in back then. The T-shirt trend, he says, is coming largely from current musicians, such as Big Sean, whom he recently spotted on a late-night show wearing an ancient ODB shirt. "I focus on the hip-hop community, because they influence so much, and also the rock community. They kind of set the trends more than the designers. … I hear, 'Oh, I want the jacket like Tyga wears.'"
OFF-MODEL ICONS
As long as there's been mass pop-culture, there have been knockoff tie-ins produced by somebody trying to make a quick buck or remix popular imagery. Right now, says RJ, people are starting to seize on the ingenuity and downright weirdness inherent in blatantly bootlegged versions of well-known franchises. Perhaps the biggest sellers are shirts featuring Black Bart, an unlicensed, African Americanized mid-'90s take on the ubiquitous Simpson kid.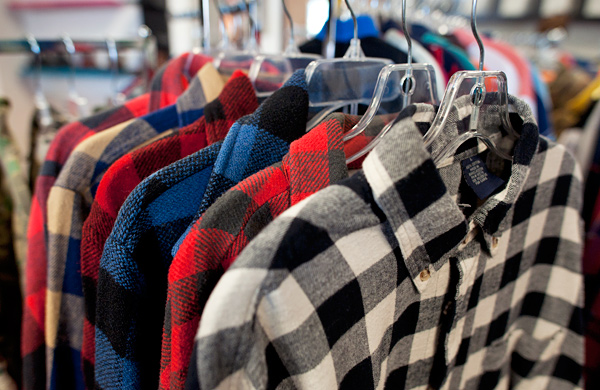 HERITAGE BRANDS, LAYERED UP
Other items aren't as obviously linked to a single time period, such as the racks of plaid. This season, RJ says, the trend is more toward ultrasturdy buffalo-plaid wool shirts than sloppy grunge flannels. The exemplar of the form, the 1970s Pendleton button-up, can be difficult to find (RJ typically buys in bulk from sources as far away as Japan), but the shirts tend to have held up beautifully through the decades. For more inspiration, he seeks out fashion-forward milieux such as Pilsen Art Walk. "You see how those people, hipsters, students, are dressing, and it gives you an idea. I noticed that several people had the plaid shirts on, but [also] cable-knit sweaters. Another thing that's been popular has been Harrington jackets, like your old Lacoste or Members Only jackets."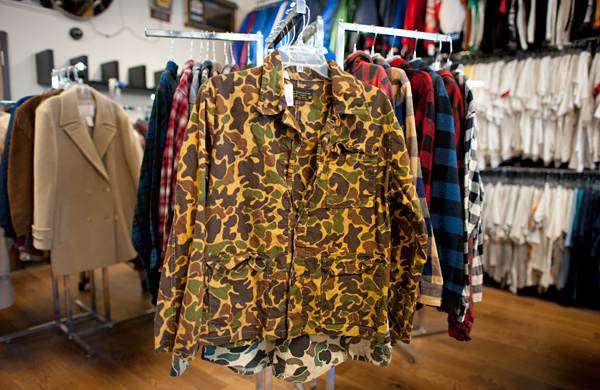 CAMOUFLAGE
As the borders of what's considered vintage shift, so do the vintage-inspired trends of the moment. Right now, RJ thinks we're moving into a mid-'90s revival: "In '93–'94, Starter jackets and Nike jackets were real popular. But as you moved on to the Wu-Tang/Master P era … you started getting into the Army camo fatigues, the boots." This time around, camouflage shirts and lightweight jackets are coming to the fore—though he doesn't anticipate the full-camo look making a comeback anytime soon.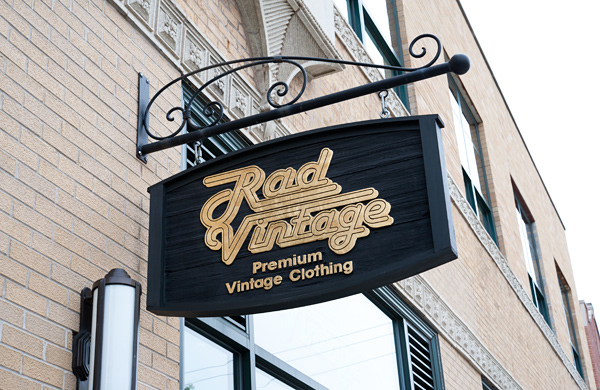 TEMPORAL CONFUSION
RJ takes most of his cues from celebs and fashion-forward youngsters, but he still keeps an eye on the international design scene. This year, he's seen a new wave of outfits that hark back to several eras at once. "I think that's kind of what the trend's going to go to—mixing the '60s or '50s with the newer [styles] of a couple decades ago. Like, you see a guy with Army fatigues on, but he's wearing a '60s leather biker jacket. … That's what you'll see this fall." Hopefully, the autumn shift will mean an especially fruitful season for vintage shoppers and shopkeepers alike.
Photo: © Andrew Nawrocki, Groupon
BY: Daphne Sidor
When she's not busy writing, Daphne is an indie-pop musician, year-round bike commuter, and newbie gardener.