Fall Bounty at the Farmers Markets
BY: Laura Chassaigne |
Nov 3, 2013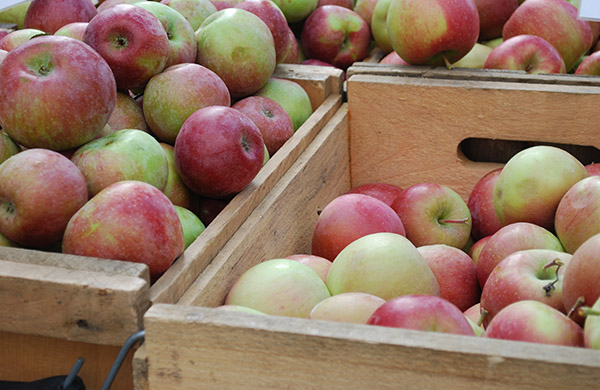 With crisp air and leaves in shades of red and orange, there is no mistaking the arrival of autumn and the harvest season. While we often think of summer as the best time for fresh fruits and vegetables, the fall harvest has so much to offer. During the summer, there are more than 25 farmers markets across Boston, and while some have closed for the season, there are still several markets that will continue until the end of November. What can you expect? This is the season for apples and pears. Biting into a crisp apple on a cool fall day is so satisfying. Many varieties are amazing on their own (my current favorite is Honeycrisp), while others shine in cooking. Vegetables like radishes, carrots, turnips, and sweet potatoes are delicious roasted. Broccoli and cauliflower are also delicious baked in the oven. Simply cut into florets, toss with olive oil, salt and pepper, and perhaps sprinkle with a little pecorino or parmesan before cooking. Brussel sprouts are delicious when tossed with olive oil and seared in a hot pan and then placed until the broiler for a few minutes – the outer leaves become crispy while the interior is cooked just enough. Kale, another star of the fall harvest, is amazing in salads, and can also be sautéed quickly with a pinch of dried red pepper for an easy and healthy side. Of course, the markets at the moment are a cornucopia of gourds! No other vegetable says fall like a pumpkin. These familiar squashes can be made into the ubiquitous pumpkin pies (yum!), and the roasted seeds are a fun snack. Like other winter squashes such as butternut, red kuri, and acorn squash, they can also be roasted, and make a delicious soup. Even easier is delicata squash, a recent discovery of mine. This variety, true to its name, has a very delicate skin and doesn't require peeling – just remove the seeds, slice or chop, and cook as desired. Many of our area markets offer much more than just fruits and vegetables. The Copley Square Farmers Market, my favorite, includes vendors selling cheese, eggs, meat, bread, and prepared foods like sandwiches, salads, and pastries (Copley Square, Tuesday and Friday, 11am-6pm, until November 26). Other vendors offer jam, honey, roasted nuts, and fresh pasta. The Siena Farm stand is worth a visit for delicious organic produce and treats from sister-company Sofra Bakery, including spicy dips, hummus, and Turkish-inspired cookies. Another favorite market of mine is downtown at Dewey Square, across from South Station (Tuesday and Thursday, 11:30am-6:30pm, until November 26). Kimball Fruit Farm offers many varieties of apples as well as a selection of other fruits and vegetables, and is a favorite of the downtown crowd. If you find yourself needing a little snack, Q's Nuts and Union Square Donuts both have stands here, and are too delectable to resist. Enjoy!
For more information on Boston farmers markets, visit http://bostonfarmersmarkets.org/
BY: Laura Chassaigne
Laura highlights the people, events, and places that make Boston unique on The Boston Day Book. After spending her early years in Boston, Laura moved abroad and has lived in Montreal, London, and Paris. From the Leather District loft she shares with her husband, Laura enjoys (re)discovering the neighborhoods that make Boston great, strolling the waterfront, and exploring the city's museums. Laura is currently writing her PhD dissertation on Palaeolithic symbolic behavior, and recently graduated yoga teacher training at Kripalu.