Fall Fun at Austin Area Farms
BY: Heidi Gollub |
Oct 24, 2013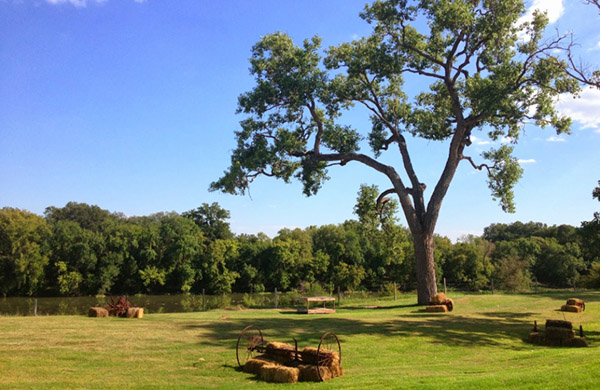 We may not see a lot of leaves changing color in Austin, but that doesn't mean we can't enjoy some seasonal festivities out in the crisp Autumn air. Whether you're looking for pumpkins, corn mazes, scarecrow stuffing, or hayrides, Central Texas has plenty to offer.  Hop in the car and take the family to one of these three nearby farms to celebrate the cool change in the weather!
Barton Hill Farms
 (Bastrop) Open weekends through November 10, 2013, Barton Hill Farms is a one-stop shop for fall family fun.  Kids can enjoy hours of old-fashioned entertainment, from wooden tree swings, to unique sandboxes, to an incredible five-acre corn maze. More modern attractions include a giant inflatable jumping pillow and a barrel train. But history really is key at Barton Hill Farms. Take your time exploring the 188-acre plot of land along the banks of the Colorado River, which was settled by Josiah Wilbarger in the early 1830s. There is a replica of the old Wilbarger Fort to see and a fifty-foot replica of an early Texas maritime schooner to climb aboard. You couldn't find a more picturesque location to while away an afternoon in the great outdoors. Admission to Barton Hill Farms is $10 for adults and $7 for children age three to 10. Children two and under get in free. Purchase tickets online to save $1. An all access pass can be purchased for an additional $5, which includes unlimited access to the jumping pillow.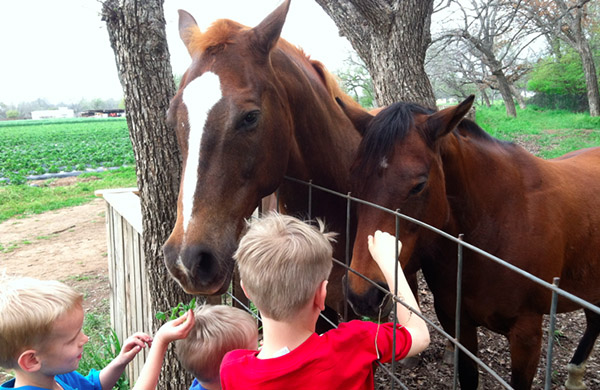 Elgin Christmas Tree Farm
 (Elgin) Open daily for exploring, Elgin Christmas Tree Farm invites families to participate in a variety of make-your-own-fun activities.  Visit with farm animals, ride tricycles, navigate the hay bale maze, play on the large playground, race rubber ducks, challenge a friend to a game of tetherball, build a scarecrow, and paint pumpkins. There is plenty of ground to cover, with mazes and games spread across the property. Be sure to take the free (slightly) spooky Halloween hayride around the farm. You may spot your future Christmas tree while on the tour. Admission to Elgin Christmas Tree Farm is $6 per person age two and up. Join the Farm Family email list to receive a coupon for one free child admission. Activities are included in the price of admission, but bring extra money to purchase pumpkins.
Sweet Berry Farm
 (Marble Falls) Head into the Texas Hill Country to spend a few hours on Sweet Berry Farm. The scenery alone is worth the trip and the farm is a lovely place to roam in search of the perfect pumpkin photo op. Pet the horses, watch the goats, and enjoy your time away from city life. Sweet Berry Farm's Harvest of Fall Fun runs daily through the first weekend in November, excluding Wednesdays. Family activities on the farm include Scarecrow Island Hayrides, the Candy Corn Kid Maze, pumpkin painting, scarecrow stuffing, face painting, horse rides, sand art, The Sweet Berry Express Barrel Train, The Berry Bounce, and The "Texas" Maze. Take along a picnic or plan to head to the nearby Blue Bonnet Cafe for pie following your adventure. Racing around a farm can really work up an appetite! Admission to Sweet Berry Farm is free and parking is free, but each activity has a fee to participate. Visit the Sweet Berry Farm website for pricing.
BY: Heidi Gollub
FreeFunInAustin.com was voted Best Hyperlocal Blog in the 2010 Austin Blogger Awards, was a Critics Pick in The Austin Chronicle's 2011 Best of Austin, was honored at The Statesman Social Media Awards in 2012, and has won Best Website in the Austin Family magazine awards for the past two years. Heidi Gollub started Free Fun in Austin in 2010 as a way to get out of doing housework.  Her theory was that running her five kids all over town on adventures for material to write about was a pretty awesome excuse for not doing dishes.  This worked swimmingly as her husband bought into her "I'm too busy being a good mother to bother with dusting" schtick and people not even related to her began visiting the website. Heidi's work on the website even led to other fun gigs, like writing for magazines and working as a True Local expert for the Austin Convention and Visitors Bureau.  All things considered, her kids don't really need clean clothes, do they?