GROUPON GUIDE TO WASHINGTON-DC
Five Mardi Gras Traditions That Don't Involve Beads or Booze
BY: Allison Shoemaker |
Feb 6, 2015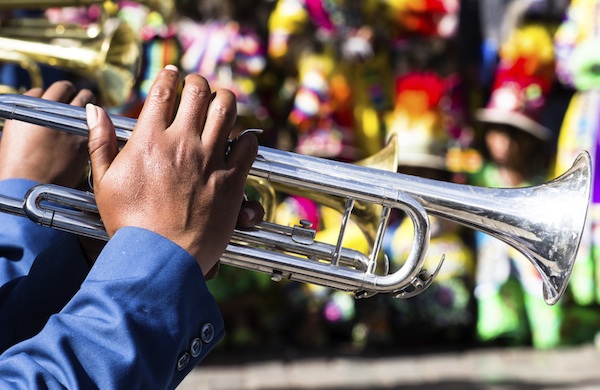 There's more to Mardi Gras than booze and beads. Fat Tuesday goes by many names and encompasses just as many eclectic traditions, from pancakes to plastic babies baked in cakes. Here are five suggestions for family-friendly celebrations you can keep your shirt on for.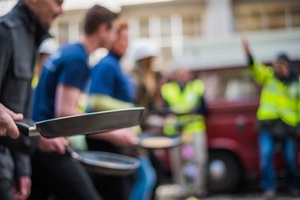 Pancakes—and Lots of Them
In the United Kingdom, Shrove Tuesday goes by a more appetizing name: Pancake Day. Households preparing to give up all sugar, butter, and eggs for Lent do the only logical thing there is to do, which is to make stack after stack of crepe-like treats. Typically rolled like a cigar and eaten with sugar and lemon, the cakes beget some other strange traditions. It's customary, for example, for single women to toss the first cake (their success or failure is said to predict their luck in love).

Though few modern households actually abolish their kitchen staples for Lent, the tradition lives on in the form of pancake races. The Parliamentary Pancake Race, for example, asks politicians and journalists to trot around a course while constantly flipping cakes. It gets competitive, but don't worry: there are rules against using frying pans "as weapons or as a means of making unseemly gestures" to help keep things civil.

Want to get in on the action? Check out Time Out London's step-by-step guide to making the perfect pancake. Warning: measurements involve the metric system.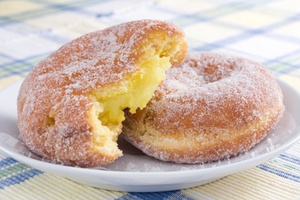 Pązckis, Cream Puffs, and Tiny Plastic Babies
Not a pancake person? Never fear. There's no way a holiday so focused on indulgence would have only one dish on the menu. Many countries have their own dessert recipes reserved for Fat Tuesday, ranging from Sweden's semlor (cardamom cream puffs) to Denmark's custard-filled and chocolate-covered fastelavnsboller. And we can't forget Poland's famous pączki or New Orleans's own king cake, the latter of which holds a tiny plastic baby inside.
Parades That Start Way Past Midnight
At promptly 4 a.m., Switzerland's Carnival of Basel kicks off in total darkness, as every light in the city—streetlights included—flickers out in unison. But it doesn't stay dark for long, as the parade (called the Morgestraich) lights up the night with hundreds of paper lanterns.

If you can't make it to Basel by Mardi Gras, there's still time to celebrate in proper Swiss fashion. Wrap a flashlight in construction paper, head down to the basement, and parade on your own—4 a.m. wake-up call not required.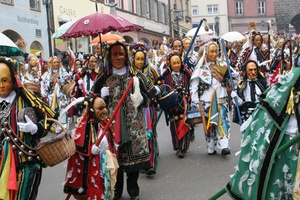 Masks with Meaning
From Brazil's Carnival to the French Quarter's famed celebrations, many Fat Tuesday festivals include—or even require—masks. These face coverings are not merely decorative, however. They offer wearers a chance to escape the constraints of class and expectations, freeing them to mingle with whomever they choose.
Family Gras
One of the most kid-friendly Mardi Gras celebrations can be found in the last place you'd expect: New Orleans. The Big Easy's Family Gras ditches the booze and the beads in favor of a star-studded party that's appropriate for all ages. Previous years have seen Taylor Swift, Frankie Valli, Jesse McCartney, and members of Electric Light Orchestra take the stage and join in on the fun.


BY: Allison Shoemaker
Allison is a Michigan-born, Chicago-based writer, theater director, and drag enthusiast.