Farm to Table: Eggs from Happy Hens
BY: Anna Skorczeski |
May 6, 2013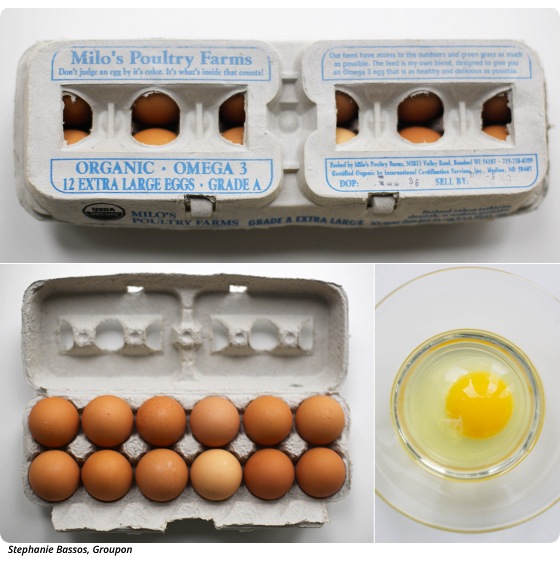 Some chickens live the good life. They reside on farms with access to wide-open spaces and fill their bellies with wholesome, nutritious food. Many, including food activist Michael Pollan in a 2010 interview with
CBS News
, say these conditions yield a better-tasting egg. Here are four Illinois and Wisconsin farms to know and a bit about the folks who run them. Egg-ucate yourself.
Phil's Fresh Eggs | Forreston, Illinois
The Wubbena family's chickens have been enjoying a cage-free lifestyle since Phil Wubbena got into the poultry business in 1959. Today, his son Rod continues the tradition of his father's hen-friendly methods, feeding his flocks a housemade blend of roasted soybeans and corn that were grown on the family farm, supplemented with alfalfa, kelp, and other nutritious nibbles. Get your Phil's Fresh Eggs on at:
Victory's Banner | Roscoe Village
The Satisfaction-Promise is the vegetarian restaurant's most popular dish, marrying scrambled eggs with spinach, pesto, sun-dried tomatoes, and feta. Also, if owner Pradhan Balter could be any bird at all, he would be an eagle. Not because it eats other birds, but because it soars the highest of all the birds. Or a bluebird. Because blue is a really nice color.
Luxbar | Gold Coast
Executive chef Michael McDonald drafted his menus to include Phil's eggs in the house-cured salmon benedict or prepared any style with the corned-beef hash. If Luxbar's sous chef Nick S. could be any bird at all, he would be Indiana's state bird,
Richmondena cardinalis
—the proud red cardinal.
Slagel Family Farm | Fairbury, Illinois
LouisJohn Slagel is a strapping fellow in his late 20s who, with the help of his wife, Leslie, manages a livestock farm that's been in the family for five generations. By sticking to many of the same principles that his great-great-grandfather, Sam Slagel, adhered to, LouisJohn has made his naturally raised meats and eggs a hot commodity among Chicago's top restaurants. The farm's Golden Buff chickens have never pecked an antibiotic, hormone, or animal byproduct in all their cage-free days, fueling them to lay big brown eggs with rich yellow yolks. Get your Slagel Family Farm eggs on at:
Lula Cafe | Logan Square 
Try them scrambled in a classic breakfast burrito or fried but runny on the ham and raclette panini.
Nightwood | Pilsen
Though the dinner menu changes daily and the brunch menu weekly, you might catch some over-easy eggs on a bagel with smoked-trout cream cheese or yolks mingling with fusilli and crab.
The Slagels are currently raising funds to convert a defunct battery henhouse in the area into a cage-free facility. They'll tear out the teeny stacked cages and install windows to let in natural light. Check out the Chicken Freedom Project for more information.
TJ's Free Range Poultry | Piper City, Illinois
Tim and Julie Ifft's Cornish Cross laying hens have an all-access pass to acres of alfalfa and grass pasture, allowing them to stretch their little legs, get plenty of fresh air, and eat tasty bug snacks. Inside, they dine on a feed mixture of corn and soybean meal. The four Ifft children help take care of the chickens and lend a hand with other farm chores, which includes peddling the eggs at farmers' markets. Get your TJ's Free Range Poultry eggs on at:
Cafe Mustache | Logan Square
Scrambled eggs fortify the cheddar-laden breakfast sandwich and unveganify bowls of the house vegan chili.
Green City Market | Lincoln Park
Buy a dozen to practice making perfectly fluffy soufflés or perfect your Ukrainian egg-decorating techniques in time for next Easter.
Milo's Poultry Farms | Bonduel, Wisconsin
The thing that sets Milo Bontrager's flocks apart from other farms' chicken populations is its diversity. A veritable United Nations of hens, the farm keeps brown birds, white birds, and speckled birds clucking in the yard together. This mishmash of fowl means that Milo's eggs come out in an array of sizes and colors, but because the chickens are all eating the same diet (an organic feed supplemented with vitamins, minerals, and flaxseed for boosted omega-3 fatty acids), they are all brewing up healthy yolks and whites. Get your Milo's Poultry Farms eggs on at:
The Chicago Diner | Lakeview
Veggie chefs mix scrambled eggs with quinoa and chimichurri sauce in the Soul Bowl or prep them any old way for the meat-free Build a Brunch.
Hyde Park Produce | Hyde Park
This family-owned store keeps shoppers stocked with local groceries, including Milo's eggs, as well as Phil's Fresh Eggs.
BY: Anna Skorczeski
Guide Staff Writer
Raised in Minnesota and schooled in Wisconsin, Anna is now a well-traveled eater and amateur bassoonist.