Farm to Table: Hardy Winter Spinach
BY: Anna Skorczeski |
Apr 23, 2013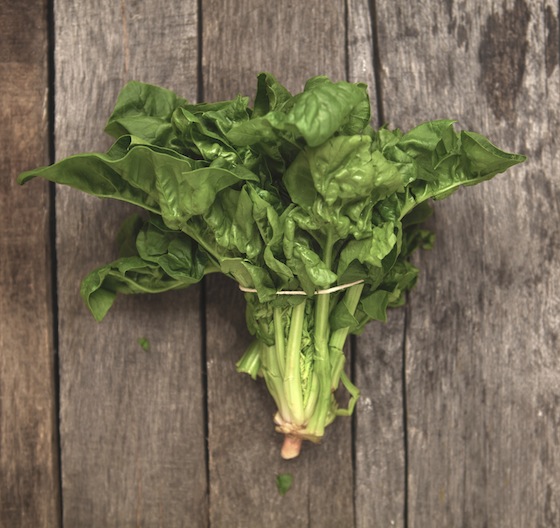 Everyone knows frost is no friend to plants. But the chilly temperatures that accompany the arrival and extended stay of Old Man Winter do not deter spinach or its cousins, such as kale and collards. They soldier on through cold weather while the cycle of freezing and thawing actually increases their sugar content. Farmers protect these sweet seasonal leaves using "hoop houses," unheated tent-like structures fashioned from plastic sheeting and PVC pipes. It's a nippy task tending winter spinach, but there are a few local farms that are working hard to keep greenery on Chicago tables during an otherwise gray time of year.
Majestic Nursery & Farm | Millbrook, Illinois
Randy and Gayle Roberts bought a 5-acre patch of land along the Fox River in 2001. Back then, it was not the haven of veggies, flowers, and wildlife it is today, but rather a shamble of weeds and car parts. After some serious clearing and cleaning, this rehabbed, year-round farm now grows organic produce without chemicals, genetically modified seeds, or windshield glass, allowing the Robertses the right to call Majestic Nursery & Farm a "certified naturally grown" operation. Get your Majestic Nursery & Farm winter spinach on at:
Terzo Piano in the Art institute of Chicago | The Loop
Spinach joins a blend of the farm's other leaves as well as chicken confit and shaved apple in the hardy-greens salad.
Green City Market | Lincoln Park
Bring a bunch home and sidle up to the stove to make spinach 'n' apple soup using this
recipe
from chef Bruce Sherman of
North Pond
.
Snug Haven Farm | Belleville, Wisconsin
Bill Warner and Judy Hageman of Snug Haven only come down to Chicago to sell their farm's winter wares at the Green City Market in November and December (it is a three-hour drive, after all). But not to worry—their spinach can be found on the menu at Rick Bayless's restaurants year-round. Bayless has been doing business with the couple for nearly 20 years and, in addition to incorporating their greens into his menus, he relies on them for about 500 pounds of frozen tomatoes each week throughout the winter. Get your Snug Haven Farm winter spinach on at:
Frontera Grill | River North
Garlicky spinach accompanies the red chili-rubbed duck breast in tamarind-ancho chile sauce.
Topolobampo | River North
Spinach adds to the verdant hues of the striped bass and lobster in green sesame pipian sauce.
Xoco | River North
Spinach, queso fresco, black beans, and tomatillo sauce balance the richness of the pork-belly torta.
Midnight Sun Farm | Grayslake, Illinois
Midnight Sun Farm's Nick Choate-Batchelder and Becky Stark are relative newbies to workin' the land. But they have support from the Farm Business Development Center, a program that trains novice farmers and gives them the resources to thrive on their own. The veggies this pair grows are all certified organic, nourished by natural compost and fertilizer, and sold to local folks at farmers' markets and through CSAs. Chefs from Rogers Park restaurants are known to stroll by their market booth and pick up eye-catching greens and veggies to bring back to their kitchens. Get your Midnight Sun Farm winter spinach on at:
Glenwood Sunday Market | Rogers Park
Bring a bunch home to make a batch of egg-lemon soup with spinach using this
recipe
from the farm's website.
Heartland Cafe | Rogers Park
If the chefs grabbed it at the market, this spinach adds the defining layer to eggs florentine at breakfast.
Tomato Mountain Farm | Brooklyn, Wisconsin
In 1999, Chris Covelli took 12 acres of land that once had the thankless task of growing conventional corn and soybeans and turned them into an organic fruit and veggie farm. Known primarily for its eponymous crop and the jarred salsas made from it, Tomato Mountain Farm also grows a mean crop of thick, sweet winter spinach under the protective shelter of hoop houses. Read below for some prep tips from the farm's
recipe page
and get your Tomato Mountain Farm winter spinach on at:
Evanston Farmers' Market | Evanston, Illinois
Bring a bunch home and stuff it in a piñata for your healthiest friend's birthday party.
Green Grocer Chicago | West Loop
Plan a romantic dinner of spanakopita and a bottle of the shop's Illinois sparkling wine.
"And don't pitch the stems—that's where much of the sweetness resides." – wisdom from TomatoMountain.com
BY: Anna Skorczeski
Guide Staff Writer
Raised in Minnesota and schooled in Wisconsin, Anna is now a well-traveled eater and amateur bassoonist.